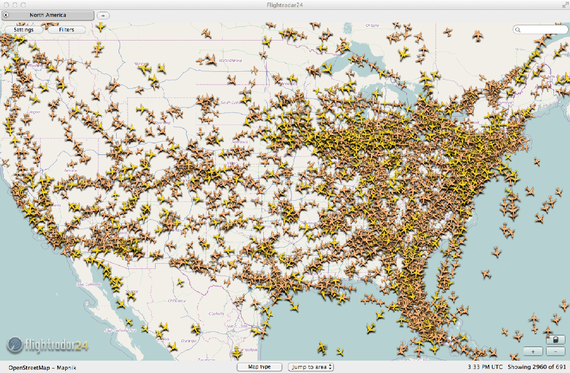 By Deborah Fallows.
[See update* below.] On our recent flight home in our small plane from Eastport ME, to Washington DC, we were listening, as we often do, to the air traffic controllers (ATC). They were talking back and forth with various aircraft in the usual manner:
       Pilot: New York Center. American 935. fifteen thousand feet.
And the air traffic controller's response is: Acknowledgment. Altimeter reading (necessary gauge for determining altitude)
       ATC: American 935. New York Center. New York altimeter  30.14.
Then a little while later, we heard a callsign I had never heard before: Brickyard. It was an exchange something like this:
        Pilot: Washington Center. Brickyard 215. nine thousand.
        ATC: Brickyard 215. Washington Center. Washington altimeter  30.10.
I wondered about Brickyard, and learned that it belongs to Republic Airlines, a regional supplier that operates flights for major national brands. I know that airline as one that sometimes flies the daily nonstop as US Airways Express between Washington DC, where I live, and Sarasota FL, where my mom lives. Republic also operates service for a number of other airlines, like American Eagle and Frontier.
Reinvention and resilience across the nation
Read more
But Brickyard? Well, according to Funtrivia.com, Republic is the regional airline out of Indianapolis, home of the Indianapolis Motor Speedway, nicknamed The Brickyard.
A few weeks later, I read my husband, Jim's, post about the enormous 747 "dreamlifter" cargo airplane that landed at the wrong -- and much too small -- airport in Kansas.  I heard on the recording between the ATC and the pilot that the big plane had the callsign Giant. Fitting, I thought, when I learned that Giant is the callsign for Atlas Air.
Many of the major airlines use callsigns of  their standard company names, like American, United, Lufthansa, Alitalia, and Delta. But then there are the other creative and curious ones, which we hear regularly along the east coast through New England and MidAtlantic states. Ones like Citrus, Cactus, and Waterski.
Cactus? US Airways merged with America West Airlines, and based out of Tempe AZ, home to so many saguaro cacti.
Citrus? AirTran Airways, headquartered now in Dallas, but at one time in Orlando.
Waterski? Trans States Airlines, another regional airline which operates for United Express and US Airways Express. It was originally Resort Air, which ferried vacationers (and presumably waterskiiers) to Lake of the Ozarks.
So that got me wondering about all the callsigns. Who are they? What are their etymologies? Do they fall into categories? I did some digging and here's what I discovered:
First, this can get overwhelming very quickly! As I look right now, I see live tracking of every airplane in the air. Delta has 388 planes flying. United has 351. Southwest has 345, and American 205, and on down the list of hundreds of individual airlines. Their callsigns are right there, too. And if that isn't enough for you, go here to see a complete list of airlines, beyond those that have planes in the air right now. I can't even count the total.