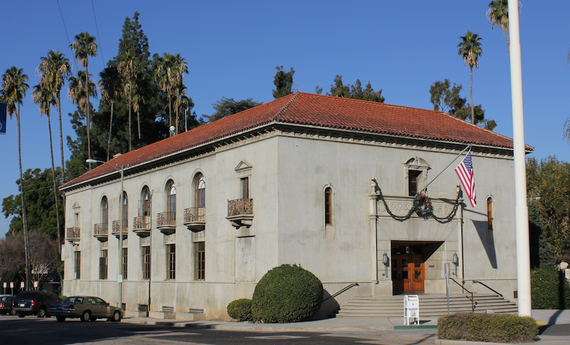 This afternoon, Friday, our Marketplace partners will have their next report in our "American Futures" series. This one is from Redlands, a smallish town that is part of the unglamorous "Inland Empire" of Southern California. In addition to being the place where I grew up and still feel that I am from, Redlands is also the home of a hugely successful, 3,000-employee software firm. This company, Esri, was founded and is still run by a family friend, Jack Dangermond. It is the world leader in the technology known as GIS (Geographic Information Systems) that forms the backbone of commercial, governmental, environmental, and other mapping services around the world. It is also our mapping partner in this Atlantic-Marketplace project.
My wife and I will try to describe in the next few days what we've learned over the past few days of our return here. The thought on my mind right now involves the limits but also the power of the stories people tell themselves about where they live. I think this will also be part of Marketplace's angle in the next report.
---
First, the limits. "Positive attitude," civic responsibility, and what I have come to think of as local patriotism matter only so much when matched against the largest forces of geography, demographics, of economic change.
For instance: in our previous stop, the tiny settlement of Eastport, Maine, entrepreneurs are trying to tap the Bay of Fundy's tidal flows to generate sustainable, zero-fuel, zero-emissions electric power. And this screenshot from a GIS map, whose original you can find via Georgia Tech, suggests why. This map shows tidal-energy potential around the American coastline. The very peak of potential power, shown in red and helpfully highlighted with a red arrow, happens to be exactly in the waters off Eastport, Maine:
That's an advantage: Eastport can do something that no town in Kansas or even most of the Atlantic coastline could. But the town also faces huge obstacles. Here's another GIS map from Esri illustrating median income across the country. You can click into a zoomable, scrollable interactive version here. This screen shot conveys the point about Eastport: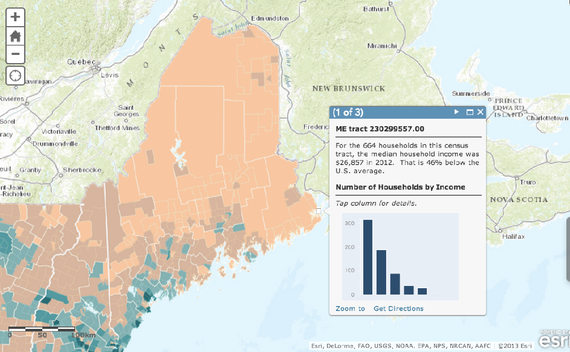 Median household income in the city is barely half that of the U.S. as a whole, less than $27,000 per year. The blueish areas stretching from Boston up toward Portland and Bar Harbor are high income. If you could see New York, the color would be bright red, for wealth. The tan areas of the rest of Maine are poor. These realities mean fundamental challenges for Eastport and other parts of "Down East," no matter how great their determination.