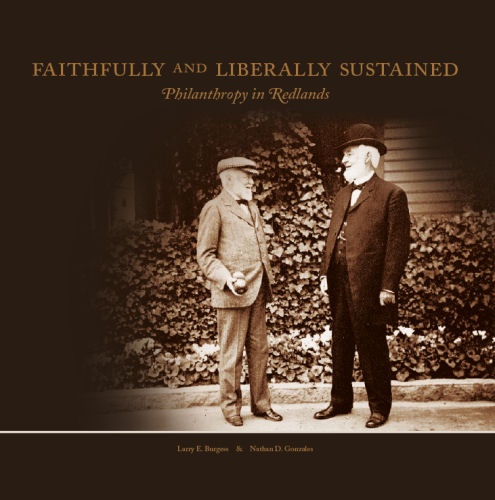 Yesterday I argued that the narrative of turning points -- the big choices that built an individual, a family, a community, a nation -- plays a big part in our sense of future possibilities. If you think that you and your people are better off for the hardships you've seen, you face new hard times one way. If you think you're on the wrong side of a long, Buddenbrooks/Downton Abbey-style slide from past glory, you view them differently.
For our latest American Futures town of Redlands, California, a very important part of the local narrative was awareness of the Founding Fathers and Mothers who had set up the small-town counterparts to the National Mall or Central Park. How many small Sunbelt towns have whole histories written about their philanthropic heritage, like the one above? (Which I have with me at home, and will quote from further soon.) Or a promotional documentary like the one Redlands produced for its 125th anniversary last year, which was as earnest as anything from the Frank Capra era in drawing connections between the wisdom of our forebears and real-world choices today?
Two reader reactions on the larger implications of this local story. First, from a resident of Claremont, California, which is only half as far from Los Angeles as Redlands is, and is at least twice as well known:
I think more than just "forefather foresight," generally, must be acknowledged as a reason why Redlands does not resemble most of the south-of-San Gabriel-Mountains sprawl: the presence of the University of Redlands, and the consequent effect on income, education, citizen participation, desire for amenities, willingness to spend public funds on unselfish things like preserve orange groves, or buy up hillsides, or build more high schools, etc.

The other city in this range that uniquely does not resemble the others is Claremont. I don't think it's coincidental to this uniqueness that the Claremont Colleges are located there.
Yes, I agree. Claremont is a "university town" in a way few other places in the West can match, because not one but eight colleges and graduate institutes are based within its small borders. These include Pomona (where I almost went to college), Scripps (where my sister did), Harvey Mudd, and on through the list. Redlands has never been university-centric in the way Claremont is, but it has always been university-influenced, by its small, liberal-arts-oriented University of Redlands.  
There is no surprise in saying this, but the more we've traveled the more we've been reminded of the economic and cultural throw-weight of local colleges and universities. (As John Tierney has often discussed in this space, for instance about communities in Vermont and Maine.) Their short-run effect, in bringing in students to boost local demand, matters much less than the long-term changes they can work in the character of a community. That is, attracting a different kind of person to live there and change the kind of place it is.
That effect is obvious when we're talking about big, famous university centers -- Cambridge, the Bay Area sweep of Berkeley through Palo Alto, Pasadena with Caltech. It has made a crucial difference even in little Redlands. Half a century ago, in the 25,000-population town I remember from school days, Redlands tried to be more than just a sunbelt boom town by bolstering its still-strong orange-growing industry with a mix of higher-end industries and jobs:
It had the university, which because it was especially strong in music, drama, speech, and performing arts, bolstered the local cultural community;
It was the nicest nearby bedroom community for giant Norton Air Force Base, and many of the colonels' (etc) families who lived for a few years in Redlands had broader international experience;
In much the way Sioux Falls is increasingly the retail and medical center for the rest of South Dakota, Redlands, on the edge of the Mojave, was a medical center for vast desert communities. This was what drew my parents to the city when my dad finished his time as a Navy doctor; some of his patients came from 100 miles away.
It had a high-tech defense-contractor community, in the form of Grand Central Rocket which later became part Lockheed Propulsion. Thus some of my school teachers had come to the area as Okies during the Dust Bowl and Depression. And some were scientists, or their spouses, who had come from the East Coast or Europe to work at Grand Central.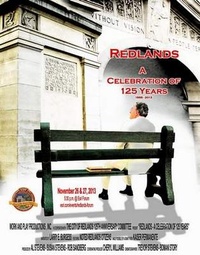 These days Norton is closed and long gone; neighboring Loma Linda has an enormous Veterans' hospital and university medical system to compete with Redlands doctors (though many of those families live in Redlands); Grand Central Rocket is no more, and the Lockheed site has been the subject of a drawn out toxic-waste lawsuit; and the University has faced the challenges of other small non-famous liberal-arts colleges.