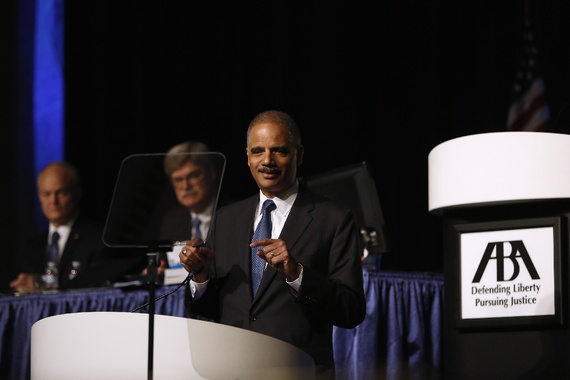 When the justices of the United States Supreme Court confer Friday morning to consider new cases they will have the opportunity to accept for review a dispute that tests not just the meaning of their own recent Sixth Amendment precedent but the viability of a major new policy initiative implemented this summer by the Justice Department to bring more fairness to federal sentencing while reducing the terrible costs of prison overcrowding. 
In Gomez v. United States, a Massachusetts case, the justices have been asked to determine whether they meant what they wrote about juries and drug sentences in Alleyne v. United States, decided just this past June, and at the same time whether Attorney General Eric Holder meant what he said, in August, when he promised to curb the ways in which his federal prosecutors abuse "mandatory minimum" sentences in drug cases to obtain guilty pleas (or higher sentences).
The justices should accept this case for review. And the Court should affirm the just principle that a man cannot constitutionally be sentenced based upon charges that are not brought or upon facts a jury does not even hear. But even if the justices aren't willing to muster up that level of indignation, they ought to at least take the opportunity to call out federal prosecutors for saying one thing in front of the microphones and another in court papers.
The Facts
The defendant is a man named Clarvee Gomez and his case is the story of how federal prosecutors manipulated allegations of two separate drug transactions to gain a higher sentence. The first such "deal," which never was fully consummated, occurred in Florida in September 2008. The second occurred in Lawrence, Massachusetts, in December 2008, when undercover agents saw Gomez leave a building where a drug deal had taken place.
Federal prosecutors charged Gomez with the December deal—it involved about one kilogram of cocaine—but not with the aborted Florida deal. Under federal law, the charge was "conspiracy to possess with intent" to distribute "at least 500 grams" of cocaine, and it brought with it a mandatory five-year minimum sentence. The Florida deal would have involved much more cocaine—seven kilograms—and would have triggered a ten-year mandatory minimum for Gomez. But instead of charging him with that separate crime, and permitting a jury to evaluate the evidence upon which that charge was based, prosecutors used it to try to coerce Gomez into pleading guilty and avoiding trial.
In 2009, when Gomez's co-conspirator pleaded guilty to a five-year minimum charge, the feds offered Gomez a deal: plead guilty and take the five-year minimum sentence or go to trial and face the possibility of a ten-year minimum sentence after prosecutors told the sentencing judge about the unconsummated Florida transaction. Prosecutors never explained why they didn't just charge him with both drug transactions (the Florida deal was a "reverse transaction," in which federal undercover agents tried to sell drugs, which means the evidence against Gomez likely was weaker). In any event, Gomez declined the deal.
At trial, prosecutors did as they had threatened—they tagged Gomez with the failed Florida drug deal, argued that it was part of the same conspiracy that led to the December deal, and then asked the judge to sentence Gomez based upon the total amount of cocaine that was in play in both transactions. The judge agreed—to his great discredit—and sentenced Gomez to a ten-year minimum sentence even though the defendant only had been charged under the five-year mandatory minimum statute. Gomez appealed to the 1st Circuit—and lost.
The Law
Prosecutors are notorious for doing to other criminal defendants what they did to Gomez—coercing them to take plea deals by threatening them with evidence a jury may or may not hear. In fact, later this week, on the eve of the justices' weekly conference at which they'll discuss the Gomez case, the international human rights organization Human Rights Watch will issue a damning report titled "An Offer You Can't Refuse: How US Federal Prosecutors Force Drug Defendants to Plead Guilty" that tracks the very issues that are central to the Gomez case. The report could hardly be more on point to help Gomez.
Not that the Supreme Court needs Human Rights Watch to remind it that a great deal is changing, and quickly, in this area of the law. Since Gomez was prosecuted and sentenced, the justices decided the Alleyne case that also is directly on point. Writing for a 5-4 majority in Alleyne, decided just five months ago, Justice Clarence Thomas declared that "facts that increase the mandatory minimum sentence are therefore elements [of the crime] and must be submitted to the jury and found beyond a reasonable doubt."
Alleyne overturned the case the 1st Circuit had relied upon to deny Gomez relief. But even when the 1st Circuit was confronted with the new controlling precedent it declined to reconsider its ruling against Gomez. While conceding that Gomez' constitutional rights had been violated, the federal appeals court concluded even after the Alleyne ruling that he was entitled to no relief because he had "ample notice" that he "would be held responsible" for both drug transactions.