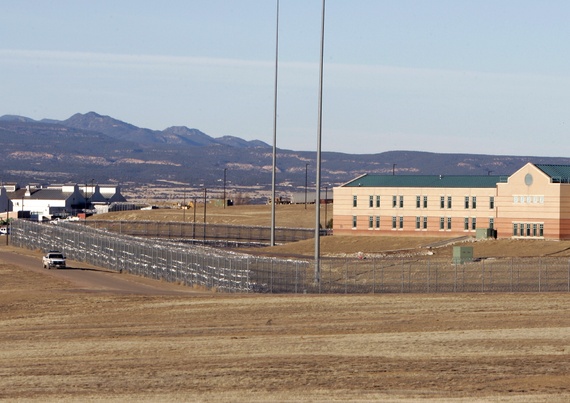 Colorado prison officials last week did a good thing—a very good thing. The Colorado Department of Corrections issued a memo to all state wardens telling them that inmates with "major mental illnesses" can no longer be sent to solitary confinement (what Colorado and other jurisdictions euphemistically call "administrative segregation"). Here is the link to the memo. The Denver Post offers some context:
The numbers of mentally ill prisoners locked in cells alone for 23 hours each day have steadily dropped this fall: from 40 in September to fewer than 30 in November and now to just eight. The state wants the number at zero by the end of the year....

There were 662 prisoners in solitary confinement in September, down from more than 1,500 two years ago. Department officials on Wednesday announced a series of reforms intended to more closely monitor parolees released directly from solitary. [Note: This is because of the brutal March 2013 murder of Tom Clements, at the time the director of the Colorado Department of Corrections, who was shot to death at the front door of his home by Evan Ebel, a recent parolee, who was subsequently shot to death by the police in Texas.]
The officials responsible for this welcome change in policy and practice deserve the applause they are getting for bringing a measure of common human decency back into the state's prison system. Officials abusing the practice of solitary confinement in every other state—and within the federal prison system—ought to do the same thing, today. But there are still a great many questions about the mentally ill in solitary confinement in Colorado that must be answered in the weeks and months ahead. Here are just four topics of conversation:
1. How does the new rule impact Sam Mandez, the severely mentally ill inmate who has spent nearly half his life in solitary confinement in Colorado? If the enlightened policy is going to have any real meaning, the Colorado Department of Corrections must  ensure that he, at last, receives the medical attention he merits as a matter of constitutional law. This includes mental health treatment that does not take place in solitary confinement. If, indeed, Mandez has become the face of "administrative segregation" in Colorado, let state officials now honorably allow him to become the face of reform.
2. Colorado officials have just announced a rule that, in effect, has been federal policy for years at ADX-Florence, the "Supermax" prison in the state that houses most of the nation's most notorious prisoners. Mentally ill federal inmates are not supposed to be transferred or remain there. And yet, as two civil rights lawsuits allege in federal court in Colorado, there are mentally ill prisoners today in "administrative segregation" at ADX-Florence. Why? The feds simply refuse to formally acknowledge that mentally ill inmates are, indeed, mentally ill.
So it isn't enough for Colorado to declare that it will no longer send the "major mentally ill" to solitary confinement if its state officials, and its overwhelmed mental health experts, define "mental illness" in ways that permit them to get around the rule. This is precisely what the ACLU of Colorado meant when it said last week, following the release of CDOC memo:
As an initial matter, we remain concerned that the definition of major mental illness adopted by CDOC is too narrow and that there are still prisoners in administrative segregation who are seriously mentally ill and should not be placed in prolonged solitary confinement.
This is a very real concern. The state must ensure that the word "major" in the language of the new memo is not defined downward into bureaucratic absurdity. The spirit of the reform, in other words, must match its letter.
3. How will individual wardens and guards react to this mandate? The answer ought to be obvious -- they will comply -- but there is at least anecdotal evidence to suggest that Colorado prison officials don't always take too kindly to directives from above. In August 2012, U.S District Judge Brooke Jackson, in Denver, issued a scathing order in a case brought by Troy Anderson, a mentally ill prisoner at Colorado's own "Supermax" facility. What happened next? Alan Prendergast, one of Colorado's finest investigative journalists, a reporter who has covered this important story longer than most, explained earlier this year for Westword:
Now, Anderson's attorneys claim Department of Corrections officials have failed to comply with several key aspects of the court order -- and that their client is worse off than before, with less effective mental health treatment, following a transfer from the supermax to solitary confinement at the Sterling Correctional Facility.

In court papers recently filed in the case, Anderson's legal team -- which includes student lawyers at the University of Denver -- contend that the situation at Sterling has deteriorated to the point where Anderson declined to leave his cell or accept food trays for nearly two months, living on canteen items, because he feared he might assault staff. He asserts that a counselor who saw him after several weeks of such isolation told him that him that Sterling's mental health staff was there to provide "triage and not treatment."
In other words, last week's memo alone isn't going to magically improve the conditions of confinement of these mentally ill prisoners. It is going to take the good-faith efforts of prison officials, and especially mental health experts, to make it so. Implicit in the memo, and in the change of policy it represents, is a new dynamic in the relationship between prison officials and mentally ill inmates -- a dynamic that clearly does not come naturally. It will take a great deal of bird-dogging by the ACLU and other prisoner advocates to ensure the CDOC backs its words with action.  
4. Finally, speaking of the federal government, the Justice Department last week  announced new legal standards for determining when the placement and the detention of mentally ill prisoners in solitary confinement violates federal law and/or the Constitution. It's important to note here that the federal government's position, asserted in the ongoing California prison litigation, assumes that some mentally ill inmates may lawfully be kept in solitary confinement. Remember, though, that states may go beyond the constitutional limits the feds employ -- may grant individuals more protections than the feds recognize under the Bill of Rights -- and perhaps Colorado is doing just that.