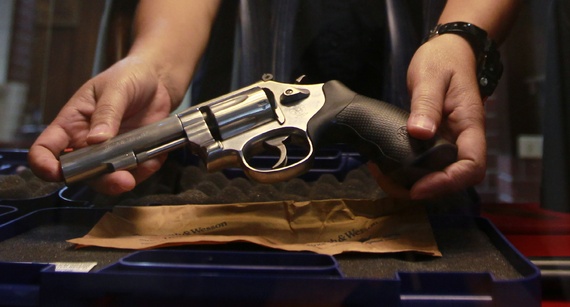 Here's a late-arriving candidate for 2013's most horrific story of the year, government-abuse-of-powers edition. According to a detailed report posted last Sunday by John Diedrich and Raquel Rutledge of the Milwaukee Journal Sentinel, agents from the Bureau of Alcohol, Tobacco, Firearms, and Explosives in at least five cities have used mentally disabled people as pawns in "storefront" undercover sting operations. The journalists first explain:
Earlier this year when the Milwaukee Journal Sentinel exposed a botched ATF sting in Milwaukee — that included agents hiring a brain-damaged man to promote an undercover storefront and then arresting him for his work — ATF officials told Congress the failed Milwaukee operation was an isolated case of inadequate supervision.
It wasn't.
The Journal Sentinel reviewed thousands of pages of court records, police reports and other documents and interviewed dozens of people involved in six ATF operations nationwide that were publicly praised by the ATF in recent years for nabbing violent criminals and making cities safer.
Agents with the U.S. Bureau of Alcohol, Tobacco, Firearms and Explosives employed rogue tactics similar to those used in Milwaukee in every operation, from Portland, Ore., to Pensacola, Fla.
What did the journalist's find? What are federal officials reportedly doing in your name and on your dime? From Sunday's report:
■ ATF agents befriended mentally disabled people to drum up business and later arrested them in at least four cities in addition to Milwaukee. In Wichita, Kan., ATF agents referred to a man with a low IQ as "slow-headed" before deciding to secretly use him as a key cog in their sting. And agents in Albuquerque, N.M., gave a brain-damaged drug addict with little knowledge of weapons a "tutorial" on machine guns, hoping he could find them one.
■ Agents in several cities opened undercover gun- and drug-buying operations in safe zones near churches and schools, allowed juveniles to come in and play video games and teens to smoke marijuana, and provided alcohol to underage youths. In Portland, attorneys for three teens who were charged said a female agent dressed provocatively, flirted with the boys and encouraged them to bring drugs and weapons to the store to sell.
■ As they did in Milwaukee, agents in other cities offered sky-high prices for guns, leading suspects to buy firearms at stores and turn around and sell them to undercover agents for a quick profit. In other stings, agents ran fake pawnshops and readily bought stolen items, such as electronics and bikes — no questions asked — spurring burglaries and theft. In Atlanta, agents bought guns that had been stolen just hours earlier, several ripped off from police cars.
■ Agents damaged buildings they rented for their operations, tearing out walls and rewiring electricity — then stuck landlords with the repair bills. A property owner in Portland said agents removed a parking lot spotlight,damaging her new $30,000 roof and causing leaks, before they shut down the operation and disappeared without a way for her to contact them.
■ Agents pressed suspects for specific firearms that could fetch tougher penalties in court. They allowed felons to walk out of the stores armed with guns. In Wichita, agents suggested a felon take a shotgun, saw it off and bring it back — and provided instructions on how to do it. The sawed-off gun allowed them to charge the man with a more serious crime.
■ In Pensacola, the ATF hired a felon to run its pawnshop. The move widened the pool of potential targets, boosting arrest numbers.Even those trying to sell guns legally could be charged if they knowingly sold to a felon. The ATF's pawnshop partner was later convicted of pointing a loaded gun at someone outside a bar. Instead of a stiff sentence typically handed down to repeat offenders in federal court, he got six months in jail — and a pat on the back from the prosecutor
In July, in response to the earlier work the newspaper published, the ATF implemented certain reforms covering some of these operations. Evidently those reforms are not enough. The ATF has not responded to the allegations contained in Sunday's report and so far federal officials have not made public any of the results of internal investigations underway into the alleged conduct. The ATF still is looking into it. And so is the Office of Inspector General at the Justice Department. From an update Tuesday at the Journal Sentinel's website:
An official with the U.S. Department of Justice said late Monday that the inspector general "can and should" expand his investigation into undercover storefront operations to include ATF's rogue tactics exposed Sunday by the Milwaukee Journal Sentinel.