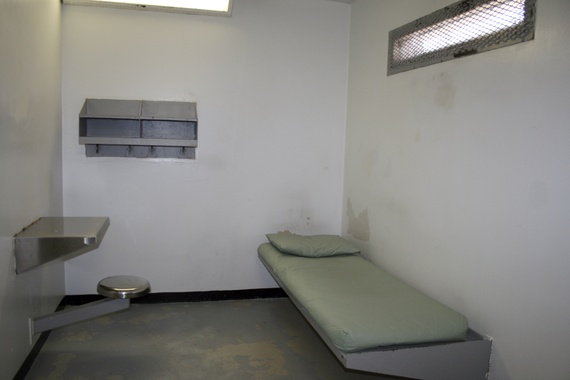 The story of Sam Mandez is appalling on so many different levels it's hard to know where to begin. Convicted for a murder no one has ever proven he committed, sentenced to life without parole at the age of 18 because the judge and jury had no other choice, confined for 16 years in solitary for petty offenses in prison, made severely mentally ill by prison policies and practices, left untreated in that condition year after year by state officials, Mandez personifies the self-defeating cruelty of America's prisons today.
And yet Mandez is not alone in his predicament. All over the nation, in state prisons and federal penitentiaries, officials are failing or refusing to adequately diagnose and treat inmates who are or who are made mentally ill by their confinements. The dire conditions in which these men and women are held, the deliberate indifference with which they are treated, do not meet constitutional standards. And yet there are thousands like Mandez, symbols of one of the most shameful episodes in American legal history.
The Crime
On July 26, 1992, an elderly woman named Frida Winter was murdered in her home in Greeley, Colorado. The police recovered fingerprints from the scene and later found some of Winter's things in a culvert near her home. But for years the investigation went nowhere in large part because it was flawed in nearly every way. Other fingerprints from Winter's home were not recovered. Leads were not adequately pursued. Logical suspects were not properly questioned. At the time of Winter's death, Sam Mandez was 14 years old.
Four years later, the police caught what they considered a break. Fingerprints from Winter's home finally found a match in a police database—and the match was Sam Mandez, who had just turned 18. They brought him in for intense questioning. But Mandez had a strong alibi. He and his grandfather had painted part of Winter's home in 1991, a year before her death. There was good reason for his prints to have been on the window that was broken on the night of Winter's death. Mandez had been in trouble with the law before—but never for a violent crime.
There were no eyewitnesses. There was no confession. There was no evidence of any kind that Mandez had murdered Winter. But there was one other link between them. Among the items recovered from that culvert after Winter's death was a matchbook from a business in Henderson, Nevada. The Mandez family had relatives there. The cops said this proved that Mandez had been inside Winter's house on the night of her death: He had burglarized her home, and thus, under a dubious extension of Colorado law, he was necessarily guilty of first-degree murder.
The Trial
The trial of Sam Mandez was a travesty. Prosecutors could have processed him through the juvenile justice system—he was only 14 at the time of his alleged crime, remember—but chose instead to charge him as an adult under Colorado's felony-murder rule. That rule is a legal contrivance  created by state lawmakers to broaden the scope of murder laws. Under it, any death occurring during the commission of a felony makes every defendant committing that felony susceptible to a charge of first-degree murder.
So prosecutors did not need to prove at trial that Mandez had murdered Winter or even that he intended to murder Winter. They did not need to solve the crime for jurors. What they did need to do was observe the constitutional command of Brady v. Maryland, which forbids prosecutors from withholding evidence that could exculpate the defendant. They failed—a critical prosecution witness changed his story at the last minute, but that fact was not disclosed to Mandez's lawyer until the witness had testified. A foul, sure, but no harm, the court ruled.*
There were other fatal flaws in the trial. The judge refused to allow Mandez's attorneys to fully cross-examine the police about other suspects. This information was not relevant, the trial judge said with no evident trace of irony, because Mandez had been charged with felony-murder. And then that same judge refused to grant the defense a continuance to obtain the presence of a material witness who was prepared to identify another suspect in the murder. The initial jury vote was 6-6. As Mandez was convicted, one of the jurors begged the defense to appeal.
The Punishment
Under Colorado's felony-murder rule, a conviction required either the death penalty or a life sentence without the possibility of parole. The trial judge, whose dubious rulings had skewed the trial in favor of prosecutors, acknowledged that he had no discretion but to sentence the 18-year-old to life in prison. "We had to follow the law," juror Kim Wise years later told a reporter for The Denver Post. "We really wanted more information about who had looked at these fingerprints because we felt the cops had screwed up the investigation."
So away went young Sam Mandez, to a lifetime-without-parole sentence for what amounted to the crime of breaking-and-entering when he was 14 years old. Prosecutors initially defended their decision to try him as an adult and charge him despite the presence of so many unanswered questions about the case. Ten years later, however, in part because of that Denver Post story, investigators opened up the case again, acknowledging some of the initial mistakes they had made. But nothing came of it. At least nothing to help Mandez.