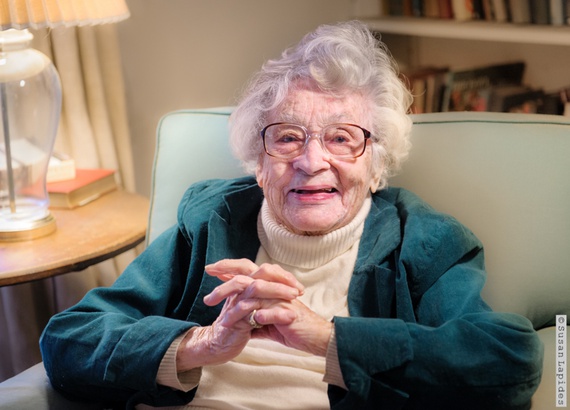 "Just go ahead and do your thing no matter what," says Marian Cannon Schlesinger to today's young women. At 101 years of age, she is still painting, writing, watching Rachel Maddow, and reading two newspapers a day.
As we approach the fiftieth anniversary of JFK's assassination, many of the people who can recall the era in detail have passed on. Marian Cannon Schlesinger was married to Arthur Schlesinger Jr., historian, speechwriter and special advisor to President John F. Kennedy, living in D.C. and raising four children during his Washington years. Well-traveled, having studied in China prior to their marriage, she returned to Cambridge, Massachusetts after their divorce. She has written and illustrated five children's books and, in 2012, published the second volume of her memoirs: I Remember: A Life of Politics, Painting and People.
I sat down with her recently to hear about her time in Washington, memories of being raised an "academic child" at Harvard, advice for independent women, and recipes for leading a "full life."
Amidst all the cheering from individuals such as Lean In's Sheryl Sandberg, many educated women of privilege in America have opted out of careers and public engagement to raise families, touting domesticity as a singular focus, in part because the alternative juggling act is so difficult and the infrastructure in the U.S. to support working parents is so paltry.
A centenarian who participated in a relatively traditional marriage might be the last person one would expect to call these women out. But when I talked to her, Ms. Schlesinger refocused the conversation on responsibility as much as personal happiness: "Well-taken-care-of women who are well-educated, highly intelligent, well-read—a woman who has all this quality, all this talent, all this energy and yet nowhere to put it—I don't know," she said. "I would start by saying you can involve yourself in local problems. There are all sorts of things that have to be tended to in the world."
---
What are you working on and doing with your days at this point?
Reading the newspaper, watching television and working on another book.
You spent your entire childhood among luminaries. Your father was the Francis Lee Higgins Professor of Physiology at Harvard for forty years. Your mother was a celebrated novelist and helped found Planned Parenthood. Were you impressed by all of this?
I think that's why June Bingham and I used to have such fun over the whole thing in Washington. We didn't take it very seriously because we had seen something of the world before we arrived.
We had a lot of fun as a family and we always had lots of people coming in and out of the house. My mother ran an "open" house really and she'd take care of all these sort of crazy relatives who had nervous breakdowns and things like that. These two wonderful aunts lived with us. So, I had three mothers, in a way.
My mother was very active in politics. She was out in the world and my two aunts were professional women and, for that period, it was rare. One of them was a founder of medical social services at Massachusetts General Hospital and the other, who had beautiful taste, owned a children's store in Harvard Square from which generations of children were clothed.
How did you end up in China to study art after college?
My sister was married to John Fairbank and they were living in China at the time. My mother sent each child after they completed college to some exotic place to sink or swim. After Radcliffe, I took the trip by myself across the United States, got a boat in San Francisco headed for China.
How did that influence you?
A gentleman came every day and taught me how to use a Chinese brush and the whole technique of the way Chinese painting is done. There is something about the use of a Chinese brush, which is just an exquisite instrument, and it taught me so much about how to draw. A lot of people don't draw. They just paint. I draw and paint but I feel that drawing is basic to my kind of art and I feel as though my time in China refined my work.
What was the Kennedy presidency like for you?
Very go-go, if you know what I mean. And of course, it was very exciting too. There was the Bay of Pigs and the missile crisis in Cuba, those were real crisis, and then there was an awful lot of bogus stuff too.
Like what?
Oh I don't know…I had an awfully good time.
Have politics changed today?
It was kind of like a small town in the Kennedy days. There were parties every night. We often dined at the White House. It was really mad.
There was a real family feeling—I think that was somewhat fostered by Bobby Kennedy and Ethel because they had a great sense of family. You'd go out to their house in Hickory Hill and there'd be all sorts of people gathered at their place. Defense Secretary Robert McNamara was there, young law clerks and, oh, all sorts of other people. I can't remember. I'm only 101 years old!