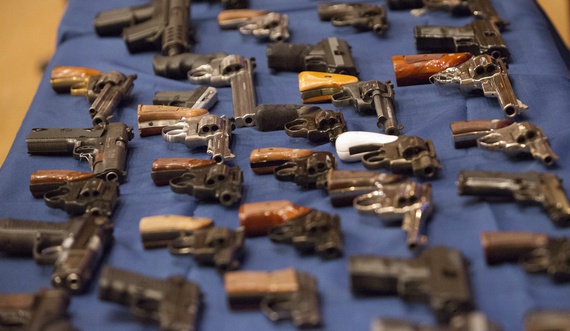 Jessica Davis's oldest son spent ten years in jail for shooting another man. She herself was questioned by police over a gun that, to this day, she believes her daughter bought and hid for a boyfriend.* So for Davis, joining Boston's "Operation LIPSTICK," which launched in April 2012, was personal.
Ladies Involved in Putting a Stop to Inner-City Killings is the product of a partnership between Boston's Citizens for Safety and the Suffolk County district attorney's office, with grant money from the U.S. Department of Justice. Leaders of the organization say they aim to educate women about the dangers of "buying, concealing, storing, and holding" guns on behalf of men in their lives who, because of felony records, are prohibited from purchasing firearms themselves. Buying a gun for such an individual is called "straw purchasing," and it's illegal.
The chief harm of straw purchasing, of course, is putting a gun straight from the purchaser's hands into those of an individual who intends to use it to commit a crime. But straw purchasing also plays a significant role in the gunrunning industry: A Bureau of Alcohol, Tobacco & Firearms study found that 46 percent of all firearms trafficking investigations between 1996 and 1998 involved straw purchasers. The same study found that 18 percent of straw purchasers were girlfriends or spouses. The Chicago Sun-Times reported in 2012 that the University of Chicago Crime Lab studies suggest women purchase nearly a fourth of the guns that are recovered in Chicago crimes within a year of purchase.
Across the country women are being arrested for straw purchasing. Stevie Marie Vigil, a 22-year-old Colorado woman, was indicted in August of knowingly transferring a firearm to a convicted felon, who used the gun to kill Colorado prison chief Tom Clements. Vigil now faces a possible ten-year sentence in federal prison. Last month in Pennsylvania, Megan Ryan Boyle, another 22-year-old woman, was charged with purchasing guns for her boyfriend, also a convicted felon. She and 21 year-old Stacie Dawson,who is also from Pennsylvania and was charged with buying two handguns illegally for her boyfriend, are among the first to face new stiffer penalties of up to five years in prison for straw purchasing under their state's new "Brad Fox Law," named after a Philadelphia-area police officer who was shot and killed by an illegally purchased gun. And in 2008 when Chicago police arrested Ohmari L. Sengstacke, a convicted felon found outside then-presidential candidate Barack Obama's home, the .40-caliber handgun stowed in his car turned out to have been purchased by his wife.
Some women may be unaware that buying a gun for a boyfriend, brother, or cousin could destroy their own lives with jail time or the homicide of someone they know and love.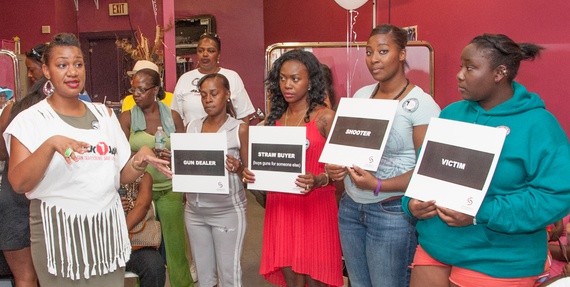 "I didn't even know what straw purchasing was," said Davis. But she found out quickly when the police found a handgun under her car and asked her to testify in court about its origins. Today, Davis and her daughter give differing accounts of the gun's origin. Davis's daughter, now 22, admits to having bought a gun in her teenage years, but says it was for her own protection—not a straw purchase—and it wasn't the one the police found: that one "was from something going on in the area," stashed under the car by someone else. Davis continues to think her daughter is covering for someone.
Inner-city women like Davis are painfully aware of the toll of gun violence. Young inner-city men—their sons, brothers, and boyfriends—are the most common victims of gun-related homicides in America.  A church yard near my home in Cambridge, just across the Charles River from Boston, is filled with flags representing the number of people killed or wounded in gun violence in the Boston area so far this year. Victims of gun violence in the Boston area this year alone far outnumber the casualties of the Boston Marathon bombing.
The LIPSTICK organizers note their focus on women is a solution that does not require legislation, which even in the wake of the Newtown shootings has so far proved impossible to pass.
Straw purchasing is becoming more of a target for other organizations and for law enforcement as well. The National Shooting Sports Foundation, based in Newtown, has partnered with the The Bureau of Alcohol, Tobacco and Firearms in a campaign with the message , "Buy a gun for someone who can't ... buy yourself 10 years in jail." The ATF includes information on recognizing straw purchasers in online trainings for police officers, gun retailers, as well as at the U.S. gun industry's largest annual trade show: the SHOT show.
Boston's Citizens for Safety, the roughly 10,000-member organization responsible for launching LIPSTICK, debuted its "Where Do the Guns Come From" project in 2007, but LIPSTICK was borne from its leaders' "ah-ha" moment a year and a half ago, when they connected the dots between studies that showed women are frequently recruited to illegally buy guns with similar anecdotal evidence they were hearing in the field.
"These women are sometimes in dysfunctional relationships where there is a power imbalance or exploitation or threatening," said Curtis Ellis, the communications director for Citizens for Safety. "Or they are simply poor and do not understand what they are being asked to do is illegal and can land them in prison and could be directly responsible for putting guns on the streets that can kill their own family members."
Young women can feel they are buying the guns for their boyfriend, brother or cousin as a tool for mutual protection, particularly if they live in an area where guns are commonplace, said Garen Wintemute, a professor at University of California-Davis and director of the university's Violence Prevention Research Program. For several years he did research at gun shows wearing a hidden camera. "One learns very quickly [that] straw purchases are often done by women," he said.