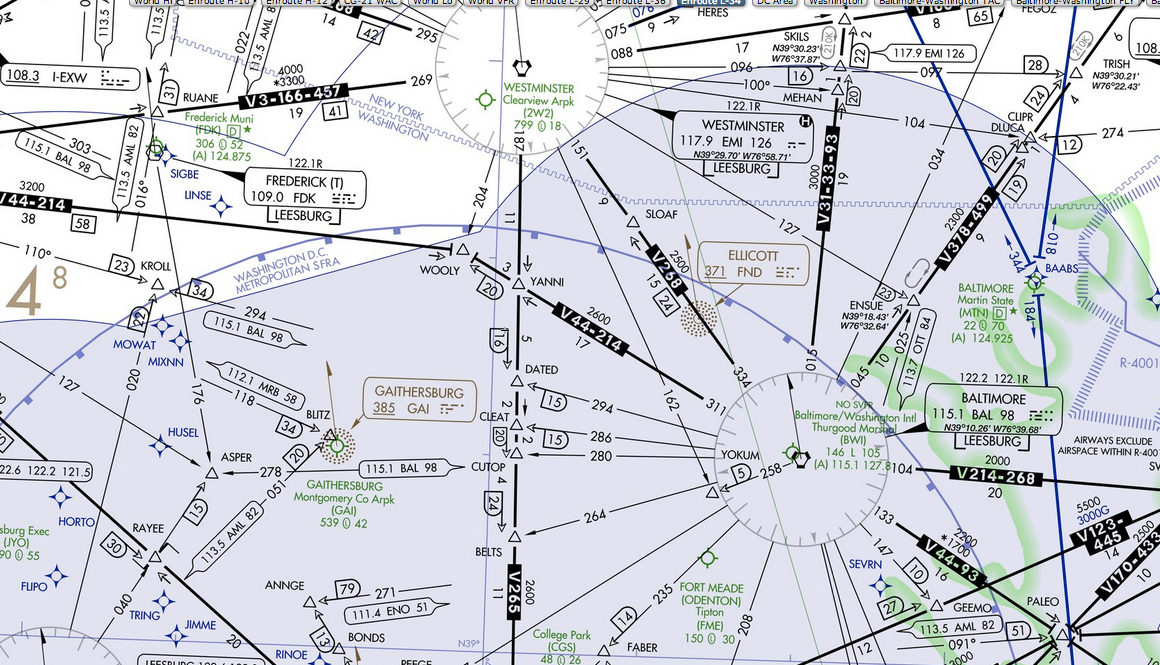 By Deborah Fallows
Aviation has a lot of special language, like sailing or gymnastics.  Its brief, even curt efficiency and orderly templates keep planes on course and out of each other's way.
For example, when a pilot enters a controller's airspace, the format is: Greeting. ID. Altitude. Or, as Jim tells me they teach it in pilot school, "Who they are; who you are; where you are; [and when necessary] what you want." Thus:
Pilot: Denver Center. Cirrus 435 Sierra Romeo. Four-thousand five-hundred feet.
And the air traffic controller's (ATC) response is: Acknowledgment. Altimeter reading (necessary gauge for determining altitude)
ATC: November 435 Sierra Romeo. Denver altimeter  30.14
And so on. Short. To the point. Unambiguous. No small talk to clog up the frequency.
Reinvention and resilience across the nation
Read more
[But what's this "November" business? Pilots identify themselves with their type of aircraft (for us, Cirrus) before the "tail number," (for us, 435SR) which is their version of a license plate. In reply the controllers usually start with "November," which is the phonetic code for N, which is the letter that indicates a U.S.-registered airplane. There are more wrinkles here, but enough for now.]
You might hear a little looser back and forth when, for example, the ATC is inquiring from pilots within his space about favorable altitudes to assign:
ATC: "How's your ride up there?"
Pilots: "Light chop at three-five-zero" or "Moderate turbulence at 5000 feet."
Sometimes you hear a request for elaboration. An ATC might request the pilot to "Say type of aircraft," since there are different types of Cirruses or Cessnas..
Or there might be a request for clarification. One day, I was surprised to realize that a little linguistic tic that I thought my husband had acquired was actually aviation talk for "repeat".  In place of the more colloquial (at least to me) "What was that?" Or, "I didn't quite hear you," or even "Sorry?"  he now says "Say again" in all his normal conversation.  He never said that before he became a pilot.
The variation in style is pretty small:  a grizzled pilot might slur rather than enunciate. A cool one might swagger through litanies like Maverick or Iceman in Top Gun. An old-rules air traffic controller might stick to the absolutely disambiguating pronunciation for, say, distinguishing 9 and 5 with Niner and Fife.
But there is one special set of aviation jargon, more alien than the concocted vocabulary of Esperanto and more bizarre than patterned wordplay of Pig Latin or Id.  This is the lexicon of waypoints, which are the road markers in the sky for directing planes on a course.
When we fly on instrument flight plans (IFR) the ATC will issue an explicit "clearance," or set of directions on the route to follow, akin to how I might give someone directions on the ground from our house to the great new 50-meter indoor public pool where I swim in Washington DC:
Turn left on Foxhall Road; right on Nebraska; straight through the traffic circle at American University; through next intersection at Wisconsin; another few hundred yards and the pool is on your left.
Here's how the IFR directions from an ATC could sound for a flight like the one we recently flew to Burlington Vermont from the Washington DC area:
November 435 Sierra Romeo is cleared to Bravo Tango Victor airport, via: On entering controlled airspace, expect radar vectors to Westminster VOR. Then Victor 457 to Lancaster VOR, Victor 39 to East Texas VOR Echo-Tango-Xray, Victor 162 to Huguenot VOR Hotel-Uniform-Oscar, then as filed. Climb and maintain three thousand feet, expect five thousand feet ten minutes after departure. Departure frequency 128.7, squawk four-six-three-five.