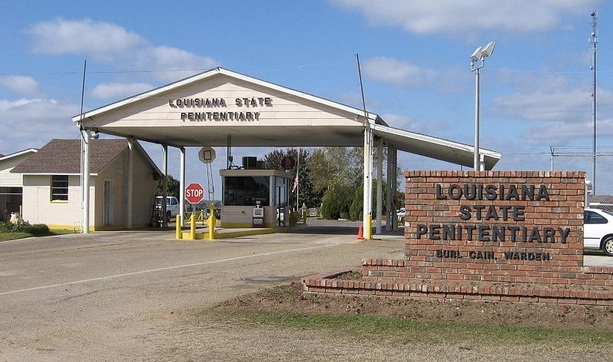 By any reasonable measure it has been a difficult period for those in charge of the notorious state prison in Angola, Louisiana--for the state lawmakers who oversee and authorize the funding of the endeavor, for the governor who proudly presides over the Department of Corrections, and for all of those in that state who care about how the rest of the world perceives their criminal justice system.
Last week, amid international fanfare, one of the prison's most famous former inmates, Herman Wallace, was ordered freed by a federal judge (from another prison) after spending 40 years in solitary confinement at Angola for a crime he almost certainly didn't commit. Three days later, he died of cancer that had gone largely untreated at the prison. "I am free," Wallace said, just before he died, his demise a grim reminder of a life spent mostly alone in a 6' by 9' foot cell inside a facility that was once part of a Deep South plantation.
In August, the prison's iconic warden, Burl Cain, apologized publicly for violating a federal court order in another lawsuit. This one, still pending, was brought by inmates who alleged they'd been kept in confinement in such brutal heat, without cross ventilation, that their constitutional rights were violated. "It's the price offenders pay for their crimes against humanity," said a lawyer representing the prison.
And the month before that, in July, four members of Congress wrote a letter to the Justice Department, asking federal officials to investigate the prison's "egregious and extensive" use of solitary confinement. "We have reason to believe," the Congressmen wrote, "that Louisiana DOC employees have colluded with persons from the Office of the Louisiana Attorney General to fabricate violations of prison rules to unjustifiably punish inmates."
So you can imagine how pleased Cain and company must have been last weekend when The New York Times published a piece about their prison titled "Bible College Helps Some At Louisiana Prison Find Peace." Indeed, you can't pay for the sort of good publicity the newspaper just gave to those beleaguered prison officials, especially on the eve of jury selection in the trial of inmate Barry Edge, the last of the so-called "Angola 5" to be prosecuted for the death of a corrections officer during a botched 1999 escape.
Here's an illustrative passage from the Times:
But Burl Cain, the warden since 1995, says the impact has gone well beyond spreading religion among the inmates. He calls the Bible college central to the transformation of Angola from one of the most fearsome prisons in the country to one of the more mellow, at least for those deemed to be cooperative. Watching men quietly saunter from open dormitories to church, many with Bible in hand and dressed in T-shirts of their choice, it can hardly seem like a maximum-security facility, although multiple daily lineups for inmate counts are a reminder.
The Times piece suggested that life at the prison is much safer these days for both inmates and guards because of this new-found religious activity and because "court supervision and a parade of reforming wardens improved staff training and introduced vocational and G.E.D. programs." While reporting on those inmates who aren't necessarily involved in the prison's missionary work, reporter Eric Eckholm offered this:
But life is much harder for some inmates than others. Some 1,600 live in more traditional cell blocks because they are considered dangerous, are being punished or need protection. Some of them are allowed outside, in individual cages, for only an hour a day. Some work in the farms for pennies per hour, guarded by a horse-mounted armed officer.
This is essentially all the Times has to say about those inmates who "are considered dangerous, are being punished or need protection." But of course one could argue that it is those inmates in particular that Times' readers need to know about most because they are the ones whom pious prison officials aren't parading before reporters. And the phrasing itself-- "are being punished or need protection"-- begs the question of how Angola classifies its prisoners, and why, and whether its classifications are reasonable.
For context and a different perspective on what life is really like inside that prison, I showed the Times piece to several people with long experience working with prisoners at Angola. All were critical of the article. And all were dubious of the role of religion as a wholly positive factor at Angola. "I'm not an expert on Christianity," said Ben Cohen (no relation), a lawyer who represents capital defendants and others there. "But the prison is run on fear, not the prospects of redemption. Inmates, guards, even lawyers are afraid of Cain."
I showed the Times piece to Jackie Sumell, a New York filmmaker who has studied the effects of solitary confinement. Sumell has spent time inside the prison, and her criticism of the policies and practices at Angola recently was documented in Herman's House, a film about Wallace that aired on PBS. Sumell is a longtime critic of Cain's, no doubt, and when I asked her for her reaction to the Times' story she offered these allegations, which we were unable to independently verify:
I have been visiting inmates in Angola for 12 years. Warden Cain strategically and effectively disempowers inmates at his facility by making extreme examples out of "the few" as a means to terrify the many who are forced to live inside the walls of Angola. In some examples, men have faced more decades of solitary confinement for not adhering to strict Christian codes and maintaining their political beliefs. It has been my experience working with formerly incarcerated men that many, even after they are released, continue to fear the notoriously retributive wrath of Burl Cain.