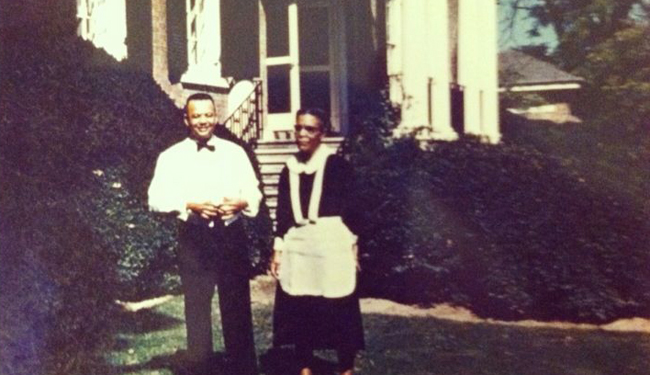 For some, watching Lee Daniels' The Butler has been an educational experience. For me, it was a trip back to childhood—the days when I was starting to recognize the ways in which privilege and power drove the Beltway, and my own family dynamics within it.
As butlers in Washington, D.C., my father, Fletcher H. Muse, Sr., and uncle, George Y. Muse, were two of the "invisible" men who heard and saw the architects of 20th century power at work. "Unc" worked under Eugene Allen, the head butler whose life formed the basis for Lee Daniels's movie, as a contract butler for state dinners, inaugurations and other large events at the White House from the late 1950s through the first Clinton administration. They both served state dinners, cocktail parties, and soirees at embassies and in some of Washington's opulent homes.
By day, my father worked as an administrative assistant at the Department of Defense, and Unc in the print shop at the Library of Congress. Both men were relieved to no longer be toiling on the railroad.
Servitude housed, fed, and clothed our family of seven and provided us with a most interesting lens into the machinations of history being made, distorted and destroyed. At night and on weekends my uncle and father were transformed by a black tuxedo, hand-tied bow tie and practice of protocol. From our remove, it may be easy to imagine the Beltway Butlers as shuffling servants. But these men were consummate professionals, at times knowing more about protocol than those they served.
Their work took them both into the bowels of politics and power, as they overheard decisions sealing the fates of their families, their friends, and the future of the country, including the planning of coups, sabotaging of civil rights legislation and the aborting of people's personal dreams. Often dad and Unc knew what was going to be in the Washington Post, Evening Star or New York Times even before the president. But the job came with a protocol and requirement of discretion that mostly sealed their tongues and prevented them from speaking about what they heard, saw or were asked to do.
Through these working-class jobs, they brought the world home to us through books and periodicals we otherwise would not have known about and incredible food that the wealthy considered leftovers: huge tins of leftover crab meat, fresh caught game, and sweet treats with names that we worked diligently to master.  At our dinner table, a bottle of Rothschild's Champagne could be served up next to curry, or a 1957 Dom Perignon paired with collard greens cooked in smoked pig knuckles. 
My cousin Lydia Muse Clemons still remembers encountering her butler father while on her lunch break one day while walking through Lafayette Park, across from the White House. "My dad was there with his co-workers, waiting to report to work.  They had on their white shirts, tuxedo pants and tie (untied around their necks)."  Tuxedos were expensive and Georgetown thrift stores were the primary source for their elegant uniforms.  "These men, especially my dad, looked so handsome and stately," Lydia says. 
In the film, Cecil Gaines (Forest Whitaker), James Holloway (Lenny Kravitz) and Carter Wilson (Cuba Gooding, Jr.) make the demanding work of servitude look effortless, as was required by the rigors of the job. And the brotherly bond among the men is evident from the kitchen to the card table where they find rare respite from the demands of the day.  I felt as though director Lee Daniels, the crew, and the actors came right up in one of those Monday night poker games in our basement, as Dinah Washington's soul poured from the hi-fi.  Dad, Unc, Mr. Lynch, and the other butlers around the table would cut the cards, talk jive, and make use of the same poker faces that were required to navigate their roles as butlers.
My father and uncle and their colleagues used to joke about what it would be like to have a "spook" in the White House. Along with jazz, hard bop, and soul piping into the sound system, collard greens would replace asparagus, barbecue sauce Hollandaise, a cure for racism would be found and Africa would be front and center in ways it never had been.
The butlers had to navigate not just racial politics but also sexual politics. Along with the normal hazards that come with carving meat with the precision of a surgeon, carrying heavy trays, and synchronizing the removal of plates from the table, these men also were on guard against the advances of white women, whose eyes and hands wandered across borders and boundaries not theirs to claim. As a child, I recall being perplexed when men like Secretary of State John Foster Dulles and nuclear scientist Glenn Seaborg—rather than their wives—called to book parties with dad.  My brother Vincent and I wondered if these men did not want their wives talking on the phone with black men.  Then again, some of these men also maintained tony pied-à-terres specifically designated for entertaining, unbeknownst to their wives, at places like the Woodner and Watergate Towers. According to stories passed along very late in life by some of the butlers, there were dinner parties held in socially safe houses where men who legislated against debauchery by day deeply engaged in it at night. At intersections like this, butlers really had to render themselves invisible, excusing themselves to cleanup duty, for example.