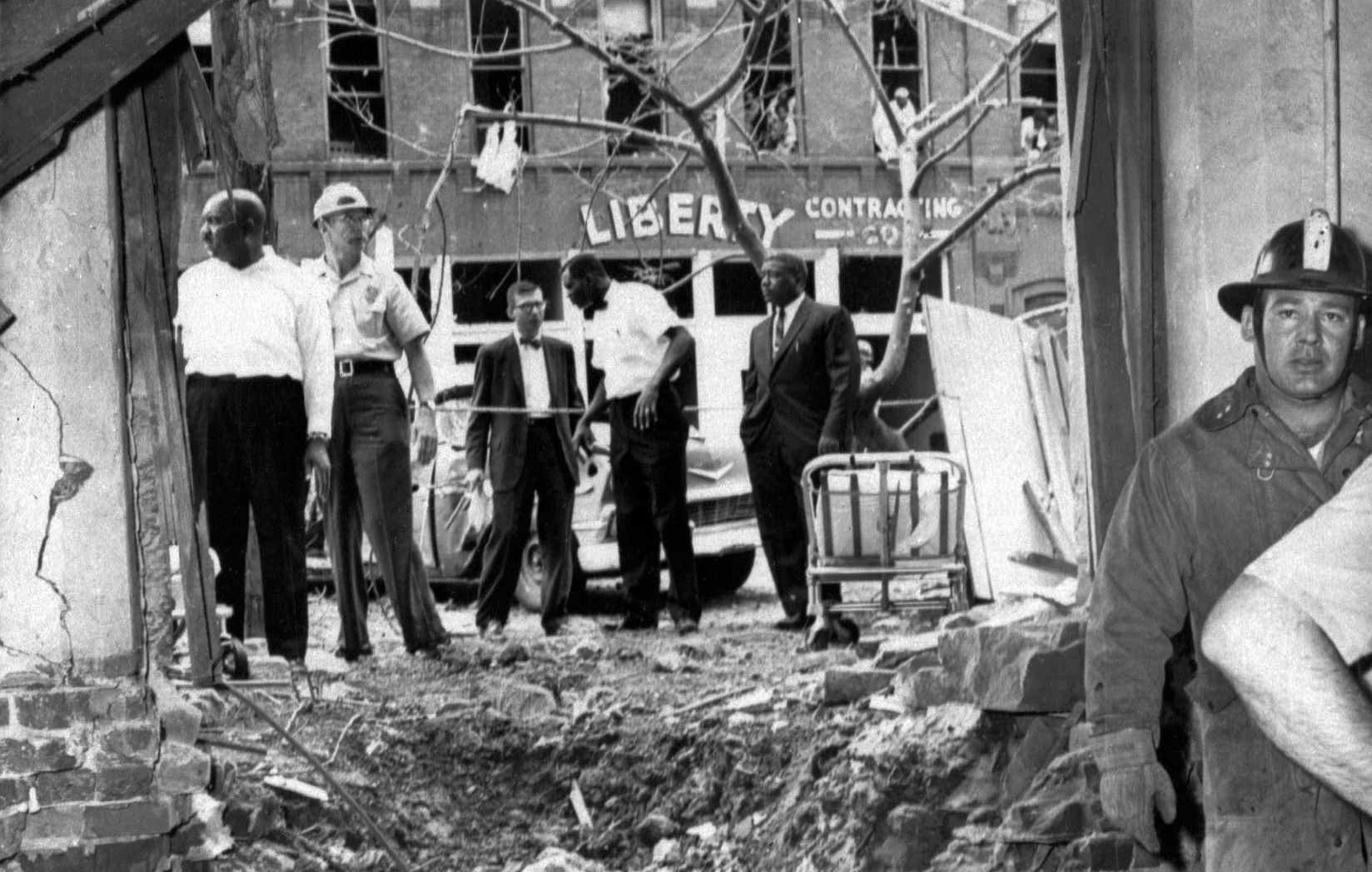 In the next few days, you are likely to be inundated with 50th anniversary reminiscences of the Birmingham church bombing of September 15, 1963, a blast that killed four young black children and intensified the struggle for civil rights in the South. This is as it should be. The bombing of the 16th Street Baptist Church was the most terrible act of one of the most terribly divisive periods in American history, and it's not too much of a leap to suggest that all that came after it—including the Civil Rights Act of 1964 and the Voting Rights Act of 1965—would not have come as quickly as it did without the martyrdom of those little girls.
What you likely will not hear about in the next few days is what happened the day after the church bombing. On Monday, September 16, 1963, a young Alabama lawyer named Charles Morgan Jr., a white man with a young family, a Southerner by heart and heritage, stood up at a lunch meeting of the Birmingham Young Men's Business Club, at the heart of the city's white Establishment, and delivered a speech about race and prejudice that bent the arc of the moral universe just a little bit more toward justice. It was a speech that changed Morgan's life—and 50 years later its power and eloquence are worth revisiting. Just hours after the church bombing, Morgan spoke these words:
Four little girls were killed in Birmingham yesterday. A mad, remorseful worried community asks, "Who did it? Who threw that bomb? Was it a Negro or a white?" The answer should be, "We all did it." Every last one of us is condemned for that crime and the bombing before it and a decade ago. We all did it.
He had written the speech that morning, he would recount years later after he and his family were forced to flee Birmingham because of the vicious reaction his words had generated from his fellow Alabamans. He had jotted down his remarks, he said, "from anger and despair, from frustration and empathy. And from years of hopes, hopes that were shattered and crumbled with the steps of that Negro Baptist Church." He had had enough of the silent acquiescence of good people who saw wrong but didn't try to right it.
A short time later, white policemen kill a Negro and wound another. A few hours later, two young men on a motorbike shoot and kill a Negro child. Fires break out, and, in Montgomery, white youths assault Negroes. And all across Alabama, an angry, guilty people cry out their mocking shouts of indignity and say they wonder, "Why?" "Who?" Everyone then "deplores" the "dastardly" act. But you know the "who" of "Who did it" is really rather simple.
There was little in Morgan's early life to suggest that he would have the courage to speak out in this fashion—but you also can see signs of the civil rights lawyer to come. He was born in Kentucky, the son of parents who moved their family to Birmingham in 1945 and were always courteous to the "black help." Like so many other local sons and daughters of the time, Morgan went to University of Alabama. By the time he got there he was interested in law and politics. He would spend his life enmeshed in both.
The "who" is every little individual who talks about the "niggers" and spreads the seeds of his hate to his neighbor and his son. The jokester, the crude oaf whose racial jokes rock the party with laughter. The "who" is every governor who ever shouted for lawlessness and became a law violator. It is every senator and every representative who in the halls of Congress stands and with mock humility tells the world that things back home aren't really like they are. It is courts that move ever so slowly, and newspapers that timorously defend the law.
He was always a Democrat, which in Alabama in 1948 meant that he was present at the creation of the chasm on race that defines American politics to this very day. Tellingly, he was drawn first to James E. Folsom—"Big Jim"—who served two non-consecutive terms as governor from 1947 to 1959. Folsom was a populist, which wasn't uncommon, but was also an early and ardent integrationist. "As long as the Negroes are held down by deprivation and lack of opportunity the other poor people will be held down alongside them," Folsom had said, in 1949, the year after Alabama went Dixiecrat.
It is all the Christians and all their ministers who spoke too late in anguished cries against violence. It is the coward in each of us who clucks admonitions. We have 10 years of lawless preachments, 10 years of criticism of law, of courts, of our fellow man, a decade of telling school children the opposite of what the civics books say. We are a mass of intolerance and bigotry and stand indicted before our young. We are cursed by the failure of each of us to accept responsibility, by our defense of an already dead institution.