Editorial note from James Fallows:
Yesterday I mentioned the robust economy in Sioux Falls as part of the larger high-employment story of South Dakota as a whole. Two updates: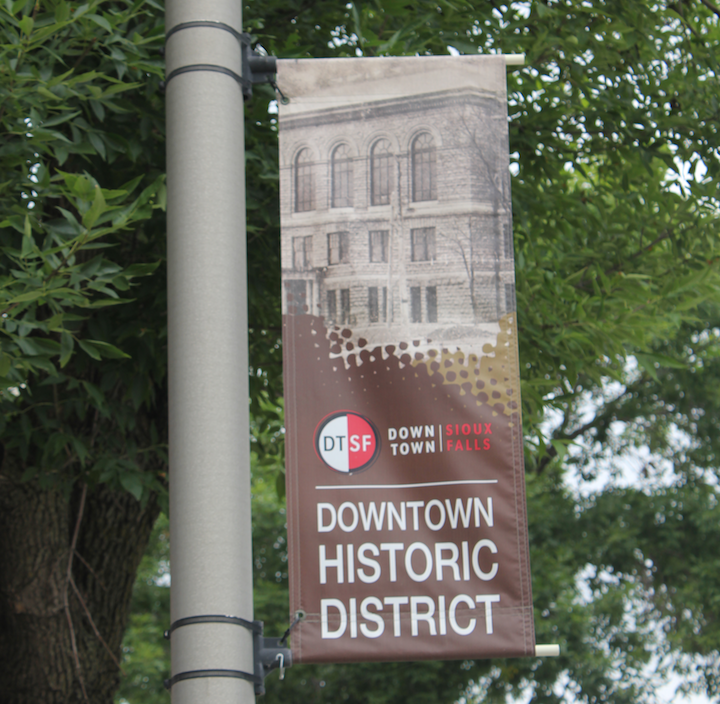 First, a number of readers have written in to ask whether the impressive statewide figures for South Dakota include the state's significant Native American population on the Pine Ridge and other reservations. For instance:
Having participated in two mission trips to the Rosebud Lakota reservation in South Dakota (which, at least when I was there was the second poorest county in the US; poorest was Pine Ridge, also in SD) I understand that a primary reason SD can claim low unemployment is because they don't count (or don't need to count) unemployment on the vast deserts of poverty, misery, and unemployment in their midst: the native reservations!
To put this in context, as of the latest Census info, people who identify as Native American made up more than 8% of South Dakota's population. That's comparable to the level in New Mexico and Oklahoma, and higher than in all other states except Alaska (at over 14%). Here's a Census map of Native American proportions across South Dakota and the northern edge of Nebraska. The green pin is Sioux Falls, and the blue dot (which actually sits just above the South Dakota - Nebraska border) is Pine Ridge.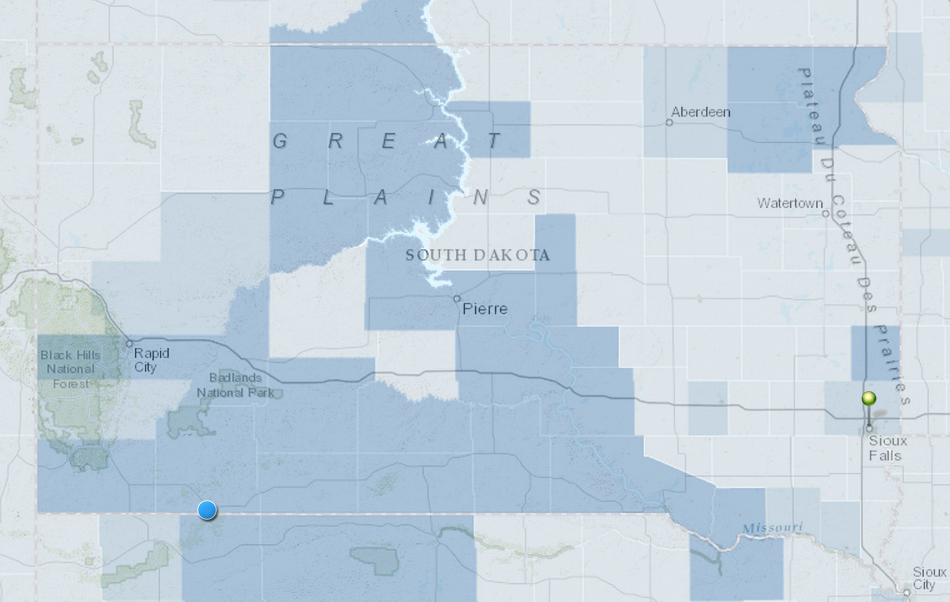 On the specific question about statewide statistics, I checked with officials at the South Dakota Department of Labor and Regulation, who confirmed what I thought. The most frequently cited "unemployment rate" measures the proportion of people in the active workforce who are still looking for jobs but have not found them. Thus a state could have a very low reported unemployment rate, as South Dakota does, even if many people on the reservations have no jobs and are outside the official work force altogether. On the larger point about the prospect of Native Americans in the plains states, obviously that is so fundamental a part of the past and present of this part of the country (even more than elsewhere) that we'll give it separate and serious attention. 
The second followup involves South Dakota history. Here is John Tierney, on the past-and-future boom economies of this part of the state.
---
Twice a Boom Town
By John Tierney 
Reinvention and resilience across the nation
Read more
Sioux Falls, South Dakota, has been in the spotlight recently as America's latest "boom town." Touting the city's consistently low unemployment rate – currently at 3.3 percent – the National Journal reported, with a headline that used the "boom town" theme, that the city's "multiple thriving industries" (banking, healthcare, agriculture) made Sioux Falls the envy of other urban areas. And Forbes again listed Sioux Falls in first place on its annual list of The Best Small Places for Business and Careers. So, more and more people go to Sioux Falls.
Talking with National Journal reporter Amy Sullivan, Sioux Falls mayor Mike Huether explained what the city's booming success looks like on the ground:
We do have between 3,000 and 4,000 people moving here each year . . .. This year, we will blow away the record for construction in a single year. We're already 150 percent of where we were last year, and last year was the second-highest construction year in our city's history.

. . .

We had 30 businesses in downtown Sioux Falls that either opened or expanded last year. There is no vacancy right now for people who want to live in downtown Sioux Falls.
Sounds like a boom to you? Oh, please. You don't know the meaning of "boom."
If you really want to know what Sioux Falls looks like when it's booming, you have to look back 125 years to the period right around the arrival of the railroad there in 1878. Fortunately, we have a fascinating record of what that booming period looked like, compiled by Gary Olson, a now-retired professor of history at Augustana College in Sioux Falls and an expert on the city's history. Olson sifted through census data, newspaper accounts, and archival materials to provide an illuminating "snapshot" of Sioux Falls in the late 1870s. The city's extraordinary growth was a thing to behold:
In March 1878 the Sioux Falls Pantagraph reported that . . . every day brought large numbers of new arrivals. The hotels, the Pantagraph observed, 'are crowded to their utmost capacity; the boarding houses have eager customers for all their hash;. . . [and] the lumber dealers are up to their eyes in business.' . . . In April the Pantagraph announced that new arrivals were increasing, averaging about forty-five per day, 'coming by stage, by livery, by freighters' wagons and on foot.' . . . Naturally, the population pressure had an impact on real estate prices. In June 1878 a visitor from the Sioux City Journal reported that houses and buildings were scarce – 'remarkably so' – resulting in real estate prices doubling during the previous three years. The Pantagraph confessed in June that Sioux Falls had been overwhelmed by being 'the vortex of a whirlpool of immigration for months.'

1908. Panoramic photographic of the main street of Sioux Falls, SD. Library of Congress