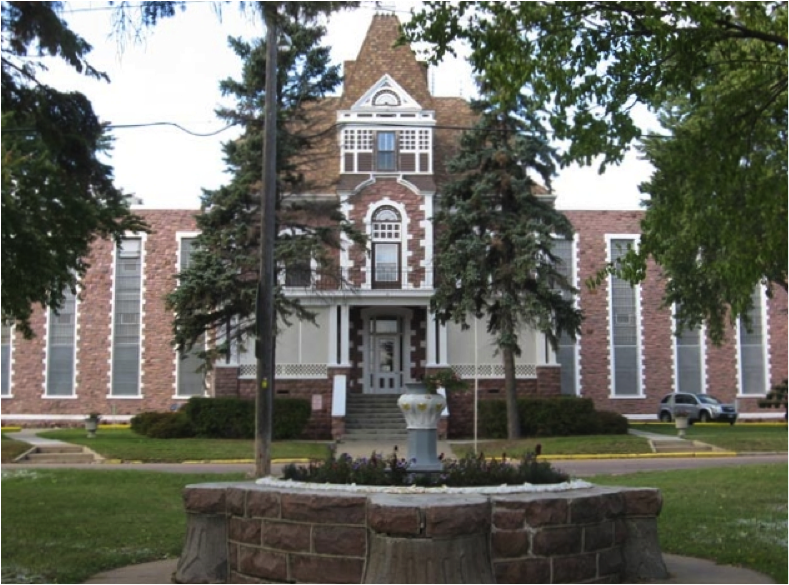 Introductory note by James Fallows: Yesterday I discussed why the part of greater Sioux Falls that is visually least interesting, to put it politely -- the expanse of fast food joints and big-box malls on the town's periphery -- is connected to a quite interesting part of the city's economic history and current civic culture.
That in turn is connected to a theme I mentioned back in the first dispatch from this "East River" part of the Dakotas: Sioux Falls has made such a powerful and mostly positive impression on us largely because it so clearly represents a long-standing part of the essential American bargain. It is successful, and rough-edged -- a contemporary City of Big Shoulders, with lots of its economic machinery displayed rather than tucked out of site. A century-plus ago, one aspect of its economic boom was its role as quickie-divorce center. A generation-plus ago, it put itself on the financial-services map when South Dakota eliminated usury laws and drew Citibank and other credit-card companies to set up headquarters in Sioux Falls. There will be more to say about that phase of the city's history.
But in addition to the visible raw edges, like the huge slaughterhouse and the penitentiary that both sit right downtown, the city also has an extensive and remarkable architectural heritage. That is what John Tierney describes today, starting with the striking Richardson-style Romanesque buildings that define much of the look of downtown. The image at the top shows one of many buildings by the city's most influential architect, Wallace L. Dow. It's part of the state pen.
---
By John Tierney
It used to be that if you wanted to get a sense of what distant cities and towns looked like, you had to travel there yourself, view guidebooks and coffee-table photobooks, get hold of postcards, or endure friends' slide shows and endless monologues. These days, it's easy to learn the look of other places by turning to Google's Street View, YouTube, and other Web resources.
Reinvention and resilience across the nation
Read more
But it's still helpful, if you're trying to get a sense of a city's architectural style and its most treasured structures, to have someone curate a selection of buildings and sites for you. So, in that spirit, for many of the cities that Jim and Deb will be visiting for the American Futures project, we'll provide an amateur's guide to notable buildings in town. Some of these will be Fallows photos; most will be from the Web.
Sioux Falls is a terrific city to begin this exercise because it contains many beautiful buildings, over 65 of them on the National Register of Historic Places. Carolyn Torma, an expert on South Dakota's architectural treasures, explains in a 1989 article in the journal South Dakota History, that many of the grand buildings in Sioux Falls were designed in the late nineteenth century by Wallace L. Dow and Joseph Schwarz, architects who "celebrated the picturesque and the romantic," working in "richly ornamented and colorful styles." Torma explains:
Both employed in many of their buildings rusticated or rock-faced Sioux quartzite [a red/pink quartzite quarried in abundance in the Sioux Falls region], round-arched Romanesque [Richardsonian] details, and irregular floor plans. Further, the picturesque styles of the era – Romanesque, Stick, Shingle, Italianate, Queen Anne, and Gothic Revival, to name a few – made little attempt to reproduce faithfully their historical sources. Instead, designs were bold, almost freehand, interpretations.
Let's look at some of the best of those Romanesque buildings with Sioux quartzite: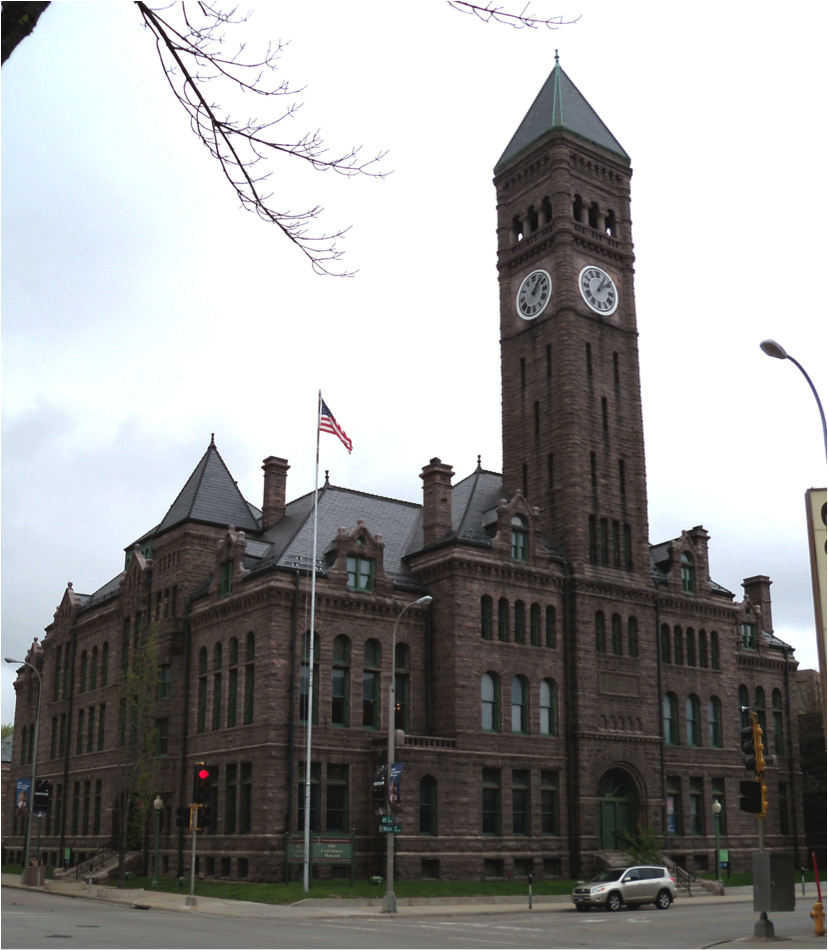 Old Minnehaha County Courthouse, Sioux Falls, SD
Architect: Wallace L. Dow
Style: Romanesque Revival
Date: 1893
More info: Converted into a museum in the 1970s.
Photo source: Wikimedia Commons
---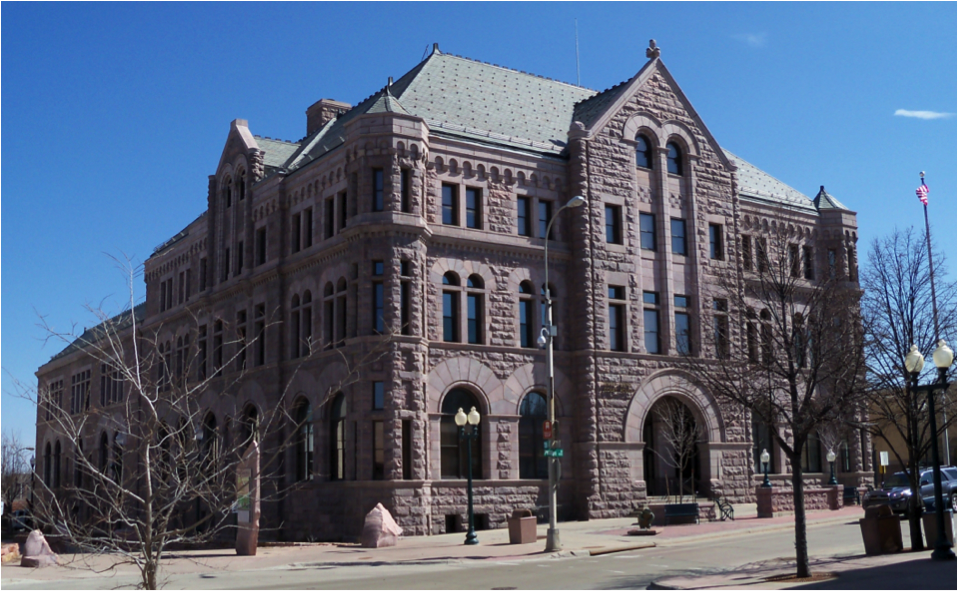 Federal Building and U.S. Courthouse, Sioux Falls, SD
Architect: Willoughby J. Edbrooke, with additions by James Knox
       Taylor (1911) and James A. Wetmore (1931)
Style: Romanesque Revival
Date: Constructed 1892-1895, 1911–1913, 1931
More info: Wikipedia
Photo source: Wikimedia Commons
---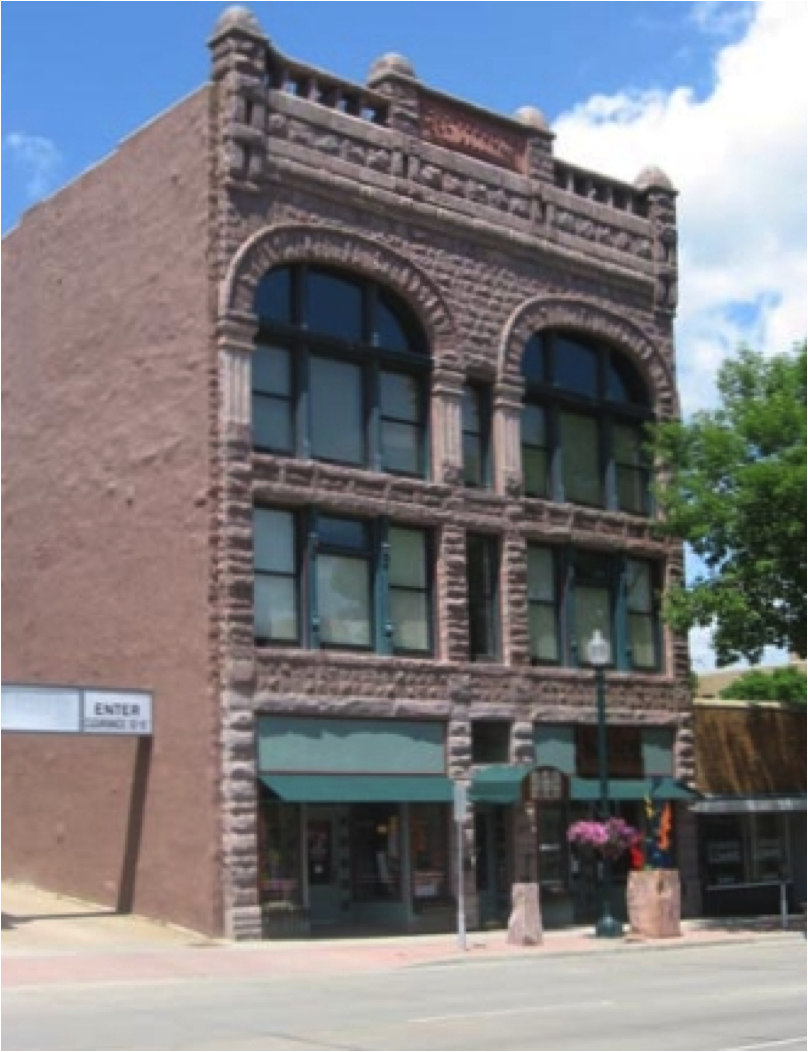 Pettigrew and Tate Building, Sioux Falls, SD
Architect: Cross & Richard
Style: Romanesque Revival
Date: 1888-1889
Photo source: Wikimedia Commons
---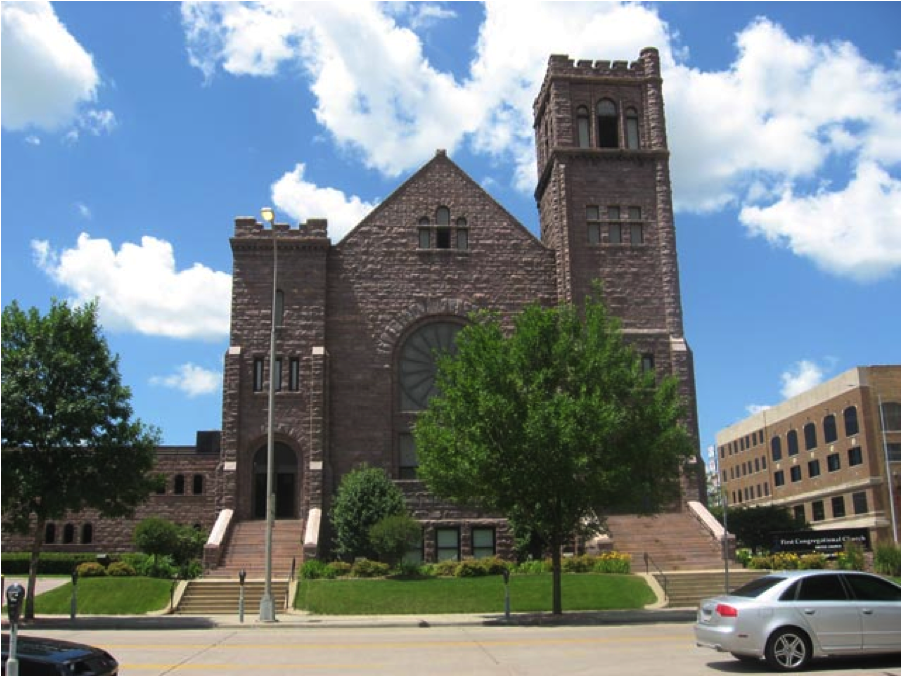 First Congregational Church, Sioux Falls, SD
Style: Romanesque Revival
Date:  1907-1909
More info: First Congregational United Church of Christ and GoHistoric.com
Photo source: Wikimedia Commons
So, clearly, architects working in Sioux Falls in the late 1800s and early 1900s were enamored of the Richardsonian Romanesque style. And they loved that quartzite!