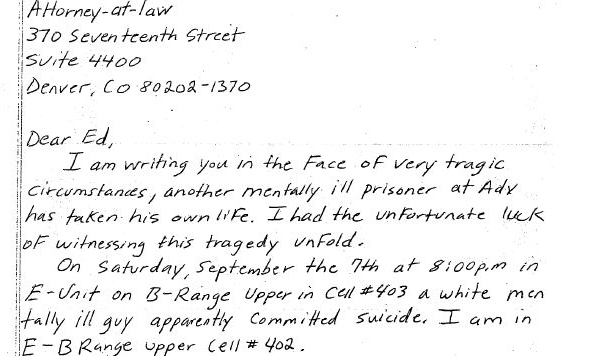 Last Wednesday, amid nationwide services commemorating the 12th anniversary of the terror attacks upon America, the Bureau of Prisons, through the Justice Department, issued a statement for "immediate release" to the media and the public. "Staff Assault Contained," was the headline of the one-paragraph announcement about an incident that had occurred behind bars that very morning. Here's how it read in its entirety:
At approximately 7 a.m., on September 11, 2013, an inmate at the United States Penitentiary, Administrative Maximum, Florence, Colorado, initiated an assault on a staff member using a homemade weapon.  Additional staff immediately responded and all were able to quickly and effectively restrain the inmate.  All three staff members were transported to a local hospital for evaluation and treatment of non-life threatening injuries. The FBI has been notified and an investigation of the incident is underway.
The feds wanted everyone to know, immediately, that prison officials had restrained a violent inmate who had inflicted "non-life threatening injuries" upon a few staff members. That's the kind of news the Bureau of Prisons likes to share with the world. It suggests to outsiders an environment within the nation's federal prison system where officials are in control — and capable of responding "quickly and efficiently" to warning signs of danger from inmates. 
But what federal officials did not rush to disclose that day —  indeed, what it has not been publicly disclosed until now — is that another prisoner, a man named Robert Gerald Knott, was found hanging dead in his cell on September 7th, the evident victim of yet another suicide at ADX-Florence. That is definitely the sort of news that the Bureau of Prisons generally does not rush to trumpet to the world because it suggests to outsiders an unconstitutional level of chaos and disorder within the federal prison system that can result in the death of a man who is required by law to be protected from himself.
Knott's heretofore unacknowledged death is significant for several reasons. He was a notorious criminal whose long ago crimes were the subject of a made-for-television movie. But he was also one of the many inmates in the federal prison system suffering from untreated, or mistreated, mental illness. Indeed, Knott died in a prison run by obdurate bureaucrats who are the subject of several civil rights lawsuits, brought in federal court in Colorado, alleging the systemic abuse and neglect of mentally ill prisoners. (See The Atlantic's long-running series on these cases.)
The BOP wants to keep quiet about what happened (and why) to Knott on the day of his death — "an investigation continues," a spokesman told me late last week. But a fellow inmate, with a view of Knott's cell on the day he died, has shared his account with his lawyer, who in turn has shared that account with The Atlantic. The story this inmate tells, of the last dismal hours of Knott's life, offers rare insight into how the mentally ill still are treated in this prison — even as lawsuits challenging these treatments move closer toward trial.
The Life and Death of Robert Gerald Knott
Twenty-five years ago, Robert Knott made the papers — and television — because he and confederate named Jeffrey Duane Frost went on a three-state crime spree that lasted nearly two weeks. There were hostages. There were guns. There were car chases. There was a standoff. And ultimately, there was a shootout that resulted in two deaths. In the end, Frost was dead and so was Dana Bridges, a woman that he and Knott had kidnapped. The episode had started in Beatty, Nevada, and had ended, in sorrow, in Onalaska, Washington. Knott was quickly tried, convicted and sentenced to life in prison.
His severe mental illness predated this criminal conduct. Early in life, Knott was hospitalized with symptoms of depression and "command hallucinations." Later, court records reveal, he was diagnosed with schizophrenia. But none of this stopped officials from transferring him to ADX-Florence even though it does not contain a "mental health evaluation unit" like other federal prison facilities. More than a decade later, in April 2002, Knott was transferred to just such a unit in Springfield, Missouri, to be evaluated by a prison psychologist who promptly concluded that he was mentally ill and needed care in a prison psychiatric hospital. Knott objected to the diagnosis and refused the treatment.
"Throughout his incarceration in the Federal Bureau of Prisons," the doctor wrote in the background section of Knott's file, "Mr. Knott has been diagnosed with schizophrenia and antisocial personality disorder. He has been admitted to this facility for evaluation or treatment on six previous occasions." Of the 2002 evaluation, the government doctor noted that Knott "appeared uncooperative during much of the course of this evaluation, and it appears likely his lack of cooperation was due to his severe psychotic illness."
How does a man get this way? Is it nature? Is it nurture? Is it a bit of both? We know from Knott's records that his mother shot and killed his father when he was very young and that his adoptive parents were killed in an airplane crash when he was 15 years old. He turned to drugs and to a life of crime. But as his 2002 doctor noted in the file, Knott's mental illness always seemed to get worse when he was transferred back to Colorado, and it always seemed to get better when he was transferred to a suitable facility that offered appropriate mental health care.