Before I get to the end of this post, I'll explain why the image you see here is not how the people of Holland, Michigan, would like their town to be understood. Yet it's part of a whimsical downtown series of public-art posters in which familiar paintings are given an a la Hollandaise touch. You'll see another below -- the first one obviously after Grant Wood, the second Manet. The fact that a city of some 35,000 people has a downtown commercially and culturally vibrant enough to support this sort of display is part of the story that seems worth figuring out and trying to tell.
This is an early "substance" post in our American Futures series. I think it's useful that my wife and I are beginning this project at the same time that my colleague Ta-Nehisi Coates is in the process of discovering France, and explaining his stages of discovery. In both cases, writers/ observers are wrestling with what is knowable on short exposure, and what takes a very long time to figure out. I realized recently that the professional activity I have done more frequently than anything else is exactly what we are undertaking now: Going some place unfamiliar and asking, What is going on here? I want to say something more about how that process works.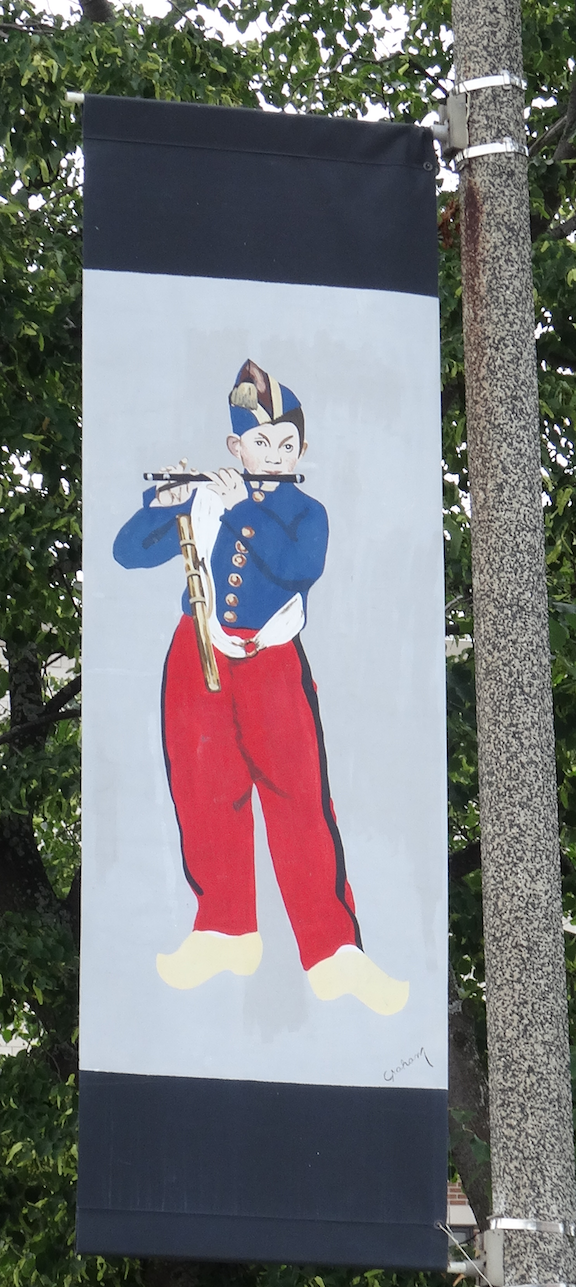 There are first impressions you want to record, because very soon you will stop noticing them. Sometimes they hold up: in my first article after we moved to China seven years ago, I wrote that I had never experienced a society simultaneously so controlled, and so out of control, as China. As the years went on, I realized that most of what I learned was merely an elaboration on that point. Yet other first impressions turn out mainly to be naive.
When you visit new places, you start with a set of questions you'd like to ask -- and then open yourself to the answers people want to give, regardless of the question. The interaction of the planned and the unpredictable, serendipity and design, is the difference between the experience of seeing almost anything -- a city, a country, a factory, a meeting -- and just thinking about it and understanding it at arm's length.
As time goes on, you get some basis for comparison. When you've seen one Chinese factory, you think: This is how factories are in China. When you've seen a hundred, you can say: This is a typical Chinese factory, except ... The opportunity to keep doing this, repeatedly, is what I value about this line of work. As I have often explained, the horrible price you pay is having to do the writing.
Reinvention and resilience across the nation
Read more
When it comes to the Coates family in Paris, this wonderful post by Ta-Nehisi explores a point I remember grappling with and writing about when we were in Japan long ago. As a black man in America, he has always had to "think about" race in a way that I, as a white man, didn't. As the Stephen Colbert character says, "I don't see race." Yet as a native English-speaker in Europe, Ta-Nehisi recognizes that he doesn't have to "think about" the world's dominant language. It is his, by birthright -- and yet he notices the "private" languages with which non-English speakers around him can exchange signals he is missing, much as white Americans are aware of signals among African-Americans that whites miss. And as I wrote in the Atlantic long ago, one benefit to my sons of going to Japanese public school, a "benefit" not fully clear to them at the time, is that it put them, as white American young men, in a situation in which they had to "think about" their race all the time. This is my way of saying that one of Ta-Nehisi Coates's early impressions resonates with my experience outside America over the years.