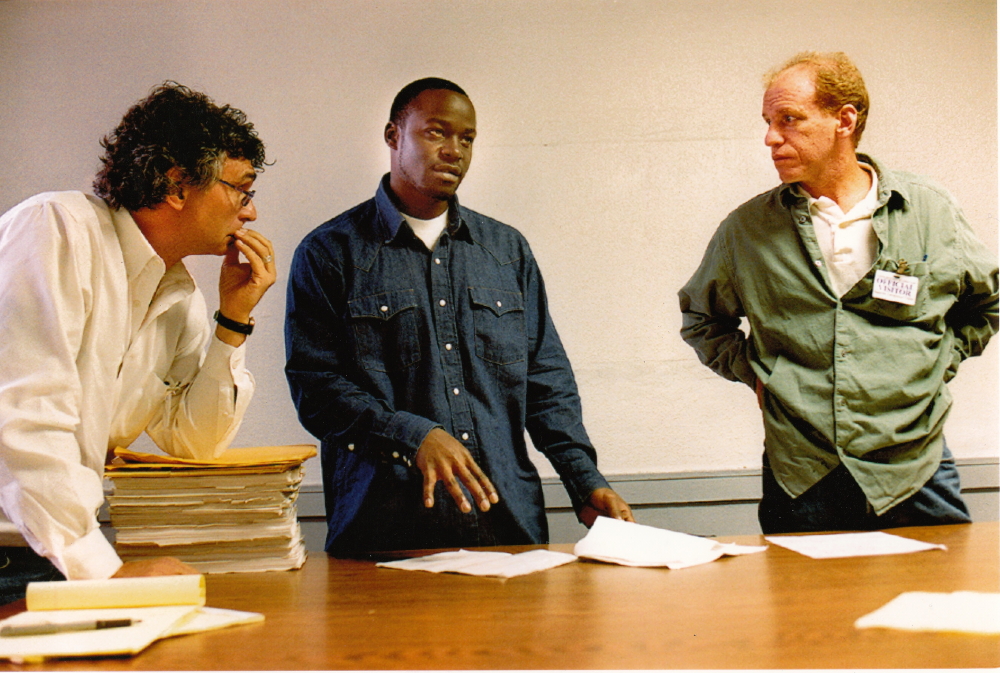 The author (left) with Daniel Taylor and fellow reporter Steve Mills during their first meeting in 2001 (Courtesy of Maurice Possley)
During nearly 25 years as a reporter at the Chicago Tribune, I received hundreds of requests for help from convicted defendants. None was more compelling than the hand-printed letter from Daniel Taylor, a 25-year-old inmate at Stateville Penitentiary in Joliet, Illinois. In neat block letters, Daniel explained that he was serving a life sentence without parole for a double murder in Chicago in 1992. Even though Daniel had given a court-reported confession, he said he was innocent and he had police records that proved it.
The letter was addressed to Steve Mills, my reporting partner on numerous stories about wrongful conviction. When Steve brought it to my desk, I was as intrigued—and skeptical—as he was. Why had this man confessed? How had he been convicted? Was he delusional about what the police records really showed?
But Daniel's timing was fortuitous. It was the summer of 2001, and Steve and I, along with fellow reporter Ken Armstrong, were deep into an investigation of false and coerced confessions in the city of Chicago. Perhaps, we thought, Daniel's case would provide a window into a world we suspected—and later proved—existed: a world where defendants were said to have confessed to crimes they did not commit.
And so, in December 2001, the Tribune published our five-part series, "Cops and Confessions," Daniel's case was the subject of an entire installment. We had uncovered strong evidence of Daniel's innocence—evidence that he was actually in jail at the time of the crime and that his confession was false.
I had never been so confident of a convicted defendant's innocence. And I never imagined nearly 12 years would pass before Cook County prosecutors would admit the truth and dismiss his conviction. But it finally happened. On June 28, 2013, Daniel, who was arrested at age 17, was released at age 38, having spent more than 20 years behind bars.
***
Steve and I first met Daniel at Stateville where he showed us the voluminous files he had gathered on his case. These files, his most valuable possessions, left with us that day. The only physical record of that meeting is a photograph taken of Steve, Daniel, and me. I framed a copy and kept it on my wall at home to remind me where Daniel was and that until he was free, an injustice remained.
The story of Daniel's wrongful conviction begins with the gunshot murders of Jeffrey Lassiter and Sharon Haugabook in an apartment on Chicago's North Side on November 16, 1992. A neighbor heard the shots, looked out the window, and saw four men leaving, one of whom noticed her and pointed a finger in warning. The witness soon identified Dennis Mixon, a West Side cocaine dealer, as one of the men, but police couldn't find him.
Two weeks later, police picked up 15-year-old Lewis Gardner and 19-year-old Akia Phillips for selling marijuana on a street corner near the scene of the shooting. Gardner, who had an IQ of 70, told police he got his drugs from Deon Patrick and implicated Patrick in the shooting. Police said Gardner and Phillips confessed to being lookouts for the gunmen and said they also implicated Daniel Taylor, Joseph Brown, Phillips' brother Paul, and Rodney Mathews.
Daniel, who had been declared a ward of the state at age 11 because his mother was a cocaine addict, had lived in a dozen foster homes over the ensuing years. At that time, he was living in a state facility. He was picked up in December and taken to a police station, where detectives said he confessed almost immediately. His statement was transcribed by a court reporter.
Daniel told us a different version. He said he was smacked in the head with a flashlight and was told that he had been implicated by others. He said the detectives told him if he gave a statement, he would be released, so he told them what they wanted to hear: that he, Mathews, Patrick, and Mixon went to the apartment to collect a drug debt owed to Mixon. According to the statement, when Lassiter said he couldn't pay, Patrick shot him dead. Taylor and Mixon then held Haugabook's arms and Patrick shot her as well.
The woman who had identified Mixon viewed a lineup and said she recognized Daniel from the neighborhood, but that he was not one of the four men she saw the night of the murders.
After the lineup, when detectives told Daniel he was being charged with murder, Daniel realized he was not being released. So he told the detectives the truth: He had been in jail on the night of the murders. A check showed that, in fact, Daniel had been arrested for fighting in a park that night at about 6:45 p.m., and jail records showed he was released about 10 p.m. and the murders occurred at 8:43 p.m.
But Daniel was not released.
Instead, detectives went about constructing a case to support his confession. They found Adrian Grimes, a drug dealer who frequented the same park where Daniel was arrested that night. Grimes said he had seen Daniel in the park at 7:30 p.m. that night. They found two police officers who, weeks after the murders, filed a report saying they'd seen Daniel in an alley near the shooting around 9:30 p.m.
And three months later, detectives arrested Mixon. Detectives said Mixon confessed and said that he'd seen Daniel in the park just prior to the murders—bolstering the case against Daniel.
There was a lot at stake for the detectives, who said all eight defendants had confessed. Because all of them had implicated Daniel in the murders, if Daniel's confession were to fall apart, the rest of the case would be in jeopardy.
By the time Daniel went on trial in 1995, the cases against Brown and Akia Phillips had been dismissed. A judge had ruled that Brown had been arrested illegally and that detectives had made an improper promise to Phillips to induce him to confess. Another defendant, Rodney Mathews, had been acquitted.
But the prosecution was still relying on Daniel's confession, as well as the testimonies of Grimes, the officers who said they'd seen Daniel in the alley, and two other police officers who claimed that the records showing Daniel's 10 p.m. release were unreliable. That was enough for the jury—Daniel was convicted and sentenced to life in prison without parole.
Six years later, we believed our investigation had demolished the prosecution's case. Grimes told us that when he said he'd seen Daniel in the park, he was lying in return for leniency on a pending drug case. The woman who'd identified Mixon the night of the murders said she'd resisted efforts by police and prosecutors to identify Daniel, even after she was shown Daniel's confession. "They said it's not lying because it's in the confessions," she told us. "They just wanted the boys. If those boys had been there, I sure would have said so, no problem."
We found state records, which showed that the officers who'd turned in the belated report had made false statements in their report.
And we found police reports that had been turned over by prosecutors in one of Daniel's codefendant's cases but never been furnished to Daniel's defense lawyer. One report said police were looking for James Anderson, who had been in the jail with Daniel on the night of the murders. There was no indication that Anderson had ever been found.
We found him in a downstate Illinois jail following his arrest for check forgery. Anderson told us that he had been interviewed by detectives and that he told them that he remembered being in the cell with Daniel. "I said I remembered the kid," Anderson said. "But then they sort of lost interest."
By the time our findings were detailed, Patrick had been convicted and sentenced to life without parole. And Gardner and Paul Phillips had been convicted as well, and each sentenced to 30 years in prison.
When it came to Daniel, Cook County prosecutors had no interest in our evidence. They stood by his original confession.
Steve and I were haunted by the case. We kept at it, encouraged by our editors at the Tribune. We met with Mixon in prison, where he was serving a life sentence without parole after being convicted of the murders. Mixon told us three other men were with him at the scene of the murders, but that Daniel and the other six defendants were not among them. We found Mixon's former girlfriend, who said Mixon had told her for years that Daniel and the others were not involved.
We found a man named Willie Lee Triplett—the police hadn't at the time—who told us he was in the courtyard of the apartment building on the night of the murders and saw Mixon and three others leave. None of them were Daniel or the other co-defendants, he said.
We published more articles detailing the mounting evidence showing that Daniel—and apparently all of the other defendants, save Mixon—were innocent.
In March 2003, the state's attorney's office said prosecutors and detectives had reviewed the evidence, but nothing had changed. The convictions were solid, the office declared.
Two months later, we reported that we had found a man who said he was with Paul Phillips playing video games at the time of the murders—another chink in the prosecution's proof. A lawyer filed a petition on behalf of Daniel, Paul Phillips, Gardner, Patrick and Mixon, seeking a hearing on the evidence we had uncovered, but the petition was dismissed. Daniel filed a petition for a federal writ of habeas corpus, but it too was denied without a hearing.
Daniel's case seemed to be at a dead end.
***