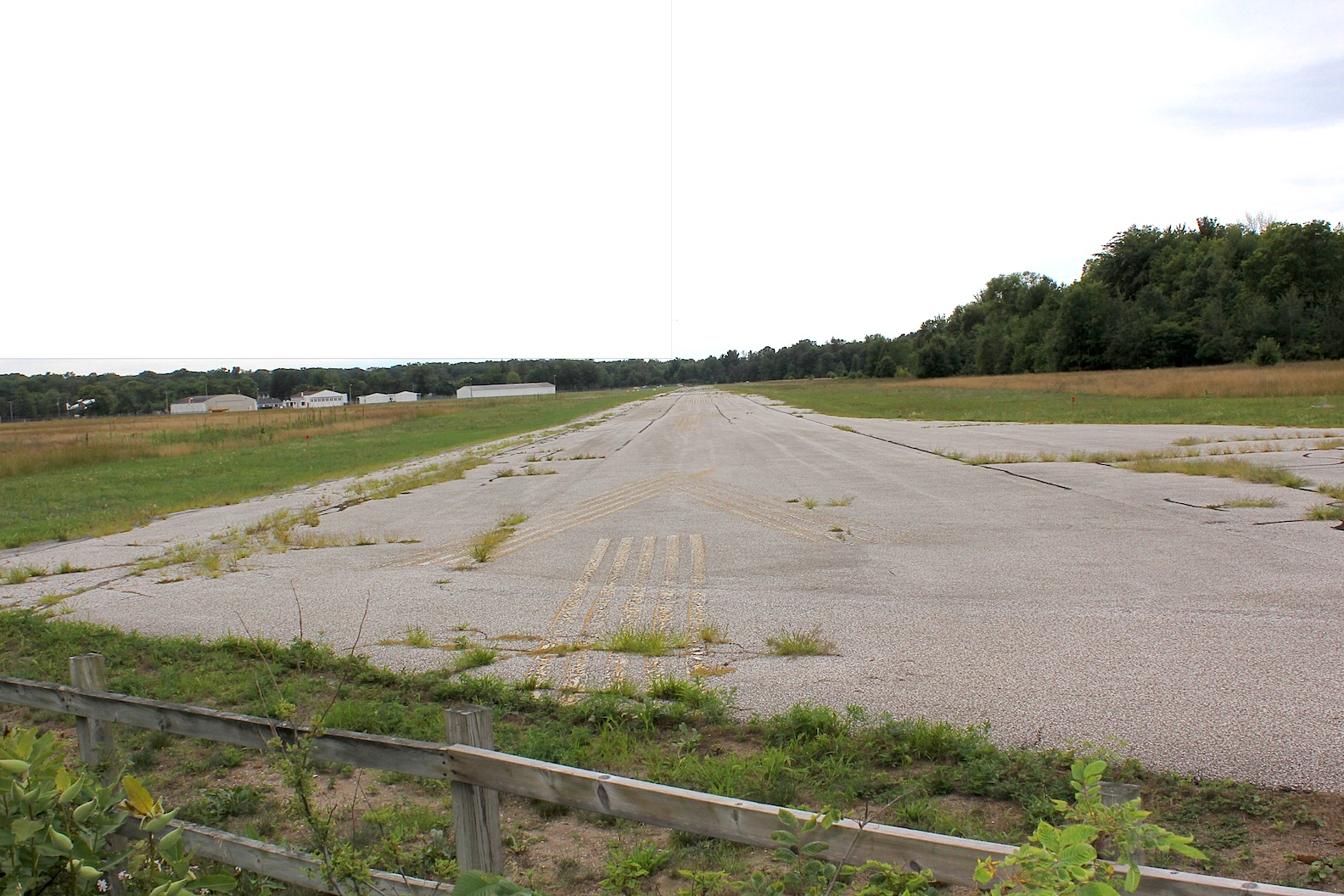 I remember this so clearly from traveling around rural China: When you're in a location you're trying to learn about, the highest-and-best use of each waking hour is to travel around, look at things, meet with people, conduct formal interviews and informal meetings, and generally operate with a clock-is-running consciousness that at Time X you must leave for somewhere else. Then each night, the absolute imperative is to type up all the notes you've taken or impressions you've had that day, based on the absolute certainty that a night's sleep, welcome as it is in all other aspects, removes many of the here-and-now nuances and details that more easily come to you during that same day.
[By the way, that's not rural China, up above. It is the airport I decided not to fly into at Holland, a field called Park Township. This is very close to the home of some friends we have in Holland, and it has the scale and approachability and charm of the little hometown airports that once were numerous across America. The runway is long enough to be comfortable, but there's no instrument approach, and Holland has another big-runway, fully-instrumented airport just a few miles away, so I viewed this runway from ground level only.  The other illustrations are random Holland snapshots, with explanations one by one.]
This is the way I've worked for decades, and the only way I know how to work-- even though I'm aware of its unwholesome consequences for family life and general road-weariness. In This Modern Internet Age, it has one other effect, which is: The more you're seeing, the less you are able to write about it in real time on a web site. That's because you aren't -- or shouldn't be -- sitting at a desk very much, rather than being outside.
With that throat-clearing prelude, here is a second note from Holland.
[Below, enormous wind-turbine blades, being made in what was originally a sailboat factory.]

The point of travel is to find out what you didn't know you were looking for until you went. This process of serendipitous discovery is as old as the first human migrations, but it is radically different in the Internet age because people can write back in real time. Over this weekend we've received many dozens of messages from people with some connection to Holland -- some of them supportive, some of them scolding, all with perspectives or leads to suggest.
[Another turbine blade shot, to indicate their scale.]

To the people who've written with leads: Thank you! To the people who've written complaints -- most of which boil down to "there is so much about our town you haven't mentioned!" -- let me say a little more about journalism in general and this project in particular.
Reporters have their character flaws, but our job inculcates at least one admirable trait. In this business you spend most of your time talking with people who know more about a given subject than you do. That is in hopes of eventually being able to explain it to people who know less. It's a kind of info-arbitrage, and I call it admirable because it builds in a sort of structural humility. You're always in the position of saying, "Can you explain that," or "I'm not familiar with the name you mentioned," or "Am I right in thinking that..."
So to people who write saying: Oh, there is so much you don't know, I say: Right. That is why I am here. And I will never know as much as locals do. But I am trying to learn something so that I can share it with people who might never have heard of this place.