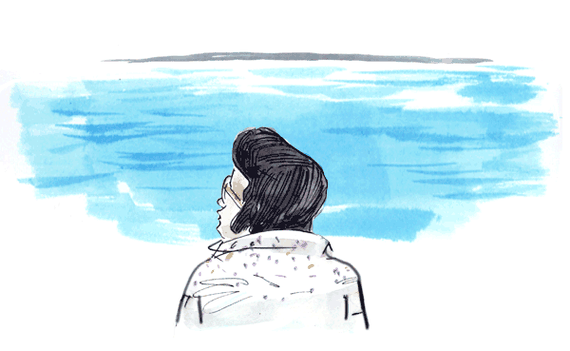 Clive Davis, chief creative officer, Sony Music
Who will ever forget Joan Baez's leading a crowd of 300,000 singing "We Shall Overcome" during the March on Washington, or Martin Luther King Jr.'s reciting the lyrics in his final sermon? Whether fighting for civil rights in South Africa or in Ireland or in the U.S., can any song be more inspiring?
---
Alex Ross, music critic, The New Yorker; author, Listen to This
Claudio Monteverdi's L'Orfeo, first performed in Mantua in 1607, was the first opera to endure. The Italian master used a dazzling array of styles—fanfares, dances, arias, laments—to retell the story of Orpheus and Eurydice. Four centuries later, it still holds audiences transfixed.
---
Marin Alsop, music director, Baltimore and São Paulo Symphony Orchestras
In 1967, Aretha Franklin made the Otis Redding song "Respect" thoroughly her own. It not only became her personal anthem, winning her two Grammy Awards, but also came to represent the feminist movement. She added the refrain "R-E-S-P-E-C-T." What more needs to be said?
---
Ted Gioia, author, The History of Jazz
The most exciting development in modern music is the multicultural mixture of old sounds into new hybrids. And no one mixed them up better than W. C. Handy in "St. Louis Blues," which brought together the 12-bar blues, Latin rhythms, and the American popular song in one of the biggest hits of all time.
---
Justin Kalifowitz, president, Downtown Music Publishing
As a radio single, Bob Dylan's "Like a Rolling Stone" had everything stacked against it: it was cynical, angst-ridden, and six minutes long. Yet the magical combination of electric guitar, organ chords, and Dylan's poetry challenged all prior notions of what popular culture could sound like.
---
Carly Rae Jepsen, singer/songwriter
Bob Dylan's "Like a Rolling Stone." In 1965, he shocked, offended, and excited people with this six-minute-and-13-second-long tune. It was a whole new type of rock and roll!!!
---
Rhett Miller, lead singer, Old 97s
Bob Dylan's "Like a Rolling Stone" changed the game with an electric rhythm guitar, a six-minute-plus running time, and lyrics that break down the fourth wall by asking, over and over, "How does it feel?"
---
Rodney Crowell, singer/songwriter
Louis Armstrong's 1928 recording of Joe "King" Oliver's "West End Blues" distilled the myriad elements struggling to define early-20th-century jazz and blues, and became the template for future compositions. And without Elvis Presley's version of "Heartbreak Hotel," chances are Bob Dylan, John Lennon, Mick Jagger, Keith Richards, Iggy Pop, Van Morrison, Joe Cocker, Freddie Mercury, Eric Burdon, Eric Clapton, and Tom Waits—to name but a few—might have settled for a more sanitized version of rock and roll.
---
Jon Caramanica, music critic, The New York Times
The moment Steven Tyler pokes his mic stand through a wall in the video for Run-DMC's 1986 version of "Walk This Way" and finds the rappers staring back at him, miffed and incredulous. The right answer is probably the first time a white guy ripped off a black song, but this reversal had teeth, and punch, and legs.
---
Laura Jean Grace, lead singer, Against Me!
Music is still feeling the aftershock of Nirvana's "Smells Like Teen Spirit," which hit at the peak of MTV's and radio's power on the populace. Love it or hate it, I don't think you could find anyone who could say "I've never heard that song."
---
Macy Gray, singer, The Way (out this summer)