The widespread corruption wasn't what drove Touré from power, though. The coup was instead motivated by the military's fury over what they saw as the leader's weak and ineffectual response to a rebellion in the north by the Tuareg, a light-skinned Berber people who have been agitating for the creation of an independent state for more than 50 years. The Malian army had managed to put down previous Tuareg uprisings, in 1962, 1990, and 2007, but the uprising that began in full in February 2012 was very different. Thousands of young Tuareg men had served in the Libyan military during the long reign of Muammar Qaddafi. When he was deposed in 2011, the Tuareg fighters returned to Mali with mortars, anti-tank missiles, and other advanced weaponry that they'd looted from his armories. The Tuareg also had important allies: hundreds of Islamist fighters from AQIM, the local al-Qaeda affiliate; and a pair of newer extremist groups, Ansar Dine and the Movement for Oneness and Jihad in West Africa, known by its French initials, MUJAO.
Senior Malian military commanders began angling for a fight with the Tuareg and their Islamist partners when Ansar Dine overran an army base in the northern city of Aguelhok in early March 2012 and killed dozens of captured soldiers. The Islamists released photos showing rows of dead troops lying facedown in the dirt, hands tied behind their backs. The incident didn't attract much attention outside Mali, but many army officers, primarily based in Bamako, saw it as the final proof that ATT wasn't giving the army the resources it needed to properly combat the insurgency.
"We had 120 men in a dangerous place who didn't have enough weapons, fuel, and ammunition, and the government hadn't purchased helicopters that had the range to fly reinforcements to the base," Colonel Adama Dembélé, the vice chief of the Malian army, told me in his Bamako office. "There was a feeling of shame that we didn't have the means to protect our own soldiers, and there was a feeling of anger at ATT."
Less than a month after the massacre, a handful of Malian officers decided that they'd had enough. A military junta led by a young captain named Amadou Sanogo deposed ATT, who went into exile in Senegal; suspended the constitution; and promised that it would take on, and defeat, the rebels who were gradually conquering the north. The coup caught the U.S. government off guard. "We were surprised," a senior State Department official told me. Still, he added, "no one could have predicted the multiple crises that would hit Mali simultaneously and the public disappointment in ATT with elections only two months away."
Sanogo, Mali's new leader, ordered reinforcements to the north, but he badly underestimated the strength of the Tuareg and the Islamists. The rebels routed the Malian military, which was in disarray after the coup, and conquered Gao, Timbuktu, and Kidal—the north's largest cities—in three days. By early April, Mali had effectively been cut in two, with the remnants of the Malian military fleeing south, leaving the north to the rebels. Belmokhtar, AQIM's top commander at the time, publicly predicted that his forces would soon control all of Mali.
Belmokhtar was far from unknown to the U.S. military and intelligence officials who were watching Mali's dismemberment with mounting alarm. As a teenager in the late 1980s, Belmokhtar had traveled from his native Algeria to Afghanistan to wage jihad. He lost his left eye, by his account in the fighting—a badge of honor he wore with pride. In 1993, he returned to Algeria with a new nickname—Belaouar, or "the one-eyed"—and a new target. The country's French-backed government was locked in a bloody civil war with a loose alliance of Islamist groups, and Belmokhtar helped plan and carry out dozens of attacks against Algerian security personnel and citizens deemed loyal to the regime. By 2003, Belmokhtar was a senior leader of the Salafist Group for Preaching and Combat, a violent group operating throughout West Africa. U.S. officials saw him as a growing threat to Algeria and other allies throughout the region. The question was, what to do about it?
General Charles "Chuck" Wald thought he knew the answer. Wald, a stocky, blunt-talking officer who'd been drafted by the Atlanta Falcons as an H‑back before he joined the Air Force in 1971, was the deputy commander of the Pentagon's European Command, which at the time had responsibility for Africa. In 2003, U.S. surveillance spotted Belmokhtar at a militant training camp in a remote patch of desert just south of the Algerian border. The military had been searching for him for some time, and Wald thought this was the best chance to take him out.
Wald and his staff developed a range of options for trying to kill Belmokhtar while they had a fix on his hiding place in northern Mali. One of the highly classified plans called for sending in a B‑52 bomber to obliterate the militant outpost; another would have used air strikes by F‑16s to destroy the encampment; and a third proposed flying in a team of elite Special Operations forces to capture or kill Belmokhtar on the ground. When I spoke to Wald recently, he told me that he and his command team were never serious about using a B‑52 strike, and had put the idea forward as a "throwaway" in the internal government negotiations. His preferred option was to send in a team of U.S. commandos, which could have been done without attracting much public attention. Regardless of the method, Wald was adamant that the U.S. needed to take out Belmokhtar while it could. "We finally had this guy in our sights," Wald, who has since retired, said. "I kept arguing that we needed to take the shot before he disappeared again."
---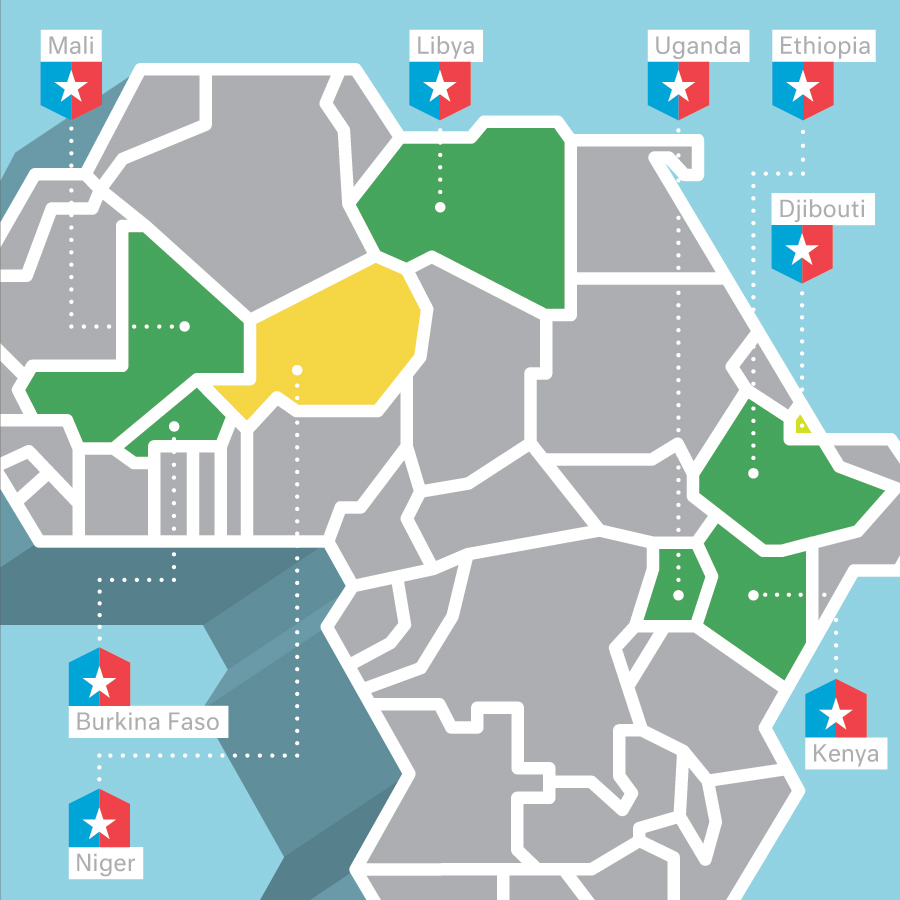 The U.S. military is expanding its presence across northern Africa. Shown here: Djibouti, which hosts Camp Lemonnier, the only official U.S. base on the continent; Niger, where the U.S. recently sent military personnel and drones to support the French mission in neighboring Mal; and the countries where the U.S. is reported to field troops, launch drones from, or both. (Map by James Bamford)
---
Vicki Huddleston, the U.S. ambassador to Mali at the time, felt very differently, and argued for patience during a series of tense discussions. She and her team said that the intelligence marshaled by Wald and his supporters was far from conclusive as to who exactly had been found. The U.S., she said, risked carrying out a politically sensitive operation inside a sovereign country only to find out that the target wasn't there. And even if it had the right man, Huddleston said, she didn't believe there was enough evidence against Belmokhtar to warrant a strike. "We didn't even know who Belmokhtar was," she told me. "All we knew at the time was that he was an Algerian cigarette smuggler. As far as I know, there's no legitimacy to unilaterally killing Algerian cigarette smugglers." Huddleston argued that taking out Belmokhtar would set a dangerous precedent, by killing someone who had not yet shown the inclination or the capacity to attack the United States. African countries were particularly sensitive about Western military operations inside their borders, and Huddleston feared that a high-profile American air strike would turn public opinion against the U.S. "Wald seemed to think you can carry out kinetic strikes without cost," she told me. "But they can radicalize people on the ground. They do have a cost."
Mali's fall is a story of a decade of American missteps—and a cautionary tale of what could happen if the U.S. doesn't devote more attention to Africa's terrorist threat.
Huddleston says that because the ambassador was required to sign off on any military operations, she was able to veto the strike. Belmokhtar, as Wald feared, disappeared into the vastness of northern Mali and the other countries of the Sahel. More than a decade later, the wounds are still raw. Wald derides the former ambassador as "Field Marshal Huddleston" and says she should have deferred to the military about the strike. "It was a giant missed opportunity," he says.
Belmokhtar soon emerged as one of West Africa's most dangerous Islamist militants. In 2005, his forces began carrying out regular strikes in Mauritania, just west of Mali, including a sophisticated assault on a military base that killed 15 soldiers and allowed his fighters to make off with huge quantities of weapons and ammunition. In 2006, Belmokhtar and the Salafist Group for Preaching and Combat's other senior leaders formally pledged allegiance to Osama bin Laden and changed the group's name to al‑Qaeda in the Islamic Maghreb. The following year, the newly christened group stole a page from bin Laden's playbook and bombed a United Nations building and a government compound just outside of Algiers, killing at least 60 people. It kidnapped dozens of Westerners, including a pair of Canadian diplomats, and collected tens of millions of dollars in ransom. The U.S. officials nervously tracking AQIM's growth felt that it had become the strongest, best-funded, and best-organized Islamist organization in the Sahel. Washington had given Touré, still Mali's president at the time, hundreds of millions of dollars in aid, largely to encourage him to take on AQIM. With the group growing steadily more dangerous, the Obama administration decided it was time to press Touré to mount a serious and sustained push against the militants.
On June 10, 2009, then-Ambassador Gillian Milovanovic met with Touré for an hour to deliver that message personally. She told him that AQIM's continued operation in northern Mali was tarnishing the country's image in the West and threatening to erode the gains Mali had made since becoming a democracy in 1992, according to a summary of the meeting in a confidential State Department cable released by WikiLeaks. Touré, according to the cable, "repeatedly blamed Algeria, Niger, and Mauritania for … abdicating their responsibility for policing the Sahel to an under-manned, under-equipped and under-trained Malian military," but promised to take a firmer stand against AQIM. The ambassador left the meeting convinced that Touré was finally serious about confronting the group. "We believe that we can also count on President Touré's good faith efforts to counter AQIM, despite Mali's well-known military and financial limits," a U.S. diplomat wrote in the cable. "ATT is ready to do something about this."
It was a serious miscalculation. Touré never mounted a concerted push against AQIM, and instead used military equipment provided by the U.S. to crack down on the Tuareg separatists who had been rebelling against the Malian central government more or less continuously for decades. "Over time we began to realize that the ATT government was focused not on AQIM as a threat but rather on Tuaregs in the north," a senior defense official at the Pentagon told me. "He saw a political threat and a security threat but not the kind of counterterrorism threat that we were focused on. I think that kind of mismatch is part of what was starting to unravel the partnership on [counterterrorism] when the coup happened."
U.S. officials similarly misjudged Iyad Ag Ghali, the Tuareg extremist who would later found Ansar Dine, AQIM's main ally in its conquest of northern Mali. During the 2007 Tuareg rebellion, Ag Ghali had helped mediate between Touré and the Tuareg independence fighters in the north, earning a reputation as a relative moderate. On May 30, 2007, Ag Ghali sat down with American Ambassador Terence McCulley, Huddleston's successor (now the ambassador to Nigeria), in his office at the embassy to request U.S. assistance for "targeted special operations" against AQIM, a group Ag Ghali described as an extremist organization with little to no support among the residents of northern Mali. A confidential cable made public by WikiLeaks described Ag Ghali as "soft-spoken and reserved" and said he "showed nothing of the cold-blooded warrior persona created by the Malian press." He told McCulley that he was planning to leave Mali for a diplomatic posting in either Saudi Arabia or Egypt because "he was tired of the problems in the north," according to the document. Touré had offered him the job because of his role as a mediator between the government and the Tuareg.
Ag Ghali left for Riyadh a few months later, but he didn't last long. Rudolph Atallah, the Pentagon's top counterterrorism official for Africa from 2003 through 2009, told me recently that Saudi Arabian officials declared Ag Ghali persona non grata in 2008, and kicked him out for maintaining close relationships with unspecified Islamist radicals and clerics. (A Saudi official in Washington declined to comment.) Atallah believes that Ag Ghali's time in Saudi Arabia was the final step in his evolution from a relatively moderate Muslim who was known to drink and make regular visits to Paris into a full-blown believer in violent jihad against the West. "I don't think he was flipped there," Atallah told me. "I think he'd already begun to change. But the fact that he was pushed out of Saudi Arabia for his ties to these groups certainly shows that his personal beliefs had begun to match up in a very tangible way with extremist ideology and behavior." Ag Ghali periodically surfaced in Mali and Pakistan after his time in Saudi Arabia, but by 2009 he, like Belmokhtar, had largely disappeared from public view.