Wanted: Caretaker For Farm. Simply watch over a 688 acre patch of hilly farmland and feed a few cows, you get 300 a week and a nice 2 bedroom trailer, someone older and single preferred but will consider all, relocation a must, you must have a clean record and be trustworthy—this is a permanent position, the farm is used mainly as a hunting preserve, is overrun with game, has a stocked 3 acre pond, but some beef cattle will be kept, nearest neighbor is a mile away, the place is secluded and beautiful, it will be a real get away for the right person, job of a lifetime—if you are ready to relocate please contact asap, position will not stay open.
Scott Davis had answered the job ad on Craigslist on October 9, 2011, and now, four weeks later to the day, he was watching the future it had promised glide past the car window: acre after acre of Ohio farmland dotted with cattle and horses, each patch framed by rolling hills and anchored by a house and a barn—sometimes old and worn, but never decrepit. Nothing a little carpentry couldn't fix.
Davis rode in the backseat of the white Buick LeSabre; in the front sat his new employer, a man he knew only as Jack, and a boy Jack had introduced as his nephew, Brogan. The kid, who was driving the car, was only in high school but was already a giant—at least as tall as his uncle, who was plenty tall. Jack was a stocky, middle-aged man; Davis noticed that he'd missed a couple of spots shaving and had a tattoo on his left arm. He was chatty, telling Davis about his ex-wife, his favorite breakfast foods, and his church.
Davis, 48, had left his girlfriend behind in South Carolina, given away the accounts for his landscaping business, and put most of his equipment in storage. He'd packed his other belongings—clothes, tools, stereo equipment, his Harley-Davidson—into a trailer, hitched it to his truck, and driven to southeastern Ohio. He'd told everyone that he was moving in part to help take care of his mom, who lived outside Akron and whose house was falling apart. Moving back home at his age might seem like moving backward in life. But the caretaker job he'd stumbled across online made it seem more like he'd be getting paid to live free and easy for a while—a no-rent trailer plus $300 a week, in exchange for just watching over a farm with a few head of cattle outside the town of Cambridge. Jack had reminded him in an e‑mail to bring his Harley because there were "plenty of beautiful rural roads to putt-putt in."
Jack and Brogan had met Davis for breakfast at the Shoney's in Marietta, where Jack had quizzed his new hire about what he'd brought with him in the trailer. Davis boasted that it was "full from top to bottom." After breakfast, Davis followed Jack and Brogan to the Food Center Emporium in the small town of Caldwell, where he left his truck and trailer in the parking lot, to be picked up later. Jack told Davis that the small road leading to the farm had split, and they'd have to repair it before bringing the truck up. They'd been driving for about 15 minutes, the paved road giving way to gravel, and then the gravel to dirt, while Davis watched the signal-strength bars on his cellphone disappear.
On a densely wooded, hilly stretch, Jack told his nephew to pull over. "Drop us off where we got that deer at last time," he said, explaining to Davis that he'd left some equipment down the hill by the creek and they'd need to retrieve it to repair the road. Davis got out to help, stuffing his cigarettes and a can of Pepsi into the pockets of his jean jacket. He followed Jack down the hill, but when they reached a patch of wet grass by the creek, Jack seemed to have lost his way and suggested they head back up to the road. Davis turned around and started walking, with Jack following behind him now.
Davis heard a click, and the word fuck. Spinning around, he saw Jack pointing a gun at his head. Where we got that deer at last time. In a flash, it was clear to Davis: he was the next deer.
Davis instinctively threw up his arms to shield his face. The pistol didn't jam the second time. As Davis heard the crack of the gunshot, he felt his right elbow shatter. He turned and started to run, stumbling and falling over the uneven ground. The shots kept coming as Davis ran deeper into the woods, but none of them hit home. He ran and ran until he heard no more shots or footsteps behind him. He came to the road and crossed it, worried that if he stayed in the open he'd be spotted by his would-be killer. He was losing a lot of blood by now, but he hid in the woods for several hours, until the sun was low, before he made his way back to the road and started walking.
Jeff Schockling was sitting in his mother's living room, watching Jeopardy, when he heard the doorbell. That alone was strange, as he'd later explain on the witness stand, because out there in the boondocks, visitors generally just walked in the front door. Besides, he hadn't heard a car drive up. Schockling sent his 9-year-old nephew to see who it was, he testified, and the kid came back yelling, "There's a guy at the door! He's been shot and he's bleeding right through!" Schockling assumed his nephew was playing a prank, but when he went to the door, there was the stranger, holding his right arm across his body, his sleeve and pant leg soaked with blood. The guy was pale and fidgety and wouldn't sit down at the picnic table outside. But he asked Schockling to call 911.
Sheriff Stephen Hannum of Noble County arrived after about 15 minutes. He would later describe Davis as remarkably coherent for a man who had been shot and was bleeding heavily. But what Davis was saying made no sense. He claimed that he'd come to the area for a job watching over a 688-acre cattle ranch, and that the man who'd offered him the job had shot him. But Hannum didn't know of any 688-acre cattle ranches in Noble County—nothing even close. Most of the large tracts of land had been bought up by mining companies. Davis kept going on about a Harley-Davidson, and how the guy who shot him was probably going to steal it. The sheriff sized Davis up—middle-aged white guy, puffy eyes, long hair, jean jacket, babbling about a Harley—and figured he was involved in some kind of dope deal gone bad. Hannum made a few calls to his local informants, but none of them had heard anything. Then he located the truck and trailer in the Food Center Emporium parking lot, and they were just as Davis had described them. "It was beginning to look," Hannum later recalled, "like Mr. Davis truly was a victim rather than whatever I thought he was at the beginning."
Davis wasn't the only person to answer the Craigslist ad. More than 100 people applied for the caretaker job—a fact that Jack was careful to cite in his e-mails back to the applicants. He wanted to make sure that they knew the position was highly sought-after. Jack had a specific type of candidate in mind: a middle-aged man who had never been married or was recently divorced, and who had no strong family connections. Someone who had a life he could easily walk away from. "If picked I will need you to start quickly," he would write in his e-mails.
Jack painstakingly designed the ad to conjure a very particular male fantasy: the cowboy or rancher, out in the open country, herding cattle, mending fences, hunting game—living a dream that could transform a post-recession drifter into a timeless American icon. From the many discarded drafts of the ad that investigators later found, it was clear that Jack was searching for just the right pitch to catch a certain kind of man's eye. He tinkered with details—the number of acres on the property, the idea of a yearly bonus and paid utilities—before settling on his final language: "hilly," "secluded," "job of a lifetime." If a woman applied for the job, Jack wouldn't bother responding. If a man applied, he would ask for the critical information right off the bat: How old are you? Do you have a criminal record? Are you married?
Jack seemed drawn to applicants who were less formal in their e-mail replies, those who betrayed excitement, and with it, vulnerability. "I was raised on a farm as a boy and have raised some of my own cattle and horses as well," wrote one. "I'm still in good shape and not afraid of hard work! I really hope you can give me a chance. If for some reason I wouldn't work out for you no hard feelings at all. I would stick with you until you found help. Thank you very much, George."
If a candidate lived near Akron, Jack might interview him in person at a local Waffle House or at a mall food court. He'd start by handing the man a preemployment questionnaire, which stated that he was an equal-opportunity employer. Jack and the applicant would make small talk about ex-wives or tattoos, and Jack, who fancied himself a bit of a street preacher, would describe the ministry he'd founded. He'd ask about qualifications—any carpentry experience? ever work with livestock?—and provide more details about the farm. Jack explained that his uncle owned the place, and he had six brothers and sisters with a lot of kids and grandkids running around, especially on holiday weekends and during hunting season. The picture Jack painted was of a boisterous extended family living an idyllic rural life—pretty much the opposite of the lonely bachelor lives of the men he was interviewing.
Schockling went to the door, and there was the stranger, holding his right arm across his body, his sleeve and pant leg soaked with blood.
If the interview went well, Jack might tell the applicant that he was a finalist for the job. But if the applicant gave any sign that he did not meet one of Jack's criteria, the meeting would end abruptly. For one candidate, everything seemed on track until he mentioned that he was about to get married. Jack immediately stood up and thanked him for his time. George, the man who'd written the e-mail about being raised on a farm, told Jack that he'd once been a security guard and was an expert in martial arts. He figured this would be a plus, given that he'd have to guard all that property when no one else was around. But the mood of the interview immediately changed for the worse. Jack took the application out of George's hands before he even finished filling it out and said he'd call him in a couple of days. If George didn't hear anything, he should assume that "someone else got it."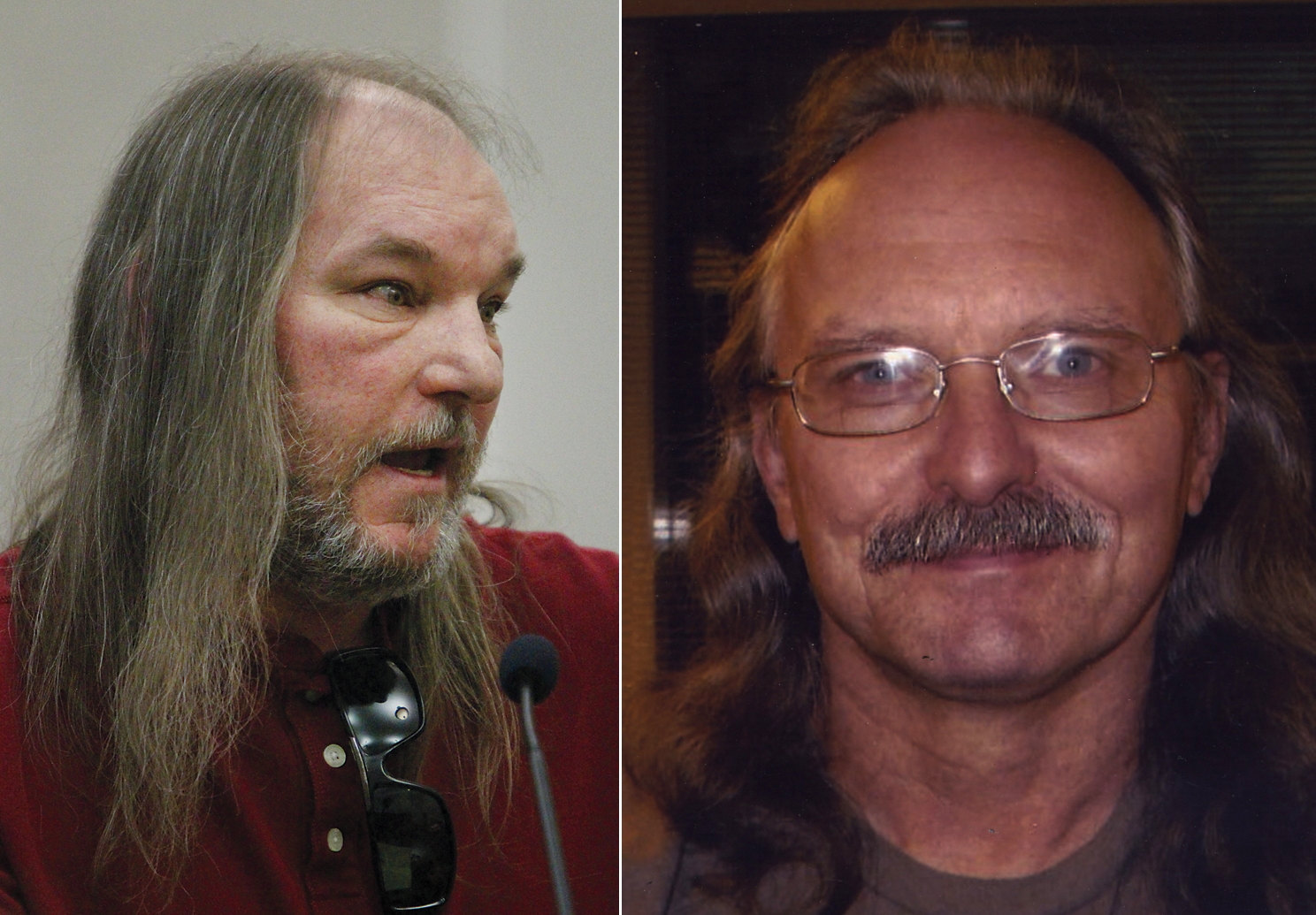 Scott Davis (left) and David Pauley (right), two of the men who had the misfortune of answering the Craigslist ad placed by the mysterious "Jack"
David Pauley was the first applicant who met Jack's exacting criteria. He was 51 years old, divorced, and living with his older brother, Richard, in his spare bedroom in Norfolk, Virginia. For nearly two decades, Pauley had worked at Randolph-Bundy, a wholesale distributor of building materials, managing the warehouse and driving a truck. He married his high-school sweetheart, Susan, and adopted her son, Wade, from an earlier marriage. For most of his life, Pauley was a man of routine, his relatives said. He ate his cereal, took a shower, and went to work at precisely the same times every day. "He was the stable influence in my life," says Wade. "I grew up thinking everyone had a nine-to-five."
But Pauley grew increasingly frustrated with his position at Randolph-Bundy, and finally around 2003 he quit. He bounced around other jobs but could never find anything steady. He and Wade often had disagreements, and in 2009 he and Susan got a divorce. Now he found himself sitting on his brother's easy chair, using Richard's laptop to look for jobs. Mostly he'd find temp stuff, jobs that would last only a few weeks. Sometimes he had to borrow money just to buy toothpaste. He got along fine with Richard and his wife, Judy, but their second bedroom—with its seafoam-green walls, frilly lamp shades, and ornate dresser—was hardly a place where he could put up his poster of Heidi Klum in a bikini or start enjoying his post-divorce freedom.
Pauley was cruising online job opportunities when he came across the Craigslist ad in October 2011. Usually Pauley looked for jobs only around Norfolk. But his best friend since high school, Chris Maul, had moved to Ohio a couple years earlier and was doing well. He and Maul talked dozens of times a day on the Nextel walkie-talkies they'd bought specifically for that purpose. If Maul, who was also divorced, could pick up and start a new life, why couldn't Pauley?
And the Craigslist job sounded perfect. Three hundred dollars a week and a rent-free place to live would solve all Pauley's problems at once. On top of that, his brother, an ex-Navy man, was always pestering Pauley to cut his long hair before job interviews. With a gig like this, who would care whether he had long hair—the cattle? Pauley sat down and wrote an e-mail to Jack.
Well about me, I'm fifty one years young, single male, I love the out doors, I currently live in virginia have visited ohio and i really love the state. Being out there by myself would not bother me as i like to be alone. I own my own pick up truck so hauling would not be a problem. I can fix most anything have my own carpentry tools.

If chosen i will work hard to take care of your place and treat it like my own.

I also have a friend in Rocky River, Ohio. Thank you, David.
A few days later, Pauley got an e-mail back from Jack saying that he had narrowed his list down to three candidates, "and you are one of the 3." Jack asked his usual questions—was Pauley married? had he ever been arrested for a felony?—and told him that if he was chosen, he'd have to start immediately.
Richard remembers his younger brother being energized in a way he hadn't seen in months. Pauley called Jack several times to see whether there was anything else he could do to help him decide. Jack promised that he'd call by 2 p.m. on a Friday, and Pauley waited by the phone. When 2 o'clock came and went, he told his brother, "Well, I guess the other person got chosen above me."
But early that evening, the phone rang. When Pauley got on the line, Richard recalls, his whole face lit up.
"I got it! I got the job!" he yelled as soon as he hung up. He immediately called his friend Maul on the walkie-talkie and started talking a mile a minute. He swore that this was the best thing that had ever happened to him and said he couldn't wait to pack up and go. To Maul's surprise, he found himself in tears. For the past few years he'd been worried about Pauley, whom he'd always called his "brother with a different last name." Maul remembers, "It was like, maybe this is the turning point, and things are finally going the right way." They made a promise to each other that on Pauley's first weekend in Ohio after settling in, Maul would bring down his hot rod and they'd drive around on the empty country roads.