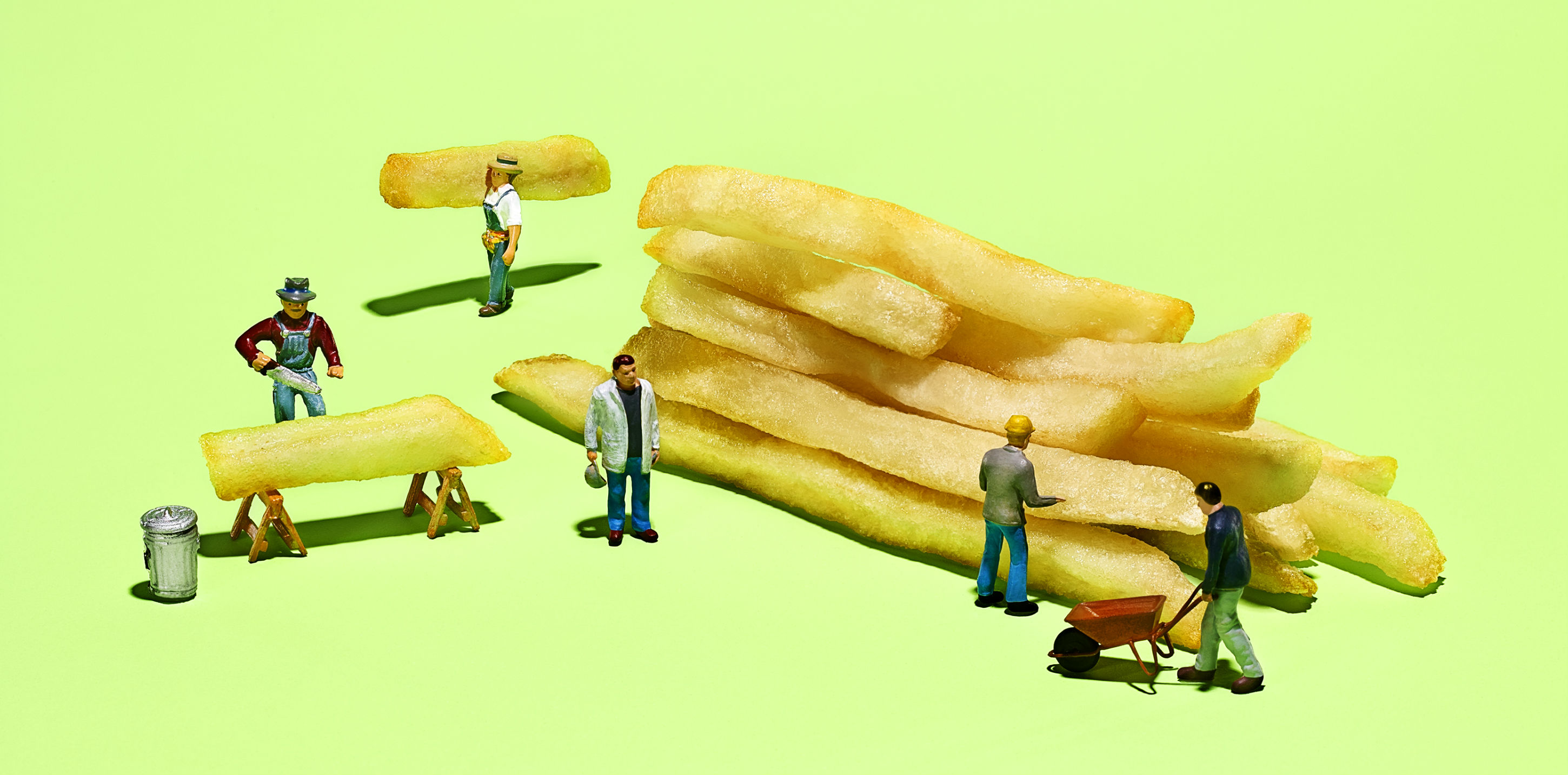 Dan Saelinger
III. The Food Revolution We Need
The one fast-food restaurant near that busy East L.A. intersection otherwise filled with bodegas was a Carl's Jr. I went in and saw that the biggest and most prominent posters in the store were pushing a new grilled-cod sandwich. It actually looked pretty good, but it wasn't quite lunchtime, and I just wanted a cup of coffee. I went to the counter to order it, but before I could say anything, the cashier greeted me and asked, "Would you like to try our new Charbroiled Atlantic Cod Fish Sandwich today?" Oh, well, sure, why not? (I asked her to hold the tartar sauce, which is mostly fat, but found out later that the sandwich is normally served with about half as much tartar sauce as the notoriously fatty Filet-O-Fish sandwich at McDonald's, where the fish is battered and fried.) The sandwich was delicious. It was less than half the cost of the Sea Cake appetizer at Real Food Daily. It took less than a minute to prepare. In some ways, it was the best meal I had in L.A., and it was probably the healthiest.
"Everyone's mother and brother has been telling them to eat more fruit and vegetables forever, and the numbers are only getting worse. We're not going to solve this problem by telling people to eat unprocessed food."
We know perfectly well who within our society has developed an extraordinary facility for nudging the masses to eat certain foods, and for making those foods widely available in cheap and convenient forms. The Pollanites have led us to conflate the industrial processing of food with the adding of fat and sugar in order to hook customers, even while pushing many faux-healthy foods of their own. But why couldn't Big Food's processing and marketing genius be put to use on genuinely healthier foods, like grilled fish? Putting aside the standard objection that the industry has no interest in doing so—we'll see later that in fact the industry has plenty of motivation for taking on this challenge—wouldn't that present a more plausible answer to America's junk-food problem than ordering up 50,000 new farmers' markets featuring locally grown organic squash blossoms?
According to Lenard Lesser, of the Palo Alto Medical Foundation, the food industry has mastered the art of using in-store and near-store promotions to shape what people eat. As Lesser and I drove down storied Telegraph Avenue in Berkeley and into far less affluent Oakland, leaving behind the Whole Foods Markets and sushi restaurants for gas-station markets and barbecued-rib stands, he pointed out the changes in the billboards. Whereas the last one we saw in Berkeley was for fruit juice, many in Oakland tout fast-food joints and their wares, including several featuring the Hot Mess Burger at Jack in the Box. Though Lesser noted that this forest of advertising may simply reflect Oakland residents' preexisting preference for this type of food, he told me lab studies have indicated that the more signs you show people for a particular food product or dish, the more likely they are to choose it over others, all else being equal.
We went into a KFC and found ourselves traversing a maze of signage that put us face-to-face with garish images of various fried foods that presumably had some chicken somewhere deep inside them. "The more they want you to buy something, the bigger they make the image on the menu board," Lesser explained. Here, what loomed largest was the $19.98 fried-chicken-and-corn family meal, which included biscuits and cake. A few days later, I noticed that McDonald's places large placards showcasing desserts on the trash bins, apparently calculating that the best time to entice diners with sweets is when they think they've finished their meals.
Trying to get burger lovers to jump to grilled fish may already be a bit of a stretch—I didn't see any of a dozen other customers buy the cod sandwich when I was at Carl's Jr., though the cashier said it was selling reasonably well. Still, given the food industry's power to tinker with and market food, we should not dismiss its ability to get unhealthy eaters—slowly, incrementally—to buy better food.
That brings us to the crucial question: Just how much healthier could fast-food joints and processed-food companies make their best-selling products without turning off customers? I put that question to a team of McDonald's executives, scientists, and chefs who are involved in shaping the company's future menus, during a February visit to McDonald's surprisingly bucolic campus west of Chicago. By way of a partial answer, the team served me up a preview tasting of two major new menu items that had been under development in their test kitchens and high-tech sensory-testing labs for the past year, and which were rolled out to the public in April. The first was the Egg White Delight McMuffin ($2.65), a lower-calorie, less fatty version of the Egg McMuffin, with some of the refined flour in the original recipe replaced by whole-grain flour. The other was one of three new Premium McWraps ($3.99), crammed with grilled chicken and spring mix, and given a light coating of ranch dressing amped up with rice vinegar. Both items tasted pretty good (as do the versions in stores, I've since confirmed, though some outlets go too heavy on the dressing). And they were both lower in fat, sugar, and calories than not only many McDonald's staples, but also much of the food served in wholesome restaurants or touted in wholesome cookbooks.
In fact, McDonald's has quietly been making healthy changes for years, shrinking portion sizes, reducing some fats, trimming average salt content by more than 10 percent in the past couple of years alone, and adding fruits, vegetables, low-fat dairy, and oatmeal to its menu. In May, the chain dropped its Angus third-pounders and announced a new line of quarter-pound burgers, to be served on buns containing whole grains. Outside the core fast-food customer base, Americans are becoming more health-conscious. Public backlash against fast food could lead to regulatory efforts, and in any case, the fast-food industry has every incentive to maintain broad appeal. "We think a lot about how we can bring nutritionally balanced meals that include enough protein, along with the tastes and satisfaction that have an appetite-tiding effect," said Barbara Booth, the company's director of sensory science.
Such steps are enormously promising, says Jamy Ard, an epidemiology and preventive-medicine researcher at Wake Forest Baptist Medical Center in Winston-Salem, North Carolina, and a co-director of the Weight Management Center there. "Processed food is a key part of our environment, and it needs to be part of the equation," he explains. "If you can reduce fat and calories by only a small amount in a Big Mac, it still won't be a health food, but it wouldn't be as bad, and that could have a huge impact on us." Ard, who has been working for more than a decade with the obese poor, has little patience with the wholesome-food movement's call to eliminate fast food in favor of farm-fresh goods. "It's really naive," he says. "Fast food became popular because it's tasty and convenient and cheap. It makes a lot more sense to look for small, beneficial changes in that food than it does to hold out for big changes in what people eat that have no realistic chance of happening."
According to a recent study, Americans get 11 percent of their calories, on average, from fast food—a number that's almost certainly much higher among the less affluent overweight. As a result, the fast-food industry may be uniquely positioned to improve our diets. Research suggests that calorie counts in a meal can be trimmed by as much as 30 percent without eaters noticing—by, for example, reducing portion sizes and swapping in ingredients that contain more fiber and water. Over time, that could be much more than enough to literally tip the scales for many obese people. "The difference between losing weight and not losing weight," says Robert Kushner, the obesity scientist and clinical director at Northwestern, "is a few hundred calories a day."
Which raises a question: If McDonald's is taking these sorts of steps, albeit in a slow and limited way, why isn't it more loudly saying so to deflect criticism? While the company has heavily plugged the debut of its new egg-white sandwich and chicken wraps, the ads have left out even a mention of health, the reduced calories and fat, or the inclusion of whole grains. McDonald's has practically kept secret the fact that it has also begun substituting whole-grain flour for some of the less healthy refined flour in its best-selling Egg McMuffin.
The explanation can be summed up in two words that surely strike fear into the hearts of all fast-food executives who hope to make their companies' fare healthier: McLean Deluxe.
Among those who gleefully rank such things, the McLean Deluxe reigns as McDonald's worst product failure of all time, eclipsing McPasta, the McHotdog, and the McAfrica (don't ask). When I brought up the McLean Deluxe to the innovation team at McDonald's, I faced the first and only uncomfortable silence of the day. Finally, Greg Watson, a senior vice president, cleared his throat and told me that neither he nor anyone else in the room was at the company at the time, and he didn't know that much about it. "It sounds to me like it was ahead of its time," he added. "If we had something like that in the future, we would never launch it like that again."
Introduced in 1991, the McLean Deluxe was perhaps the boldest single effort the food industry has ever undertaken to shift the masses to healthier eating. It was supposed to be a healthier version of the Quarter Pounder, made with extra-lean beef infused with seaweed extract. It reportedly did reasonably well in early taste tests—for what it's worth, my wife and I were big fans—and McDonald's pumped the reduced-fat angle to the public for all it was worth. The general reaction varied from lack of interest to mockery to revulsion. The company gamely flogged the sandwich for five years before quietly removing it from the menu.
The McLean Deluxe was a sharp lesson to the industry, even if in some ways it merely confirmed what generations of parents have well known: if you want to turn off otherwise eager eaters to a dish, tell them it's good for them. Recent studies suggest that calorie counts placed on menus have a negligible effect on food choices, and that the less-health-conscious might even use the information to steer clear of low-calorie fare—perhaps assuming that it tastes worse and is less satisfying, and that it's worse value for their money. The result is a sense in the food industry that if it is going to sell healthier versions of its foods to the general public—and not just to that minority already sold on healthier eating—it is going to have to do it in a relatively sneaky way, emphasizing the taste appeal and not the health benefits. "People expect something to taste worse if they believe it's healthy," says Charles Spence, an Oxford University neuroscientist who specializes in how the brain perceives food. "And that expectation affects how it tastes to them, so it actually does taste worse."
Thus McDonald's silence on the nutritional profiles of its new menu items. "We're not making any health claims," Watson said. "We're just saying it's new, it tastes great, come on in and enjoy it. Maybe once the product is well seated with customers, we'll change that message." If customers learn that they can eat healthier foods at McDonald's without even realizing it, he added, they'll be more likely to try healthier foods there than at other restaurants. The same reasoning presumably explains why the promotions and ads for the Carl's Jr. grilled-cod sandwich offer not a word related to healthfulness, and why there wasn't a whiff of health cheerleading surrounding the turkey burger brought out earlier this year by Burger King (which is not yet calling the sandwich a permanent addition).
If the food industry is to quietly sell healthier products to its mainstream, mostly non-health-conscious customers, it must find ways to deliver the eating experience that fat and problem carbs provide in foods that have fewer of those ingredients. There is no way to do that with farm-fresh produce and wholesome meat, other than reducing portion size. But processing technology gives the food industry a potent tool for trimming unwanted ingredients while preserving the sensations they deliver.
Healthier ingredients could be slipped into the middle of candy bars. "We tend to make up our minds about how something tastes from the first and last bites, and don't care as much what happens in between."
I visited Fona International, a flavor-engineering company also outside Chicago, and learned that there are a battery of tricks for fooling and appeasing taste buds, which are prone to notice a lack of fat or sugar, or the presence of any of the various bitter, metallic, or otherwise unpleasant flavors that vegetables, fiber, complex carbs, and fat or sugar substitutes can impart to a food intended to appeal to junk-food eaters. Some 5,000 FDA-approved chemical compounds—which represent the base components of all known flavors—line the shelves that run alongside Fona's huge labs. Armed with these ingredients and an array of state-of-the-art chemical-analysis and testing tools, Fona's scientists and engineers can precisely control flavor perception. "When you reduce the sugar, fat, and salt in foods, you change the personality of the product," said Robert Sobel, a chemist, who heads up research at the company. "We can restore it."
For example, fat "cushions" the release of various flavors on the tongue, unveiling them gradually and allowing them to linger. When fat is removed, flavors tend to immediately inundate the tongue and then quickly flee, which we register as a much less satisfying experience. Fona's experts can reproduce the "temporal profile" of the flavors in fattier foods by adding edible compounds derived from plants that slow the release of flavor molecules; by replacing the flavors with similarly flavored compounds that come on and leave more slowly; or by enlisting "phantom aromas" that create the sensation of certain tastes even when those tastes are not present on the tongue. (For example, the smell of vanilla can essentially mask reductions in sugar of up to 25 percent.) One triumph of this sort of engineering is the modern protein drink, a staple of many successful weight-loss programs and a favorite of those trying to build muscle. "Seven years ago they were unpalatable," Sobel said. "Today we can mask the astringent flavors and eggy aromas by adding natural ingredients."
I also visited Tic Gums in White Marsh, Maryland, a company that engineers textures into food products. Texture hasn't received the attention that flavor has, noted Greg Andon, Tic's boyish and ebullient president, whose family has run the company for three generations. The result, he said, is that even people in the food industry don't have an adequate vocabulary for it. "They know what flavor you're referring to when you say 'forest floor,' but all they can say about texture is 'Can you make it more creamy?' " So Tic is inventing a vocabulary, breaking textures down according to properties such as "mouth coating" and "mouth clearing." Wielding an arsenal of some 20 different "gums"—edible ingredients mostly found in tree sap, seeds, and other plant matter—Tic's researchers can make low-fat foods taste, well, creamier; give the same full body that sugared drinks offer to sugar-free beverages; counter chalkiness and gloopiness; and help orchestrate the timing of flavor bursts. (Such approaches have nothing in common with the ill-fated Olestra, a fat-like compound engineered to pass undigested through the body, and billed in the late 1990s as a fat substitute in snack foods. It was made notorious by widespread anecdotal complaints of cramps and loose bowels, though studies seemed to contradict those claims.)
Fona and Tic, like most companies in their industry, won't identify customers or product names on the record. But both firms showed me an array of foods and beverages that were under construction, so to speak, in the name of reducing calories, fat, and sugar while maintaining mass appeal. I've long hated the taste of low-fat dressing—I gave up on it a few years ago and just use vinegar—but Tic served me an in-development version of a low-fat salad dressing that was better than any I've ever had. Dozens of companies are doing similar work, as are the big food-ingredient manufacturers, such as ConAgra, whose products are in 97 percent of American homes, and whose whole-wheat flour is what McDonald's is relying on for its breakfast sandwiches. Domino Foods, the sugar manufacturer, now sells a low-calorie combination of sugar and the nonsugar sweetener stevia that has been engineered by a flavor company to mask the sort of nonsugary tastes driving many consumers away from diet beverages and the like. "Stevia has a licorice note we were able to have taken out," explains Domino Foods CEO Brian O'Malley.
High-tech anti-obesity food engineering is just warming up. Oxford's Charles Spence notes that in addition to flavors and textures, companies are investigating ways to exploit a stream of insights that have been coming out of scholarly research about the neuroscience of eating. He notes, for example, that candy companies may be able to slip healthier ingredients into candy bars without anyone noticing, simply by loading these ingredients into the middle of the bar and leaving most of the fat and sugar at the ends of the bar. "We tend to make up our minds about how something tastes from the first and last bites, and don't care as much what happens in between," he explains. Some other potentially useful gimmicks he points out: adding weight to food packaging such as yogurt containers, which convinces eaters that the contents are rich with calories, even when they're not; using chewy textures that force consumers to spend more time between bites, giving the brain a chance to register satiety; and using colors, smells, sounds, and packaging information to create the belief that foods are fatty and sweet even when they are not. Spence found, for example, that wine is perceived as 50 percent sweeter when consumed under a red light.
Researchers are also tinkering with food ingredients to boost satiety. Cargill has developed a starch derived from tapioca that gives dishes a refined-carb taste and mouthfeel, but acts more like fiber in the body—a feature that could keep the appetite from spiking later. "People usually think that processing leads to foods that digest too quickly, but we've been able to use processing to slow the digestion rate," says Bruce McGoogan, who heads R&D for Cargill's North American food-ingredient business. The company has also developed ways to reduce fat in beef patties, and to make baked goods using half the usual sugar and oil, all without heavily compromising taste and texture.
Other companies and research labs are trying to turn out healthier, more appealing foods by enlisting ultra-high pressure, nanotechnology, vacuums, and edible coatings. At the University of Massachusetts at Amherst's Center for Foods for Health and Wellness, Fergus Clydesdale, the director of the school's Food Science Policy Alliance—as well as a spry 70-something who's happy to tick off all the processed food in his diet—showed me labs where researchers are looking into possibilities that would not only attack obesity but also improve health in other significant ways, for example by isolating ingredients that might lower the risk of cancer and concentrating them in foods. "When you understand foods at the molecular level," he says, "there's a lot you can do with food and health that we're not doing now."