Back in April 2011, a month before Donald Trump abandoned his latest flirtation with a presidential run, he appeared on ABC's This Week. Host George Stephanopoulos had solicited questions from viewers via Twitter, and one of them, from Michael Swaile of Toledo, Ohio, pissed Trump off.
"How would you defend any fiscal policy, considering you've had to declare bankruptcy numerous times?," Swaile wondered.
"I never went bankrupt," Trump replied.
Before Stephanopoulos could clarify that perhaps Swaile was referring to the Chapter 11 filings of three highly leveraged hotel and casino properties that Trump had a stake in—separately in 1991 and 1992, and then, after restructuring, as a group in 2004 and again in 2009—Trump spoke over him. "Excuse me," he said. "I never went bankrupt. And let me just tell you: If you look at our great businesspeople today"—he mentioned the leveraged-buyout kings and investors Carl Icahn, Henry Kravis, and Leon Black, and said he could name 25 others—"all of them have done the same. They use, and we use, the laws of this country, the bankruptcy laws, because we'll buy a company. We'll have the company, we'll throw it into a chapter, we'll negotiate with the banks, we'll make a fantastic deal. We'll use those [laws]. But [the bankruptcy filings] were never personal. This is nothing personal. You know, it's like on The Apprentice. It's not personal. It's just business. Okay?"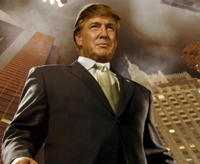 The Lawsuits of Donald Trump
A look at some of the mogul's most litigious recent moments
He then gave Stephanopoulos examples of how he has taken advantage of the bankruptcy process to make small fortunes for himself. There was the time, in 2005, when he bought a massive mansion in Palm Beach, once owned by the businessman Abe Gosman, out of bankruptcy for $41 million, did some painting, and then sold it to a Russian fertilizer oligarch three years later for about $100 million—at the time, the highest price paid for a single-family residence in the United States. Then, in 2011, he bought, out of foreclosure, most of the rural-Virginia estate of the late billionaire John Kluge (Kluge's ex-wife, Patricia, had turned it into a winery). Trump paid $7.9 million for the land, the vineyard, the winery, and some inventory and equipment, all of which the foreclosing bank had on its books for a total of $60 million. He later bought Kluge's 45‑room manor house—named Albemarle—for $6.5 million from Bank of America, which owned the $22.8 million mortgage on the house. Patricia Kluge had initially listed the entire property for $100 million; Trump bought it for $14.4 million.
"You know what it's called?," Trump lectured Stephanopoulos. "It's called negotiation."
Not one to let a perceived slight die, when the question of bankruptcy resurfaced on Twitter on December 13, 2012, after Mike Stacey (a Mets fan with 55 followers) retweeted an ÜberFacts blog post detailing the bankruptcies of Trump-branded companies, Trump (who has more than 2 million followers) tweeted to Stacey: "I never went bankrupt." He tweeted the same message to C. J. O'Leary, from Columbus, Ohio (58 followers), and to Lydia O, from Toronto (122 followers). To Dylawn, from Southampton, Ontario (42 followers), he tweeted, "Dopey, I never filed for bankruptcy."
Most multibillionaires have better things to do than spend time on Twitter arguing the finer points of bankruptcy law. But Donald Trump is not your typical billionaire. He is the Paris Hilton of the business world: famous for being rich and famous. And he has proved again and again that he will go to extraordinary lengths to buff the public perception that he is a billionaire many times over and, despite what you may or may not think, one of the savviest businessmen around.
When Timothy L. O'Brien—then a staff writer at The New York Times—had the temerity to report in the paper of record, on October 23, 2005 (and in his book TrumpNation, published days later), that "three people with direct knowledge of Donald's finances" had told him Trump was worth "somewhere between $150 million and $250 million," Trump was incensed, and a few months later filed suit. "By anyone's standards, this still qualified Donald as comfortably wealthy," O'Brien continued in the article, "but none of these people thought that he was remotely close to being a billionaire." Outrageous, countered Trump. "You can go ahead and speak to guys who have 400‑pound wives at home who are jealous of me, but the guys who really know me know I'm a great builder," he told O'Brien.
Trump is, above all else, a skillful developer and an extraordinary deal maker. Yet as he has grown more financially conservative, his image has become more important to his ability to make money.
What infuriated Trump was that for much of the year or so that O'Brien had spent researching the book, Trump had been telling him that he was worth between $4 billion and $6 billion—and that was before he factored in the value of his "brand." (Jonathan Low, a partner at Predictiv Consulting, a firm hired by Trump to value the Trump brand, later figured it was worth about $3 billion.) Apparently, these estimates still undersold Trump's fortune. On a visit to Trump's Mar-a-Lago club, in Palm Beach, O'Brien was thumbing through a brochure about the place on the nightstand and read, with amusement, that Trump had pegged his fortune at $9.5 billion. "Was Donald living in his own private zone of wildly escalating daily inflation, a Trump Bolivia?," O'Brien wondered in The Times.
Trump said he had given O'Brien "full and complete access" to the financial records of his private financial empire—which includes, among many other things, his stake in The Apprentice; mixed-use and commercial office buildings in Manhattan, such as Trump Tower and 40 Wall Street; Trump International Hotel & Tower, the second-tallest building in Chicago; a small remaining equity stake in the Atlantic City casinos that he once controlled; a variety of residential towers around Manhattan that bear his name but not much of his ownership; and a plethora of golf courses, resorts, and other high-end properties, like the Kluge estate. The editors of the Forbes 400 list—with considerable input from Trump—credited him, in September 2006, with a net worth of $2.9 billion. But O'Brien, who'd had closer access, didn't get the picture.
This injustice could not stand. In January 2006, Trump sued O'Brien and his book publisher—but not The Times—for defamation in a Camden, New Jersey, court. Trump wanted $5 billion in damages. In July 2009, Superior Court Judge Michele M. Fox dismissed the case, arguing that Trump had not come up with "clear and convincing evidence to establish malice." Trump appealed, and in September 2011, he lost again after the court found no evidence of "actual malice" on O'Brien's part. And that was that, although Trump told me recently that he still believes O'Brien libeled him and that the laws are unfair to public figures like himself. We were talking about his business empire, and the lawsuit, and his deposition in the suit—which was released only in 2009, and has never before been fully explored in the press. "Essentially the judge just said 'Trump is too famous,' " he told me. " 'He's so famous that you're allowed to say anything you want about him.' Well, I disagree with that."
Trump said he would not hesitate to sue anyone who he believes misrepresents the facts of his life or his businesses. As recent evidence, he cited the lawsuit brought by the Miss Universe Organization, which Trump owns in partnership with NBC Universal, against Sheena Monnin, a former Miss Pennsylvania, who claimed on her Facebook page that the Miss USA pageant—which the Miss Universe Organization owns—was "fraudulent," "trashy," and "rigged," because the five finalists were determined in advance of the actual pageant. Trump said Monnin was "a beautiful young woman who had sour grapes because she wasn't a top-16 finalist." An arbitrator ruled in December that Monnin had acted with actual malice and awarded Trump $5 million. (Monnin notes that the ruling has not been confirmed by the court, and that her lawyers have submitted arguments for vacating the arbitration decision.) "That's an interesting one," Trump told me.
He also told me he was ready to sue the comedian Bill Maher, who claimed on The Tonight Show in January that Trump was the product of the union of a human mother and an orangutan father. Maher offered $5 million to Trump for proof that this was not true. Trump then sent Maher a copy of his birth certificate, apparently without irony. But he had not heard from Maher or received the reward, which he said he would split among five charities. "He has not responded, and the reason he hasn't responded is his lawyers probably tell him, 'You've got yourself a problem,' " Trump explained. "But if he doesn't pay, I will bring a lawsuit." (He made good on his word, filing a suit against Maher on February 4, demanding the $5 million. Maher later said, on his show, "Donald Trump must learn two things—what a joke is, and what a contract is.")
These legal musings aside, the question hangs in the air, like a trailing wisp of cigar smoke: Why did Trump spend five years—and by some estimates millions in legal fees—to pursue a libel suit against O'Brien when he had to know, as a larger-than-life public figure, that the bar he'd have to clear to win the lawsuit would be incredibly high? Why is Trump's net worth so important to him that he has to hit people over the head with it?
"I think it's very important to him, psychologically and emotionally, to be considered fabulously wealthy, because I think he sees it as part of a pecking order and a symbol of his arrival," O'Brien told me.
Trump said the reason was far simpler. "I like people telling the truth," he explained. "When people don't tell the truth, I go after them, and I don't like that. For instance, there have been many bad things said about me over the years, and in some cases they've been true. It doesn't bother me. If I have a fault and somebody exposes that fault or talks about that fault, you won't hear me complain. If I make a mistake and somebody brings it up, you won't hear me complain. But when people make things up, or when people do things knowingly wrong, I always bring it up, even if it's not so bad."
He also seems to enjoy wasting the time and money of those without his deep pockets. "I'll do what I have to do," he continued. "Even if I'm not going to win. I do it because at least you can inflict pain that way on somebody, in terms of legal fees and other things." A moment later, he added, "So now my net worth is over $8 billion, substantially over $8 billion, with a lot of cash, and everybody knows it."
He said he doesn't understand why this "ancient history"—the O'Brien libel suit—is worthy of additional ink. He told me that when he first filed the lawsuit, one of his friends called him and told him that just by filing, he'd already proved he was really rich, because he was willing to show in court just how rich he was. "And I proved that I was much richer than anyone knew, but unfortunately, the judge basically said I wasn't damaged," he explained. "In other words, they said his story didn't damage me, didn't have any impact. The judge said I wasn't damaged. But if you could, William, I don't think you should even bring that up."