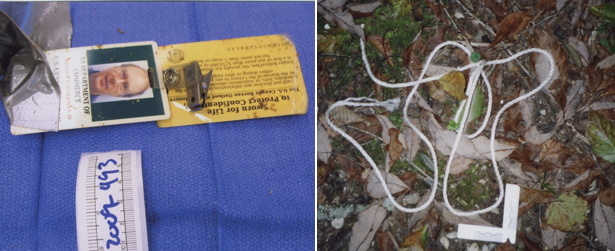 Kentucky State Police found Sparkman's census tags hanging from a strip of duct tape attached to his face. A length of rope, cut from the noose, was near his feet. (Courtesy of the Kentucky State Police)
12:55 p.m., Thursday, September 17, 2009
Wilson's colleague, Detective Doug Boyd, hopped into his cruiser and set out for Cooke-ville, Tennessee, a bustling city where Josh was living, about 125 miles southwest of London. Josh had told investigators he worked at a fast-food chain called Church's Chicken. In the week before his father was found, he told them, he had worked the closing shift every day but September 12, the day Sparkman's body was discovered. Josh said that his car had broken down earlier in the week and he was dependent on friends to get around. He hadn't left Cookeville that entire week.
Boyd was dispatched to Tennessee with a specific order: suss out Josh's alibi.
His first stop was Church's Chicken. There, Josh's manager confirmed that the young man had worked that week, but not on September 12. She gave Boyd a time sheet, which listed Josh as working from 7:08 p.m. until 11:56 p.m. on September 10, and 4:31 p.m. until 10:56 p.m. on September 11.
Boyd drove to Josh's house and spoke with his roommate and close friend, Gracie Thomas, age 21. Josh and Gracie had been inseparable since they had first met a decade earlier through a church group. She treated him like a younger brother. Gracie confirmed to Boyd that Josh's green Chevy was undrivable. She said she'd seen him every day that week.

Around the time Boyd was interviewing Gracie, a skinny 20-year-old named Lowell Adams walked into the state-police station in London. A day earlier, investigators had stopped by his house and told his mother they wished to speak with him about Sparkman's death. Lowell's name was mentioned in the letter that Josh had found: Sparkman had listed him as the beneficiary of his second insurance policy. Sparkman wrote that Lowell sometimes accompanied him while he performed his census duties, "for security purposes."
Lowell met with Sergeant Atkin, one of Atkin's detectives, and an FBI agent in a cramped, cream-colored office. He told the investigators that he and Josh had been good friends until 10th grade, when they began to drift apart. William Sparkman became a friend of the family and occasionally tutored Lowell in math. For the past two years, Sparkman had paid him $7.50 an hour, in cash, for security and navigational help while carrying out his census work—a practice that the FBI agent knew was a violation of official census policy. Lowell went on to say that Sparkman would always bring along a government-issued laptop, a personal laptop, and his pistol, which he kept in a hard-plastic case in the truck. Lowell admitted that he was uncomfortable the first time he accompanied Sparkman—they had little in common—but their bond grew over time. Asked about Sparkman's romantic life, Lowell said they never discussed it. Lowell, in fact, didn't know of his ever dating, but he knew Sparkman had a strained relationship with Josh.
In the final minutes of the interview, Lowell said he'd last accompanied Sparkman on September 5, exactly a week before he was found dead. On September 8, Lowell missed a call from Sparkman, who didn't leave a message; Lowell never spoke to him again.
The interview was revealing, but it brought the investigators no closer to understanding what had happened. They didn't fully grasp Lowell's relationship with Sparkman, and scheduled him for a polygraph. They could not have known that Lowell knew more than he was letting on. A lot more.
Sparkman had few friends before he moved to Kentucky, and once there, he didn't go out of his way to make any new ones. At Josh's Little League baseball games, he would sit by himself in a folding chair near left field, recording his son's every at-bat in a notepad. He would greet the other parents but never speak with them for very long.
Shortly after Josh started school, Sparkman resigned from his Boy Scout post and later started volunteering at his son's elementary school. He was determined to help Josh, who was struggling in the classroom, succeed. This devotion did not go unnoticed. "It seemed his whole heart was into Josh," says Beverly Johnson, who had a son in the same class.
Sparkman was eventually offered a job at Johnson Elementary School as an instructional assistant, a position he held for nine years. The job paid a pittance, but it gave Sparkman the opportunity to work with kids, which he loved. He was always upbeat and eager to help students, who adored him. Sparkman was also a model colleague—prompt, proper, and willing to do anything for a fellow teacher.
One year, Beverly Johnson, who also worked as an instructional assistant, used up all her vacation days while her 8-year-old son, Zachary, was hospitalized with bleeding ulcers. Around Christmas, he developed strep throat, and doctors wanted to take his tonsils out. It pained Johnson not to be able to stay home and take care of him. The moment Sparkman heard about her predicament, he solved it. "I gave you 10 days"—vacation he'd accrued but hadn't used—"so you don't have to worry about that anymore," he told her.
"I never asked him for days … He just insisted," Johnson would say later. "That explains what kind of person he was. He was a real giving person, a compassionate person."
Nonetheless, the school's teachers would sometimes discuss among themselves how "unusual" he was. Socializing with adults didn't seem to come naturally to him. Sparkman could appear distant and, at times, be quite blunt, the kind of person around whom others trod carefully, so as not to say the wrong thing. He was also intensely private. Even the teachers who worked closely with him didn't know much about his personal life. Sparkman never spoke about dating, and his colleagues never knew him to have any romantic partner.
Outside of work, Sparkman was a homebody. He liked to surf the Web and play Sudoku. He had a serious coin collection, and various pieces of Star Trek memorabilia. He delighted in playing with his dog, Jack. He spent Friday evenings on the phone with his mother, the two of them watching the TV game show Are You Smarter Than a 5th Grader?
When Sparkman did go out to eat, he gravitated to budget-friendly places like Applebee's and Cracker Barrel. Money was always tight in the Sparkman household. Josh was a huge financial drain. After he left school he got his GED, but he could never hold down a job, and was constantly begging his dad to replace his wrecked vehicles. Sparkman's mother occasionally sent him cash to help him make ends meet. (He always paid her back, she says.)
In 2005, Sparkman started supplementing his income by working part-time for the Census Bureau. His territory included several rural counties in eastern Kentucky, including Clay. One of Sparkman's closest colleagues at Johnson Elementary, a retired state trooper named Gilbert Acciardo, repeatedly warned him to be careful. Acciardo had patrolled Clay County. He knew it was a rough place.
"I just said to Bill, 'Everybody's not nice. The farther east that you go, the more people are a little more standoffish about people coming to their house,' " Acciardo recalled later. "He just assumed everybody was like him, happy-go-lucky. He saw all the good in people, and I realized, because of my background, that there were bad people too.
"He just joked and laughed about it," Acciardo added. "You could tell that he wasn't taking me seriously."