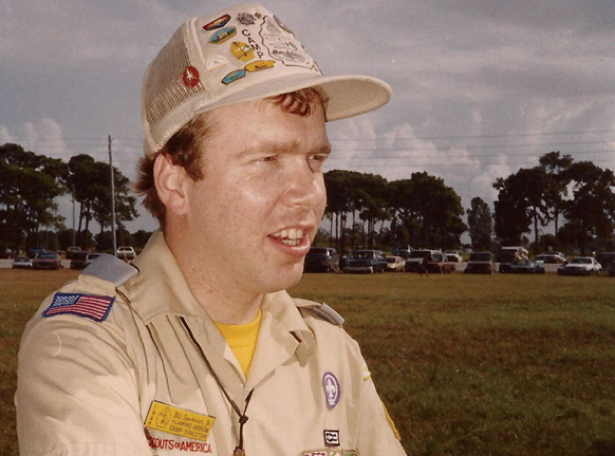 Bill Sparkman in 1988, in uniform as the camp director at the Flaming Arrow Scout Reservation in central Florida. Sparkman spent much of his career with children, as a scout leader and later as an educator. (Gulf Ridge Council, BSA)
11 p.m., Saturday, September 12, 2009
The night was pitch-black. With the lights of their police cruisers illuminating the woods, Donald Wilson and the other investigators walked circles around the body, searching up to 300 feet away for additional evidence. Nothing. By the time Wilson helped the coroner cut down Sparkman's corpse, it was nearly midnight. Wilson peered through the windows of Sparkman's truck and saw evidence that it had been ransacked. Papers were scattered throughout the vehicle, the glove box and console were open, the passenger seatback was leaning forward. The investigators opted to wait until morning to search the interior; the night was too dark, and they didn't have the proper equipment. While the men waited for a tow truck, Atkin found the keys to Sparkman's vehicle on the ground underneath it.
Soon after the investigators returned to their base in London, Atkin called Nextel, hoping the telecommunications company could pinpoint the location of Sparkman's phone. No luck. A Nextel rep said the phone was either turned off or out of service.
Armed with a search warrant, Wilson and three fellow officers arrived at Sparkman's modest white ranch house at about 6:20 a.m. The house, surrounded by trees, sits beside a sloping road that runs past three other houses. Its driveway was empty, and there was no sign of forced entry.
Wilson opened the front door and stepped inside. Cobwebs clung to walls and corners, and a thick layer of dust covered parts of the floor and shelving. Clothes were strewn about the master bedroom. Though the house was untidy, there was no indication that a struggle had taken place. Wilson and the others moved through the house methodically. In the kitchen, they found a Jack Russell terrier and several bags of dog food. A newish-looking printer sat on the kitchen table, with cords attached, but there was no computer.
The time was nearing 8 a.m. when they left. Wilson, who'd been awake for 24 hours, returned to the crime scene alone, hoping daylight would reveal additional clues. His search, again, turned up empty.
At about the same time, roughly 100 miles north, a forensic pathologist was performing an autopsy on Sparkman at the state police's central lab, in Frankfort. The pathologist, Cristin Rolf, determined the preliminary cause of death to be asphyxiation. The blood that had leaked out of Sparkman's ear, Rolf concluded, was the result of insect infestation. She detected traces of red fibers stuck to the duct tape that had bound Sparkman's wrists and ankles. The lack of bruising around the taped areas led Rolf to believe that Sparkman had not struggled against the bindings. That was significant. It meant that he was already dead or unconscious before he was bound; or he had died accidentally from autoerotic asphyxiation; or he had deliberately killed himself.
Rolf noticed one other oddity. Sparkman's colon had apparently been cleansed with an enema—a possible indicator of homosexual activity. She subsequently ordered a rape kit.
At 8 o'clock the next morning, Monday, September 14, Wilson called the FBI's regional office in London and set up a meeting. Since Sparkman seemed to have been targeted because of his government affiliation, Wilson knew the FBI would want a piece of the case. Speaking to Special Agent Tim Briggs, Wilson described the condition of Sparkman's body and emphasized the letters scrawled on his chest. Briggs was pissed. He made clear that Wilson should not have waited two days before contacting him. The FBI immediately opened a joint investigation with the state troopers and requested assistance from its evidence-recovery unit in Louisville.
After the meeting, Wilson drove to the lab in Frankfort to drop off evidence, which included Sparkman's clothes, the scraps of rag and rope from the ground, and the duct tape from Sparkman's body. For capturing fingerprints, few surfaces are more reliable than tape. But the tests came back negative. Whoever was responsible for Sparkman's death apparently had been careful enough to wear gloves.
Wilson received a phone call from Sergeant Atkin the following morning. Sparkman's 20-year-old son, Josh, had shown up at the state police's London post with several documents, and his demeanor had struck the officers as odd. He was unnervingly calm and spoke in a flat, emotionless voice. Among the documents he turned over was a "just in case" letter written by his father, which Josh had found buried in a filing cabinet. William Sparkman had been diagnosed with non-Hodgkin's lymphoma in 2007, but had been cancer-free for the past year. The letter spelled out what Josh needed to do with the family's finances if the elder Sparkman passed away. While meeting with Atkin, Josh asked whether Sparkman's gun had been found. He couldn't recall the make, but he was certain it was a .22-caliber pistol. His father had been no gun aficionado, but said one never knew who or what he might run into in Clay County's backwoods. Josh said Sparkman had kept the gun in his truck.
The pathologist noticed one other oddity. Sparkman's colon had apparently been cleansed with an enema. She ordered a rape kit.
That afternoon, FBI agents scoured the truck. They found a laptop briefcase, but no laptop. Also missing were Sparkman's gun, wallet, and phone. The agents found his credit-card holder, but the cards were gone. They scanned the truck interior with a light used to locate microscopic evidence. No blood or other bodily fluids were found. The dashboard and steering wheel held traces of red fibers, indicating that the surfaces had been wiped down to eliminate fingerprints. The fibers appeared to match the red rags found at the scene.
Federal agents descended on Sparkman's house the next morning. Combing through it, they discovered a fixed-blade knife and a pair of black cargo pants in Josh's old bedroom. When they inspected the pants, they detected what appeared to be the same red fibers seen in Sparkman's truck. The agents also discovered a large syringe with an unknown substance on the plunger. None of these items alone constituted a smoking gun, but taken together, they began to tell a story. Wilson would soon find out that Josh was a misfit who'd had a rocky relationship with his father. A high-school dropout, he'd fallen in with the wrong crowd as a teen and, according to the FBI, had had trouble with drugs. His clothing reflected his rebelliousness; one of his shirts was emblazoned with the words Psycho Path. Those close to Sparkman knew that he had lost control of Josh, who was notorious for wrecking cars and screaming at his father.
Four days after Sparkman's body was found, Wilson had his first person of interest.
Sparkman adopted Josh in 1991. Josh was 2 years old at the time and had been living with a foster family in Orlando, Florida. Sparkman didn't fit the mold of the typical adoptive parent. He was 33 and single, a Boy Scout director stationed in Texas. People close to Sparkman were surprised when he told them he wanted to adopt. He just wanted a child, he said, and was confident his experience with the Boy Scouts primed him to be a dad. He didn't expand on the reasons.
The Boy Scouts were central to Sparkman's life. The oldest of three boys, he grew up in a middle-class neighborhood in Mulberry, a tiny town in central Florida. His mother, Henrie, was a high-school principal, and his dad, Billy, worked as an executive at a large furniture chain. Sparkman excelled in school, but scouting was his passion. "Bill really eats this scout stuff up," his father would say. Sparkman devoured books devoted to such topics as coin collecting and compass use. He loved the hands-on training as well, learning such skills as how to make fire with wet wood and how to make tea out of dandelions and pine needles. Sparkman rose rapidly through the scouting ranks and became an Eagle Scout at age 16, just three years after joining.
"He was very eager to achieve whatever was out there that was achievable," says Chuck Cooper, his Boy Scout troop leader in the 1970s and '80s. "He had a thirst for knowledge. He was sharp. He had an inquiring mind."
Sparkman's family was not surprised when, after brief stints at Vanderbilt University and the University of South Florida, he decided to become a professional scout. He went on to oversee scouting programs in several Florida counties.
Throughout this period, Sparkman showed little interest in dating. The Boy Scouts were his life. While he was in the process of adopting Josh, Sparkman was promoted to assistant director of the Order of the Arrow, the Boy Scouts' national honor society. He moved near the Boy Scouts' national headquarters, in Irving, Texas, and finalized his adoption of Josh soon after. The following year, 1993, Sparkman accepted a district-executive position in Lexington, Kentucky, and relocated to London, about 75 miles south.
Boasting quality schools and a bucolic charm, London must have seemed like an ideal place to raise a child. But life with Josh didn't go as planned. After Sparkman was found dead, his mother and others closest to him immediately suspected Josh or his pals. She soon found out that Sparkman had made Josh a beneficiary of one of his two life-insurance policies. Sparkman had laid this out in his "just in case" letter. Josh, in other words, had a motive.