Jake Chessum
You could look at Michael Bloomberg—astringent, profane, irritated by small talk, impatient with the politics of empathy—and see a plutocrat whose billions have given him the freedom to say and do whatever he wants, even to change the law to run for a third term as New York City's mayor. Or you could look a little further and see a more interesting pattern: a man who turned getting shunted off the fast track at Salomon Brothers—over to information technology, no place for a fledgling master of the financial universe—into an opportunity, creating an entirely new approach to getting traders the data they needed; who took getting fired as a chance to gamble his payout on this idea; who then took the billions he made and chose not to embark on a lifelong vacation but to step into the least-forgiving political arena in the country; and who has since governed New York assertively, putting himself in the vanguard of a generation of mayors who, at a time when the federal government is paralyzed, are testing new approaches to education, transportation, and public health. You begin to see a guy, in sum, who thinks for himself, but not only of himself.
Also see: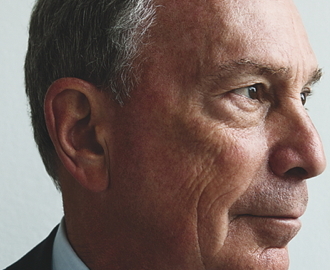 The Full Interview
An uncut transcript of this conversation
I visited the mayor recently at the open bullpen that is his nerve center at City Hall, where he works from a cubicle in the center of the room. Howard Wolfson, one of his deputy mayors, was telling me how hard it was to close struggling schools, when Bloomberg joined us at one of the small tables that sit on a raised platform along one wall, near the coffeepot. Wolfson was saying that the administration had shut more than 100 schools. "Yeah, 140, I think," the mayor said briskly as he settled into a worn, straight-back chair. Unlike most politicians or businessmen I've interviewed, he never once suggested he would make a comment off the record or on background—it didn't seem to occur to him that he might—or even hesitated before answering, in a conversation that ranged from his plan to limit the size of sodas, in order to combat obesity; to his approach to governing; to his defense of a mosque being built near Ground Zero; to his views of the presidential candidates and the future of journalism. What follows are excerpts; a full transcript is online.
On why he's tackling obesity:
This is the first disease that has gone from a rich person's disease to a poor person's disease. Generally, it would go in the other direction. For the first time in the history of the world, this year, more people will die from the effects of too much food than from starvation.
And there's one other answer to the question as to why. And that is—whether it is in my foundation [Bloomberg Philanthropies] or here [as mayor]—I like to take on those things that other people either are unwilling to take on for political reasons, or unwilling to take on because it's just too complex, or they just don't care. That would include guns, for example. If you think about it, it is poor minorities that are the victims, and so most elected officials would not get involved—or foundations—and I think we should.
On why he's limiting the size of sodas:
The correlation between the rise in obesity and the consumption of sugar is just up 100 percent … no matter what the beverage companies think or say. Look, the beverage companies aren't stupid. Coca-Cola is run by a very smart guy; PepsiCo by a very smart woman. They see this train coming down the tracks at them. And that's why they're trying to get people to move over to Coke Zero or Diet Coke or … Diet Pepsi, because down the road, the public is going to say "No más. The cost of treating obesity is just out of control."
On how McDonald's fought him when he insisted that New York's restaurants post calorie counts, but is now taking that step nationally, well ahead of a federal mandate:
McDonald's … is a logical company for the public-health advocates to go after … [McDonald's is acting] early and trying to make it into a positive … It's just that the public slowly is going to have to be moved over. None of these things happen overnight.
On his reaction to the widespread opposition, in public polls, to his soda restrictions:
To some extent, it is [that] everybody is resistant to change. Today, you'd be hard-pressed to find anybody that was opposed to the smoking ban … All of western Europe followed New York City. Many of the states around here did. Every major city, including in the tobacco-growing states in the United States, did. Brazil is smoke-free. Mexico City is smoke-free. All of France, Italy, Spain, England—they're all smoke-free.
It takes a while. Leadership is about doing what you think is right and then building a constituency behind it. It is not doing a poll and following from the back. If you want to criticize the political process—and it's probably true throughout history, and certainly not just in the United States—I think it's fair to say, in business or in government, an awful lot of leaders follow the polls.