Every 10 years, after U.S. census workers have fanned out across the nation, a snowy-haired gentle­man by the name of Tom Hofeller takes up anew his quest to destroy Democrats. He packs his bag and his laptop with its special Maptitude software, kisses his wife of 46 years, pats his West Highland white terrier, Kara, and departs his home in Alexandria, Virginia, for a United States that he will help carve into a jigsaw of disunity.
Where Hofeller travels depends to some degree on the migratory patterns of his fellow Americans over the previous decade. As the census shows, some states will have swelled in population, while others will have dwindled. The states that gained the most people are entitled, under the Constitution, to additional representation in the form of new congressional districts, which (since the law allows only 435 such districts) are wrenched from the states that lost the most people. After the 2010 census, eight states (all in the South and the West) gained congressional districts, which were stripped from 10 others (in the Midwest and the East Coast, as well as Katrina-ravaged Louisiana).
Also see: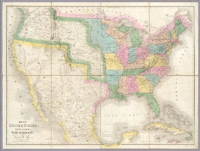 The Long, Twisted History of Gerrymandering in American Politics
Outlandish districts created for electoral gain are a major force in the U.S. today, but they emerged out of a long tradition.
The creation of a new congressional district, or the loss of an old one, affects every district around it, necessitating new maps. Even states not adding or losing congressional representatives need new district maps that reflect the population shifts within their borders, so that residents are equally repre­sented no matter where they live. This ritual carving and paring of the United States into 435 sovereign units, known as redistricting, was intended by the Framers solely to keep democracy's electoral scales balanced. Instead, redistricting today has become the most insidious practice in American politics—a way, as the opportunistic machinations following the 2010 census make evident, for our elected leaders to entrench themselves in 435 impregnable garrisons from which they can maintain political power while avoiding demographic realities.
For the past four decades, it is what Tom Hofeller has done for a living.
Hofeller maintains an office at the Republican National Committee on Capitol Hill, though he is now the RNC's paid consultant rather than, as in years past, its official redistricting director. At 69, he is a professorial if somewhat impish fellow (in his early days, a California House speaker dubbed him "the kid with the shit-eating grin") who is more than content not to be a household name. His after-hours life includes singing tenor in his church choir and reading multitudes of books that seldom have anything to do with politics. Hofeller's earliest clients included Democrats, and today he describes himself as a moderate Republican. The adjective is irrelevant, however. His chosen field is, according to Georgia Congressman and House Republican redistricting vice chair Lynn Westmoreland, "the nastiest form of politics that there is": Tom Hofeller's objective is to design wombs for his team and tombs for the other guys.
MORE ELECTION 2012
The New Price of American Politics

Citizens United has changed our democracy. Will it lead to a populist awakening? Or a corporate recapturing of U.S. elections?
by James Bennet
The Ballot Cops

A controversial new organization is building a nationwide army to root out voter fraud—or suppress voter turnout.
by Mariah Blake
And so his cyclical travels take him mainly to states where the Republicans are likely to be drawing the new maps. (In most states, an appointed committee consisting of legislators from the majority party produces the map, which is then brought to the legislative body for a vote. Other states relegate the duties to an appointed commission.) At meetings, Hofeller gives a PowerPoint presentation titled "What I've Learned About Redistricting—The Hard Way!" Like its author, the presentation is both learned and a bit hokey, with admonitions like "Expect the unexpected" and "Don't get 'cute.' Remember, this IS legislation!" He warns legislators to resist the urge to overindulge, to snatch up every desirable precinct within reach, when drawing their own districts.
But Hofeller's helpful tips give way to the sinister warnings of a gimlet-eyed, semi-­clandestine political operative: "Make sure your security is real." "Make sure your computer is in a PRIVATE location." " 'Emails are the tool of the devil.' Use personal contact or a safe phone!" "Don't reveal more than necessary." "BEWARE of non­-partisan, or bi­-partisan, staff bearing gifts. They probably are not your friends."
Be discreet. Plan ahead. Follow the law. Don't overreach. Tom Hofeller relishes the blood sport of redistricting, but there is a responsible way—as Hofeller himself demonstrated this past cycle in the artful (if baldly partisan) redrawing of North Carolina's maps—and also a reckless way. So that his message will penetrate, he tells audiences horror stories about states that ignored his warnings and went with maps that either were tossed out by the federal courts or created more political problems than they solved.
Already Hofeller has picked out which cautionary tale he will relay during the next decennial tour. The new horror story, he's decided, will be Texas, which stood, this past cycle, as a powerful example of how reckless a redistricting process can become. That mangled effort also provides a stark contrast to the maps Hofeller helped create in North Carolina—­drawings that demonstrate how in the blood sport of redistricting, the most cravenly political results are won with calculating prudence.
As the election returns rolled in on the evening of November 2, 2010, Hofeller had already started gearing up for the next round of redistricting. "I'm sitting and watching, less interested than many in the congres­sional races," he recalled. "I'm the one saying 'Okay, so we won Congress. The question is, are we going to keep it?' And then what I see is that we gained 700 state legislative seats. The night just kept getting better and better. Things happened in some states"—in terms of controlling whole legislative bodies—"that we never expected. Alabama! North Carolina!"
According to Lynn Westmoreland, the Republican redistricting vice chair in the House, this ritual mapmaking is "the nastiest form of politics that there is."
It seemed like Reconstruction all over again for the GOP. Because the Republican tsunami coincided with the 2010 census, Tom Hofeller's party was suddenly able to redraw many of the 435 congressional maps to its own partisan advantage.
Without asking for guidance from Hofeller or other veterans of the trade, delirious party officials predicted that after all the connivances were set in motion, the GOP would be able to reward itself with an additional 15 safe House seats before a single vote was cast in the 2012 elections.
It hasn't quite turned out that way. Partly this is because Democrats understood the stakes and went to extraordinary lengths to blunt the assault. In California, the Democrats (according to e-mails obtained by ProPublica) successfully swayed a newly formed independent citizens' redistricting commission, through an intricately coordinated guerrilla operation that will likely accrue them six or seven new seats. In Republican-­controlled Florida, Nancy Pelosi—in relentless pursuit of the House speakership she lost after the 2010 midterms—helped fund the successful "Fair Districts" referendum to ban partisan redistricting. The measure seems to have persuaded Florida map-drawers to exhibit some self-restraint, and thus a number of surefire Republican seats were wiped from the boards. Of course, Pelosi has not suggested that the Fair Districts concept be applied to states where her party wields legislative control, such as Maryland and Illinois, where the Democrats further cut into the GOP's gains by drawing nakedly partisan maps that simply vaporized Republican-held districts.
Tom Hofeller certainly did his part to maximize the returns on the GOP's 2010 electoral bounty. Hired by North Carolina's top GOP legislators just after the midterms to advise in the drawing of their state's new maps, the political cartographer spent many hours on the phone with the state legislature's redistricting chairmen. (Hofeller is careful to avoid leaving an e-mail trail. As his PowerPoint presentation cautions, "A journey to legal HELL starts with but a single misstatement! … Remember recent e-mail disasters!!!") While talking, Hofeller would expertly manipulate his computer's Maptitude software, a lightning-fast graphics system that processes neighborhood population data, including racial composition, so that a user can draw and redraw hypothetical district lines.
By July 2011, Hofeller had helped produce what a Democratic operative ruefully terms "exceptionally smart" maps—ones that, assuming they survive a lingering court challenge, may very well install a 10–3 GOP stronghold in place of the present 7–6 Democratic congressional majority.
Hofeller already knew North Carolina, the focal point of several landmark redistricting cases in which he'd testified, well. The Tar Heel State has a history of election discrimination and is therefore one of the jurisdictions covered by Section 5 of the Voting Rights Act, which requires that electoral maps be approved by either a federal court or the Justice Department. (Like all other states, North Carolina is also covered by Section 2, which forbids discriminatory practices more broadly.) Hofeller and the other Republican mapmakers therefore took particular care not to "retrogress" the racial makeup of the districts represented by the African-American Democrats G. K. Butter­field and Mel Watt—since doing so would have meant running afoul of the Voting Rights Act.
Instead, he reserved his chief mischief for the remaining districts. Hofeller and his cohort hoarded several of Raleigh's white precincts and moved them into the 2nd District, which had been held by Democrats for 108 of the previous 110 years, until a former intensive-care nurse named Renee Ellmers rode the Tea Party wave to an upset victory in 2010. The new drawings would give the neophyte Ellmers a safe Republican district to last at least at decade. Recognizing that North Carolina's many Democratic voters had to be put somewhere, the map­makers shoveled as many as possible into the Democratic districts of Watt and of David Price, a former Duke professor who represented the liberal bastion of Chapel Hill. Most of those Democrats, however, were stripped from the districts of the moderate Democratic incumbents Mike McIntyre, Larry Kissell, and Brad Miller. In the Democrat Heath Shuler's 11th District, the mapmakers simply gouged out the progressive core, Asheville, and affixed it to the 10th, the state's most Republican district over the previous 60 years. The new maps have made quite an impact. Shuler and Miller have announced that they will not seek another term. McIntyre (whose house has now been drawn out of his own district) and Kissell are widely viewed as among the most imperiled Democrats facing reelection in November.
Progressive groups immediately filed suit challenging the North Carolina maps, contending that the state deliberately diluted minority voting power. Hofeller happens to be an old hand at redistricting litigation, and the maps will probably survive into the next decade. (Meanwhile, in a dazzling show of circular logic, Phil Berger, the top Republican state senator, recently refused to allow consideration of a redistricting-reform bill that he had supported back when his party was in the minority, citing the fact that North Carolina is "engaged in litigation on that issue.")
Still, legal battles have been the other major factor in diminishing the Republican Party's success. Given that blacks and Latinos tend to vote overwhelmingly Democratic, Republicans have often taken pains to maximize their control of the districts in a way that does not violate the terms of the Voting Rights Act. But the new census results have presented the GOP with a particularly confounding puzzle—one that lies at the center of this cycle's redistricting controversies. On the one hand, the biggest gains in U.S. population over the past decade have been in two Republican-controlled states: Florida, which thereby received two new congressional districts, and Texas, which was granted a whopping four.
But on the other hand, most of each state's new residents are African Americans and (especially) Hispanics. In Texas, the population has swelled by 4.3 million over the past decade. Of those new residents, 2.8 million are Hispanic and more than half a million are African American. While those groups grew at a rate of 42 percent and 22 percent, respectively, the growth in white Texans was a meager 4.2 percent. In other words: without the minority growth, Texas—now officially a majority-minority state—would not have received a single new district. The possibility that a GOP map-drawer would use all those historically Democratic-­leaning transplants as a means of gaining Republican seats might strike a redistricting naïf as undemocratic.