By the Numbers
How far we've fallen behind the rest of the world—and the economic benefits of catching up
Top-Ranked Countries
According to the Program for International Student Assessment, 2009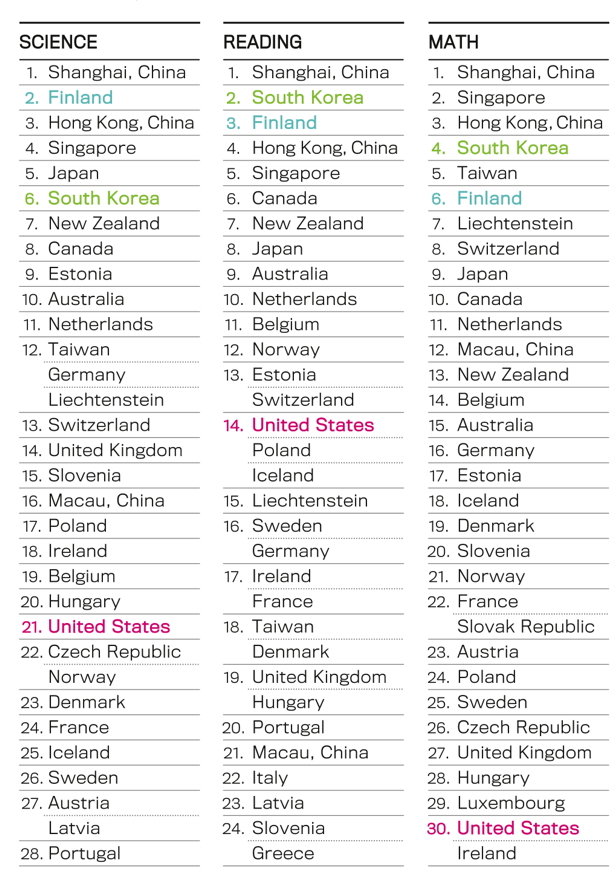 Top-Level Science Scores
Only 1% of American 4th- and 12th-graders scored at the Advanced level on national science exams in 2009.
Engineering Degrees
as a percentage of bachelor's degrees awarded in 2008:
More Teaching Is Not Always Better
Average number of hours teachers instruct students:

America Values Teachers Less Than Other Countries Do

Average salary for teachers with 15 years of experience:

A McKinsey study predicts that if teacher salaries began at $65,000 and maxed out at $150,000, the number of high-achieving college grads who would consider teaching would increase by 54%.
How School Improvements Could Jump-Start the Economy
If the math proficiency of U.S. students improved to match that of Korean students, our annual growth rate would increase by 1.3%. The resulting increase in GDP over 80 years would be $75 trillion (nearly five times the current GDP).
Next: The new generation of education activists