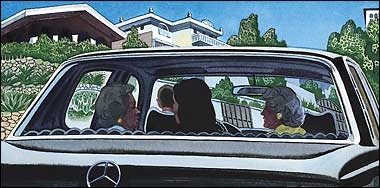 THIS happened in San Salvador, not long ago. My friend Cristina was coming back from lunch at a restaurant downtown with her mother, Elvira, and her mother's friend, Consuela. They were in Cristina's big car, and all three sat in the back. The driver was alone in the front seat.
Cristina was dropping her mother and Consuela off at her mother's house. Her mother lives on a narrow street lined with high stucco walls and solid gates. Everyone in that neighborhood has big heavy gates controlled by electricity. The car drives up to the gate, the chauffeur pushes a remote-control button, the gates open inward, the car drives inside, and the gates close after it. The walls in San Salvador have always been high. In the past broken bottles were cemented into the tops of them -- a row of glittering teeth to keep people from climbing over. Now electrified wires have replaced the broken bottles. El Salvador has always been like this, but since the revolution security has become more of a problem.
Cristina's car pulled into Elvira's clean, quiet street. All the houses there were tidy, all the high stucco walls freshly painted, all the gates tightly closed. They drove slowly down the block toward Elvira's house. A car, which no one noticed, was parked halfway down the block. At her mother's house Cristina told the driver to pull over to the sidewalk, to let her mother and Consuela out. They didn't go in through the big gates because Cristina was continuing on from there. The two women would get out at the little street door, right next to the sidewalk.
"Por aquí, por aquí, por aquí," Cristina said rapidly to the driver. Cristina says everything rapidly; she moves quickly and talks fast. She is quite beautiful, with thick black-brown hair and large, bright, dark eyes. She has an oval face and a short, straight nose. Her eyelids are slightly droopy, which gives her a drowsy, aristocratic look. She was my roommate in boarding school.
Cristina and I went to the same girls' school, outside Philadelphia, on the Main Line, but we came from very different worlds. I grew up in the country, in western Pennsylvania. My mother was the librarian at my elementary school, and my father was a doctor. We lived in an old stone farmhouse, rather dark inside, with small windows. I was an only child. Every night the three of us sat down to dinner at the round wooden table in the kitchen. We bowed our heads, and then my mother said grace over the food. After we raised our heads, I poured each of us a glass of water. The pitcher was made of dark-blue china. My father spoke very little at meals, and our house was quiet inside. Outside were smooth rolling fields. At night I could feel the three of us in our small lighted house, alone in all that empty land, set among the dark fields.
I was brought up to be good and obey the rules, and I was, and I did. I couldn't imagine violating those beliefs that grown-ups held: that rules were important, that lies were intolerable, that being good was the correct way to be. At school I was good. I wasn't good enough to be a star at anything (I was a mediocre student), but I wasn't bad. The worst thing I ever did was to sneak out on Halloween and go trick-or-treating through the darkened streets of Bryn Mawr, carrying a pillowcase and knocking timidly at front doors. I never lied to teachers or sneaked out to meet boys or cheated on tests or smuggled in alcohol or smoked marijuana or did anything wrong. Those things were beyond me somehow, out of my reach. The rules I'd been given held me within their bounds.
But Cristina came from a large family and a fiery-hot place that was unimaginable to me, and she broke any rule she felt like breaking. She kept vodka in our room at school, right on her bureau. It was in a Phisohex bottle, in full view of the housemother. Cristina looked straight into teachers' eyes and lied about where she was going for the weekend. She lied about how she was getting there and who she was seeing. She did all this with a bold and absolute certainty that I admired: she was utterly sure of the rules she wanted to break and of the things she needed to do. She didn't care about her grades or about honesty or about living up to people's expectations. All that was immaterial to her. The things she did need to do were things like going off to Princeton for the weekend. The things she didn't need to do were things like homework.
After we graduated, I went on to college and Cristina went back to El Salvador. In school she had laughed when I asked her about college.
"Are you kidding?" she said. "You have no idea what it's like down there. No one I know goes to college."
"But what do you do instead?" I asked.
"We do our hair, and then we do our nails." She looked up at me and laughed again. "What we do is visit each other. We go and stay with friends in their country places; then they come and stay with us at our beach houses. We go to someone's ranch in Argentina. We go down to Rio sometimes. We're busy! This takes up all our time."