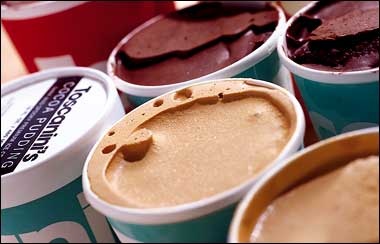 ANYTHING sweet is a friend of mine, I usually say, and as usual, I'm telling only part of the truth. Cookies do make up a scandalous portion of my diet, but I draw the line at anything cloying (and I, of course, define what's cloying). Just as wine-lovers say that all wine aspires to be red, to my mind all chocolate aspires to be bitter and all sorbet to be lemon.
Ice cream has thus held little appeal. It's harder for flavors with a balancing acidity to cut through butterfat and sugar than it is for clear fruit flavors to shine through the sugar syrup in sorbet. My frozen-dessert making has been focused on the perfect lemon and coffee granitas -- the uniquely refreshing Italian versions of slush. Granita can be made in ice-cube trays and requires no special equipment, although breaking up the crystals every half hour or so as it freezes is tedious.
Ice cream seemed not worth the effort until I discovered the burnt caramel at Toscanini's Ice Cream, in Cambridge, Massachusetts. Gus Rancatore, the owner, is the sort of eccentric who makes Cambridge eternally appealing. The original and largest of the three Toscanini's -- there are two at MIT and one in Harvard Square -- is a magnet not only for new Internet millionaires but also for artists, intellectuals of all stripes, and what remains of academic bohemia.
Many of Toscanini's original flavors are strikingly good: gingersnap molasses, for example, and khulfee (Urdu for "ice cream"), which includes cardamom, almonds, and pistachios ("This is a flavor that most people like when they try it," a sign from Rancatore reassures doubtful customers). Some flavors appear seldom but have their devoted admirers, chief among them Rancatore himself: saffron, avocado, halvah, cucumber sorbet.
Unusual suggestions are frequent, and Rancatore acts on many of them. When I visited Toscanini's kitchen recently for a burnt-caramel demonstration, Chi Leung, an ice-cream maker, was deftly ladling two kinds of softened ice cream from plastic tubs -- cocoa pudding, Toscanini's best and strongest chocolate flavor, with almonds and chocolate chips added in, and Belgian chocolate with Hydrox cookies added in -- into a third tub and drizzling Pollockesque swirls of cooled hot fudge between the layers. This updated parfait is called Chocolate Sluggo, for the nickname of the longtime customer who requested it -- "the pugnacious professor Paul Slovenski," as another sign says. ("He has a thing about twos," Rancatore told me. "He tried to get me to put in two toppings, but I had to tell him that was too much.") Leung closed the third tub and danced energetically with it on the way to the walk-in freezer, to eliminate air pockets and amalgamate the layers. This sort of elaborateness is rare for Rancatore, who prefers unadorned flavors that are innovative in their concept, not their "add-ins." Chocolate Sluggo is, however, irresistible. I kept spooning the nearly melted ice cream from the two tubs on their way to be washed, and Leung packed himself a small container of the parfait to take home -- high praise.
Burnt caramel is generally agreed to be in a class above Toscanini's other flavors and is never off the menu. The bittersweet intensity of burnt sugar -- too strong for even diehards to take straight -- is diffused and amplified by milk and cream. There are none of the egg-yolk distractions that mar nearly all commercial ice creams. Only the richness stops me from eating unlimited quantities. With most ice cream, palate fatigue sets in on my third bite, when it becomes clear that the flavorings can't stand up to sugar, cream, and yolk. Burnt caramel is almost forbiddingly spare and austerely perfect. It is Rancatore's Seagram Building. LIKE many great inventions, Toscanini's burnt caramel began as an accident. As Rancatore, pouring sugar into a big, battered saucepan, began to tell me the story, a former ice-cream maker named Adam Simha wandered in to borrow some Belgian chocolate and cocoa for a flourless chocolate-espresso cake he intended to make at home. Although Simha now designs and makes steel furniture, he still has the keys to the kitchen; he told me that every so often he comes in at two or three in the morning to make a few batches of ice cream -- an activity he finds therapeutic. Simha was present at the creation, when Bruce Frankel, then the chef and owner of a neighboring restaurant, dropped by late one night after work. Frankel was an inspirational but curmudgeonly figure in the city's food world; he once tasted Simha's plum-Armagnac-habanero sorbet and announced, "This is all that's wrong with food today."
Caramel, as makers of nut brittle and flan know, is very hard to control and also dangerous to make. Sugar reaches extremely high temperatures -- above 300° -- when heated over a direct flame and allowed to darken. If it splatters on your skin, it sticks as it burns, and the only thing to do is plunge your hand or arm into cold water and pull off the caramel. Candy makers use various methods -- adding water or lemon juice, plunging the pan into cold water -- to halt cooking at any of several well-defined stages, including "hard ball" and "soft ball." These methods don't always work. A rich mahogany brown can turn an acrid black in a second.
It is especially unwise to chat while melting sugar. Toscanini's cook was chatting with Frankel when the honey-gold caramel for a standard caramel ice cream suddenly went black. Frankel told the cook not to start over. "Make it big," he said. The idea was to take crème caramel, say, or the crust of crème brûlée, or dulce de leche, a recent runaway success for Häagen-Dazs, to the nth degree.