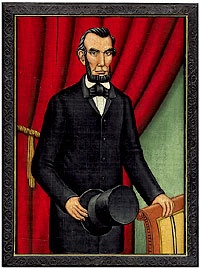 William H. Herndon, Abraham Lincoln's law partner and biographer, made a record of "secret and private things" about Lincoln in two memorandum books that long ago disappeared. Now diary entries have materialized, written by a woman who saw the memorandum books in 1866, and who recorded her shocked reactions to accounts of "profligacy" and "debauchery." A distinguished Lincoln scholar describes the discovery, and considers anew the collision of privacy and history
EVERY age needs its own biographies of the great historical figures. The questions each new age asks, the things it urgently wants to know -- and, one might add, wants to believe -- are expressions of its own views of the world and are usually different from those of previous ages and generations. The case of Thomas Jefferson presents an instructive example. Until fairly recently Jefferson's best and most conscientious biographers duly reported, but gave little or no credence to, the claims that he had had a sexual relationship with one of his slaves, Sally Hemings. In 1970 the great Jefferson biographer Dumas Malone addressed this matter in the fourth volume of his magisterial biography by soberly reviewing the charges, which he found unsubstantiated, in a brief appendix. Only four years later the historian Fawn Brodie published a biography that treated the relationship with Sally Hemings as a central fact in Jefferson's life. To the dismay of Malone and most other authorities on Jefferson's life, Brodie's treatment was not only seriously entertained but enthusiastically embraced by a large proportion of the American public. As a consequence, even before the much heralded release in 1998 of DNA evidence that lends significant (though not conclusive) support to Brodie's thesis, there were two things that most Americans claimed to know about Thomas Jefferson: that he wrote the Declaration of Independence, and that he fathered several children by one of his slaves. In what must surely be a measure of our times, it is the first of these accepted truths, not the second, that is currently being challenged.
Although Abraham Lincoln's intellectual interests were not nearly so broad, or his public activities so varied, as Jefferson's, the American public's fascination with Lincoln's life and political career is sufficiently intense to sustain the exploration of virtually anything that purports to be new or newly interpreted information. Because Lincoln is widely regarded as the greatest of all Americans, and is thus part of our national identity, a substantial audience exists for the revelation of even the smallest anecdotes and bits of incidental information. It seems we can never know enough about Abraham Lincoln.
No one has had more of an impact on how we view Lincoln's pre-presidential life and character than William H. Herndon, his law partner and biographer. And no biographer has paid a higher price for his services to posterity. For reasons that have been widely discussed by Lincoln scholars in the past few years, Herndon and his biographical efforts have been under a cloud of suspicion for a good portion of the twentieth century, but we are coming to see how much of the criticism aimed at him has been misguided or misplaced and needs to be reconsidered. It now appears that beginning about midcentury, Lincoln scholarship became so preoccupied with Herndon's supposed weaknesses and shortcomings that it lost sight of the magnitude of his contribution. Although Herndon was far from an ideal biographer, he was an honest and a conscientious one, and the biographical resources he gathered and developed are simply indispensable to our knowledge of Lincoln.
William Herndon was very different from his partner. Outgoing and exuberant by nature, he was as communicative and unbuttoned as Abraham Lincoln was guarded and reserved. An avid reader, and very much caught up in the philosophical currents of his time (particularly transcendentalism), Herndon was fervently idealistic and took readily to the role of reformer. In these respects he was certainly Lincoln's opposite. He was also, by comparison with Lincoln, something of a radical. Thus Herndon sided with the abolitionists well before Lincoln could see his way clear to stand with them politically in the newly formed Republican Party.
Herndon thought that by virtue of having been Lincoln's partner for sixteen years, and having been in a prime position during that time to observe his behavior and habits of mind, he had known Lincoln better than anyone else. Lincoln's other friends did not so much dispute this fact as regret it, for they did not regard Herndon as a suitable person to write the life of Abraham Lincoln. It was not that Herndon wasn't truthful and honest, for he was; it was not that he was spiteful or envious toward Lincoln, for he was not. It was more that because of his guileless and uninhibited nature, Herndon could not be trusted to present Lincoln's life tactfully, with due regard for the propriety and decorum that the situation called for.
One gets a sense of this from reports of the tribute paid to Lincoln by the Springfield, Illinois, bar shortly after his assassination. As Lincoln's former partner, Herndon was designated to voice the sentiments of his fellow lawyers and to acknowledge Lincoln's qualities at the bar. After praising Lincoln's "uprightness, integrity, cordiality and kindness of heart, amenity of manner and his strict attention not only to the rights, but to the feelings of all," Herndon allowed in passing that Lincoln "was not as broadminded as some other men." This candid admission caused Stephen T. Logan, Lincoln's previous partner and the leader of the Springfield bar, to rise and contradict Herndon. Herndon's audience must have known that he was not wrong; it was clearly the appropriateness rather than the substance of his remark that was at issue.