Health
Rebels With a Cause: Igniting a Culture of Activism in Youth
November 14, 2014
New York, NY, New York
Hosted in Partnership With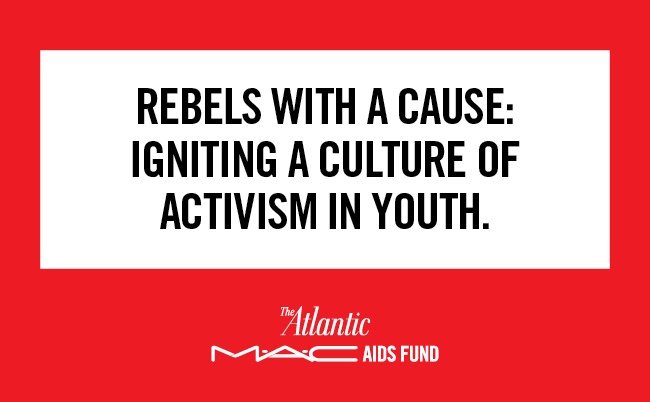 From uploading YouTube videos to creating online petitions to tried-and-true protests in person, youth activists today have an ever-growing toolbox of strategies to tell stories and speak out against injustices. What drives millennials to raise their voices, and for which causes? How do they voice their concerns about society in a world where technology, information and media proliferate? Do the challenges they face differ from those confronted by activists in generations past? The Atlantic, in partnership with the MAC AIDS Fund, convened leaders in social justice and philanthropy, old and young, to discuss the dynamics of youth activism today.  
The New Museum
235 Bowery
New York, NY
To see photos from the event, visit our Facebook page.
Presented by
Agenda
10:00 a.m.  Welcome Remarks
Margaret Low Smith President, AtlanticLIVE
10:03 a.m.  Screening – Trailer Of "It's Not Over"
Andrew Jenks Entertainment
10:05 a.m.  Exploring The Positive Story
Paige Rawl HIV/AIDS Activist; Author Positive: A Memoir
Interviewer: Jenna Bush Hager Contributing Correspondent, NBC News' Today Show
10:35 a.m.  The View From The United Nations
Michel Sidibé Executive Director, UNAIDS​
Interviewer: Nancy Mahon Executive Director, MAC AIDS Fund
11:00 a.m.  Case Study – When Survivors Speak Out
Zoe Ridolfi-Starr Student, Columbia University; Founder, No Red Tape
Interviewer: Peter Beinart Contributing Editor, The Atlantic
11:15 a.m.  Case Study – AIDS: The State Of The States
Douglas Brooks Director, Office Of National AIDS Policy
Maliek Powell and Mario Peregrino SPEAKOUTHIV Ambassadors, Greater Than AIDS
Moderator: Steve Clemons Washington Editor At Large, The Atlantic
11:40 a.m.  Remarks
John Demsey Group President, The

Estée

Lauder Companies, Inc.
Sandra Thurman Acting Principal Deputy Coordinator, President's Emergency Plan For Aids Relief
11:45 a.m.  Case Study – What's Tech Got To Do With It?
Shareeza Bhola Communications Manager, Change.Org
Patrick Sullivan Professor of Epidemiology, Emory University
Moderator: Peter Beinart
12:05 p.m.  Fresh Out Of Medical School. What's Next?
Vanessa Kerry Founder and Chief Executive Officer, Seed Global Health
Interviewer: Steve Clemons
12:35 p.m. Closing Remarks
Also in This Series
Health Care

The Problem Solvers:
Cities on the Front Lines of HIV/AIDS

June 6, 2016
New York, NY

The Atlantic convened discussions with urban leaders and entrepreneurs on the role of cities in facing today's biggest global health challenges.

Talk is Cheap: Saving Lives, Ending AIDS, and Putting Our Money Where Our Mouth Is

November 21, 2013
New York, NY, New York

On November 21, The Atlantic and the MAC Aids Fund will present the inaugural Talk is Cheap: Saving Lives, Ending AIDS, and Putting Our Money Where Our Mouth Is.
Upcoming Events
Economy/Business

Atlantic Exchange featuring
Timothy J. Mayopoulos

September 30, 2016
New York, NY

Our series of intimate interviews with disruptive innovators and consequential political, community and business leaders continued with a discussion between Fannie Mae CEO Timothy J. Mayopoulos and Steve Clemons.

WHAT'S NEXT?

October 4 – 5, 2016
Chicago, IL

WHAT'S NEXT? will imagine the future and articulate the transformative ideas that will give it shape.

Politics

CityLab 2016

October 23 – 25, 2016
Miami, FL

CityLab gathers the world's most creative mayors and city practitioners with artists, academics, funders, and other public and private sector leaders to focus on improving cities and spreading urban strategies that work.