Google Maps
ISIS territory in Iraq and Syria tends to be described as "swaths." The estimated size of these swaths, which ISIS leader Abu Bakr al-Baghdadi declared a caliphate in June, varies widely in reports, from 12,000 square miles—"an area the size of Belgium," per The Wall Street Journal—to 35,000 square miles, or "an area the size of Jordan," as George Packer wrote this week in The New Yorker. Whatever else the caliphate is, by these estimates of territorial size at least, it's starting to look more and more like a state. Packer continued:
The self-proclaimed caliphate stretches from the newly conquered towns along the Syrian-Turkish border, through its de-facto capital of Raqqa, in northern Syria, across the obliterated Iraqi border into Mosul, Tikrit, and Falluja, down to the farming towns south of Baghdad—roughly a third of the territory of both [Iraq and Syria].
In The Economist in June, that looked like this: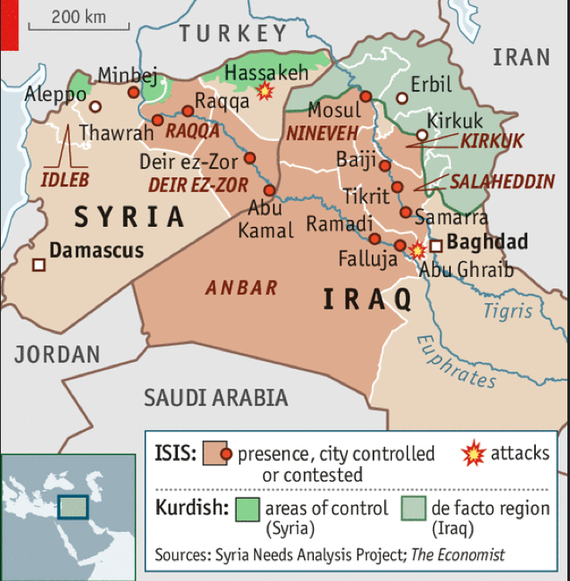 The Economist's map shows where ISIS is present in, controlling, or contesting territory—a broad depiction of what the 'caliphate' might be. Under that definition, this image would not have changed much since June despite recent gains by ISIS; where it has acquired more territory (as in Syria's Raqqa province, where this week it seized the last of the government-controlled military bases), ISIS was in many cases already shown as "present" in the map above. The difference now is that ISIS has won more battles, and as a result has more infrastructure and resources to fund and defend what it now calls the Islamic State.
But to say that ISIS controls territory stretching from Aleppo to Falluja and up to Mosul is not to say that it controls all of that territory equally. The New York Times's August 20 depiction of the self-proclaimed Islamic State looks less like a state-sized chunk of land than a network of roads.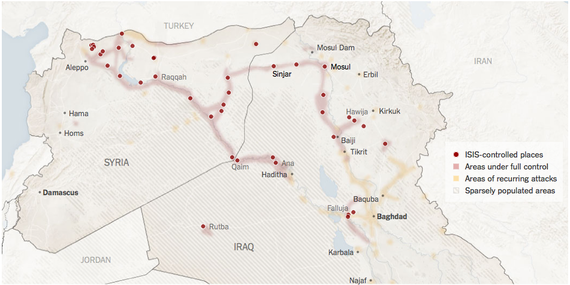 The 'caliphate' here is not so much a coherent territorial entity like Jordan or Belgium as a series of spreading cracks in existing states. There is no state-like border corresponding to the Aleppo-Mosul-Falluja perimeter.
"The land that ISIS controls is definitely riddled with holes that they do not control or do not see as a priority at this moment in time," explains Jomana Qaddour of Caerus Associates in an email. Her organization is one of a handful tracking ISIS's territorial gains, in part with local sources and researchers on the ground. Many bands of ISIS "control" traverse vast patches of desert without necessarily encompassing them. With the fall of Raqqa province's Taqba air base to ISIS this week, for example, the group is now considered to have "control of virtually the entire province," writes Qaddour. "This means controlling major cities and, yes, roadways—but you also have to realize that some of that area is desert, so what does 'control' of that kind of land even mean?"
Bill Roggio of The Long War Journal, which is also tracking the spread of ISIS, writes in an email that ISIS influence can be felt even in these deserts, however. "Iraqis in the small hamlets and villages not directly under Islamic State control know who are truly in control," he says. "Think of it like this: Americans living in the remotest areas of Alaska often see little to no government involvement, but ultimately they know the U.S. government can assert itself if it needed to."