"We're facing the same issues that Coca-Cola faces. Different messages are more effective with different audiences, and different routes of delivering the message are more effective with different audiences," Sheldon Yett, UNICEF's country representative in Liberia, tells me.
Consider the poster below. It contains roughly the same points as the songs on the radio. But, despite the pictures, it may convey those points to illiterate Liberians less effectively than the music.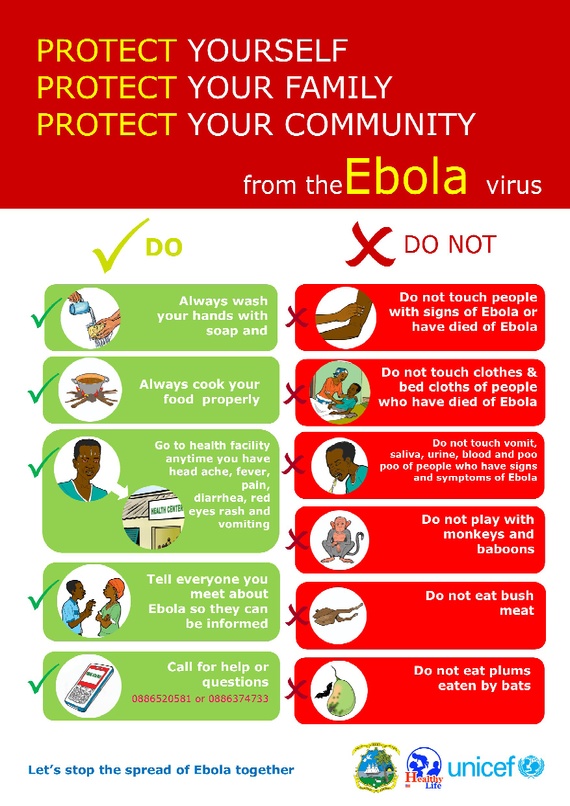 UNICEF has opened communication channels beyond music and posters. The UN agency has dispatched local partners, or "animators," to educate affected communities in person, and asked DJs to read scripts aloud on local radio stations. Inspired by "Demand a Plan"—a fast-paced ad featuring celebrities such as Jamie Foxx and Beyonce standing in front of a simple, somber background and looking into the camera, as they make the case for gun control in the U.S.—Scott worked with the American filmmaker and photographer Morgana Wingard on a similar PSA. They recruited participants from a broad swath of society—the Liberian president, an archbishop, a Muslim sheikh, a Hip Co icon, a county chief—to counter suspicion of the government and health officials.
The team carefully crafted the script, constructing lines like "Don't wait to get Ebola before you believe it" and "Together, Liberia will win the fight against Ebola."
Ebola "is like a marauding army," Scott tells me, in explaining the rationale behind framing the response to the disease as a 'fight.' "It's like a guerrilla army that is more or less stuck to the country like barnacles on a sunken ship. ... We've been in a war before and we know a lot about warfare here in Liberia."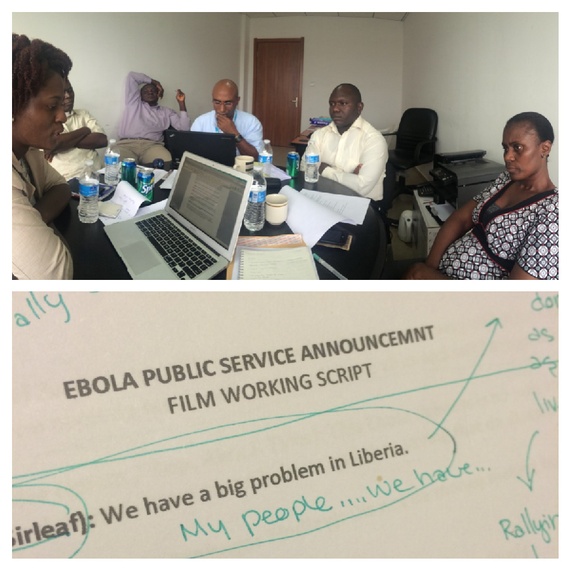 Even the length of the clip was hotly debated. Some suggested that the video be less than two minutes, like the "Demand a Plan" PSA on gun control. But others disagreed, Scott says, arguing that Liberians were more tolerant of long clips than Westerners, and that "asking someone to disengage from a particular cultural practice"—like preparing the dead for burial—"takes time." That time, they eventually decided, would be 5 minutes and 53 seconds.
Scott estimates that Liberian TV stations are now playing the video five times a day, and he's ordered 10,000 DVDs of it to distribute in video clubs, where Liberians gather to watch soccer and Nollywood movies from Nigeria, and in vans that will drive around communities broadcasting the message over a PA system and organizing viewings. He's working on a second video that will feature survivors of Ebola to emphasize that people can triumph over the disease if they take the proper precautions.
"It's not like we're delivering a positive message ... it's not like the benefits of going back to school," Yett says. "We're delivering messages where there are no easy answers. We're delivering messages when the case fatality rate is over 90 percent. How do you tell people to get aggressive treatment when aggressive treatment is hard to come by? How do you have the dialogue and the sort of face-to-face communication that's necessary to deliver a message when the communities which need to hear the message most are insecure?"
Yett's comments hint at a sobering reality: All this creative energy has yet to stop the spread of Ebola in Liberia. It's one thing to design and deliver a message; another to have it followed by the public and honored by officials. The country remains the hardest-hit by the current outbreak. Jingles can only do so much in a nation with the second-fewest doctors per person in the world. The disease hasn't just spawned a health crisis; it's also shuttered schools, undermined security, and overwhelmed the government as a whole.
"The situation seems to be getting worse by the day right now," Yett reports. "I don't think we have turned the corner."
"In fact," he adds, "I don't think we can even see the corner just yet."