Bush pretty much ignored what was going on and they made a terrible error in the Palestinian elections [in which Hamas came to power in Gaza], but he did come with the Roadmap [to Peace] and the Roadmap was credible and it talked about what needed to be done, and this is one area where I give the Palestinians credit. Under [former Palestinian Prime Minister] Salam Fayyad, they made a lot of progress.
I had the last face-to-face negotiations between Abbas and Netanyahu. [Secretary of State John] Kerry never got there. I had them in the room three times with [former Middle East negotiator] George Mitchell and me, and that was it. And I saw Netanyahu move from being against the two-state solution to announcing his support for it, to considering all kinds of Barak-like options, way far from what he is, and what he is comfortable with. 
Now I put Jerusalem in a different category. That is the hardest issue, Again, based on my experience—and you know, I got Netanyahu to agree to the unprecedented  settlement freeze, it did not cover East Jerusalem, but it did cover the West Bank and it was actually legitimate and it did stop new housing starts for 10 months. It took me nine months to get Abbas into the negotiations even after we delivered on the settlement freeze, he had a million reasons, some of them legitimate, some of them the same old, same old.
So what I tell people is, yeah, if I were the prime minister of Israel, you're damn right I would expect to have control over security [on the West Bank], because even if I'm dealing with Abbas, who is 79 years old, and other members of Fatah, who are enjoying a better lifestyle and making money on all kinds of things, that does not protect Israel from the influx of Hamas or cross-border attacks from anywhere else. With Syria and Iraq, it is all one big threat. So Netanyahu could not do this in good conscience. If this were Rabin or Barak in his place—and I've talked to Ehud about this—they would have to demand a level of security that would be provided by the [Israel Defense Forces] for a period of time. And in my meetings with them I got Abbas to about six, seven, eight years on continued IDF presence. Now he's fallen back to three, but he was with me at six, seven, eight. I got Netanyahu to go from forever to 2025. That's a negotiation, okay? So I know. Dealing with Bibi is not easy, so people get frustrated and they lose sight of what we're trying to achieve here.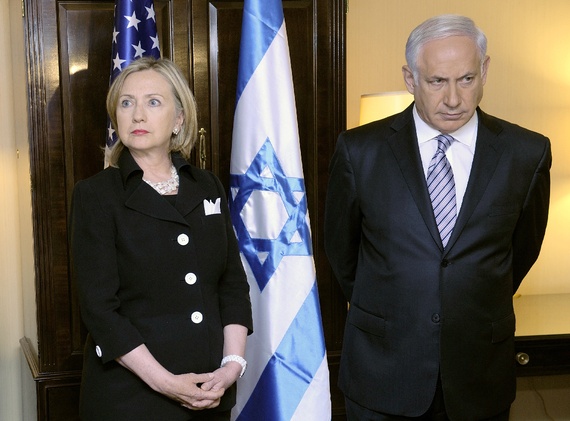 JG: You go out of your way in Hard Choices to praise Robert Ford, who recently quit as U.S. ambassador to Syria, as an excellent diplomat. Ford quit in protest and has recently written strongly about what he sees as the inadequacies of Obama administration policy. Do you agree with Ford that we are at fault for not doing enough to build up a credible Syrian opposition when we could have?
HRC: I have the highest regard for Robert. I'm the one who convinced the administration to send an ambassador to Syria. You know, this is why I called the chapter on Syria "A Wicked Problem." I can't sit here today and say that if we had done what I recommended, and what Robert Ford recommended, that we'd be in a demonstrably different place.
JG: That's the president's argument, that we wouldn't be in a different place.
HRC: Well, I did believe, which is why I advocated this, that if we were to carefully vet, train, and equip early on a core group of the developing Free Syrian Army, we would, number one, have some better insight into what was going on on the ground. Two, we would have been helped in standing up a credible political opposition, which would prove to be very difficult, because there was this constant struggle between what was largely an exile group outside of Syria trying to claim to be the political opposition, and the people on the ground, primarily those doing the fighting and dying, who rejected that, and we were never able to bridge that, despite a lot of efforts that Robert and others made. 
So I did think that eventually, and I said this at the time, in a conflict like this, the hard men with the guns are going to be the more likely actors in any political transition than those on the outside just talking. And therefore we needed to figure out how we could support them on the ground, better equip them, and we didn't have to go all the way, and I totally understand the cautions that we had to contend with, but we'll never know. And I don't think we can claim to know.
JG: You do have a suspicion, though.
HRC: Obviously. I advocated for a position.
JG: Do you think we'd be where we are with ISIS right now if the U.S. had done more three years ago to build up a moderate Syrian opposition?
HRC: Well, I don't know the answer to that. I know that the failure to help build up a credible fighting force of the people who were the originators of the protests against Assad—there were Islamists, there were secularists, there was everything in the middle—the failure to do that left a big vacuum, which the jihadists have now filled.