"Women are perceived as the supportive backbone, via two roles exclusively for them: the role of the worrying mother who cooks and sends soldiers food ... and the role of the supportive woman via body and sexuality … supplying fighters with their 'needs,'" Avidan added.
Women's marginalization is particularly significant in a country where combat soldiers are revered. Consider this: What Prime Minister Netanyahu, former Prime Minister Ehud Barak, and the rising right-wing star Naftali Bennett all have in common is that they served in the Sayeret Matkal special-forces unit. Acceptance into this elite group is the dream of many Israeli boys, who are wowed not only by nationalism and the attractiveness of living out a Steven Seagal movie, but also by the knowledge that Sayeret Matkal opens more business and political doors than any other job in the army. Sayeret Matkal, like all elite units, is closed to women.
It's no surprise, then, that a 2014 state comptroller's report found that women fill less than one third of all senior management positions in the public sector, that only 64 out of 331 chairs of the board of government-affiliated companies are women, and perhaps most alarmingly, that not one of the CEOs of those 331 government companies are women. Minority women—such as Ethiopians and Arabs—are almost completely unrepresented in government leadership.
On matters of war and peace, the absence of women is even more glaring. Livni's presence as the sole woman on Israel's security cabinet is mildly heartening, when you consider that the previous committee had zero. The Turkel Commission that investigated a 2010 Israeli raid on a Gaza-bound flotilla had no women on it, and women's rights groups have had mixed success in appealing to Israel's High Court of Justice to force government commissions to include more women.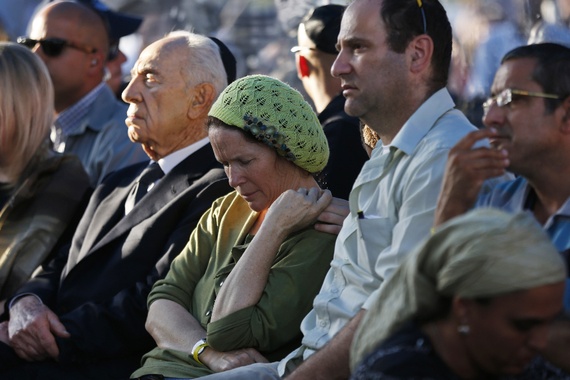 ***
Over the past two years, a coalition of women has been working at the nexus of gender, leadership, and conflict in Israel. The group, called 1325 Israel and led by the attorney Anat Thon-Ashkenazy and the former Israeli lawmaker Naomi Chazan, has been developing a plan to affect change based on UN Security Council Resolution 1325 on Women, Peace and Security, a measure passed in 2000 that calls on nations to incorporate women "in the prevention and resolution of conflicts, peace negotiations, peace-building, peacekeeping, humanitarian response and in post-conflict reconstruction." Israel was the first country to adopt Resolution 1325 in 2004 by declaring its commitment to the theory of the law in a bill on women's rights. But it has since failed to make progress in implementing it. In the meantime, some 45 other countries have adopted the resolution, some—including Guatemala, Ireland, and the Philippines—with considerable success.
According to Hebrew University researcher Sarai Aharoni, who conducted her doctoral research on women's roles in peace negotiations in Israel, there is a "clear gendered-division of labor, placing Israeli men as primary negotiators and women in supporting roles" such as secretaries, spokeswomen, typists, and legal advisors. Aharoni argues that women are excluded because of "a) the dominant framing of peace as a security-related issue and the centrality of militarized masculinity as defining the ideal-type negotiator; b) the limited representation of women in high-ranking offices in public administration and politics at the time; c) Israeli perceptions about women's weak negotiating skills vis-à-vis a imagined Palestinian masculinity; and d) societal stereotypes and expectations that materialize in lack of support for women's attempts to maintain a career-family balance." 
The 1325 Israel coalition, which includes more than 35 Israeli and Palestinian NGOs, presented its Comprehensive Action Plan to the Knesset in July. The manifesto has five primary objectives: the equal representation of women from all sectors of society in decision-making bodies and processes at the national and local levels; 'gender-mainstreaming,' or ensuring gender equality, in all decision-making bodies and processes at the national and local levels; the protection of women of all age groups and social sectors from all forms of violence in the public and private spheres; the prevention of violent conflicts and the eradication of racism; and the advancement of the Comprehensive Action Plan and the implementation of Resolution 1325 in all government ministries and bodies.
"Israel is used to politicians with glorious military records," Livni recently wrote in support of Resolution 1325. "But I can promise you that there is not always a correlation between having an impressive military record and the ability to make security decisions—in fact sometimes it is even limiting. A security approach is broader than a military approach. … The job of decision-makers is to ask questions, and not be stuck in narrow military concepts."
The dearth of women in decision-making positions means that perspectives from 50 percent of the population are largely missing. And it's not just any 50 percent—it's the 50 percent who, as a result of their powerlessness, silencing, marginalization, and objectification in times of war, have life experiences that would add tremendous value to the conversation. Not only do women suffer from war, but they are often left to pick up the pieces resulting from violent choices made by men.
Moreover, the exclusion of women means that the same value system that sidelines female citizens—a value system that accepts social hierarchies as a given, that holds that some members of society are more worthy than others, that views biology as an unstated component of one's intelligence, that ignores the voices of those who have not proven themselves on the battlefield—is the same one that conceives of Israel's policy toward Gazans. If Israeli men have trouble seeing Israeli women as more than pin-up girls for soldiers, how will all-male teams of decision-makers view the women of Gaza? If Israeli leaders don't view Israeli women as equal partners, how will they view non-Israeli women—and men?