Radio Free Europe/Radio Liberty
Ever since unidentified, Russian-speaking gunmen fanned out across Crimea in late February, in an operation that soon led to Moscow's annexation of the Ukrainian peninsula, one of the greatest mysteries in the crisis has been the origins of and forces behind these faceless soldiers. They have since cropped up across eastern Ukraine, joining pro-Russian Ukrainian separatists in ongoing battles with the Ukrainian military.
The interview below is an exceedingly rare conversation with one of these so-called "little green men." Artur Gasparyan, a young Armenian, claims that he was recruited in Moscow, forced to erase his online identity, trained and armed by shadowy men in civilian clothes, shuttled across the border, and warned that he faced "certain death." That turned out to be nearly true, and now he's warning others. "I survived by a miracle," he says.
***
Artur Gasparyan, a 24-year-old native of Spitak, Armenia, was recruited in Moscow in May to fight in eastern Ukraine. Now back in the Russian capital, he spoke with Mumin Shakirov (see original in Russian here) in detail about his experiences.
You expressed interest in going to Ukraine on a forum on [the social network] Vkontakte after you read about the fire in the Odessa Trade Union Building, in which 42 pro-Moscow separatists died. What happened next?
About 10 guys showed up at a meeting somewhere near VDNKh [the All-Russian Exhibition Center in northern Moscow]. We spoke in the entrance arch of a residential building there. A Slavic man in civilian clothes who didn't give his name met with us.
First, he asked us whether we knew how to handle weapons. He warned us that we would be going to [the eastern Ukrainian city of] Slovyansk, that we were heading to certain death, that the punishment for looting was execution on the spot—which, by the way, I saw was true several times while I was in Ukraine. Two men immediately walked away.
Did they promise you money?
They didn't promise a per diem or payment. Only free food, clothing, weapons, and a guarantee that they would transport our bodies to Rostov-on-Don and give them to our relatives. If, of course, they found them. They insisted that we destroy all our online accounts and, in general, remove any personal information from social networks. I deleted my accounts on [the Russian social-media sites] Vkontakte and Odnoklassniki.
How did you get to the Ukrainian border?
On the morning of May 12, the group got into two cars and headed south. It took about 24 hours to get to Rostov. It turned out that the drivers were also volunteers. One of them, by the way, was killed. They took us to a camp—some small homes near a creek and a forest—I don't know where. They took away all our road maps. Our telephones and other personal things were logged and taken away. We changed into clothes they gave us.
How long were you at this camp?
Nearly two weeks. Every day, more and more new people came. By the end, there were about 100 of us. We didn't rest at all—it was a military schedule. We got up; we went for a run; we had breakfast; we had training; we did orienteering in the fields, in the forest; we learned the hand signals.
What do you mean, hand signals?
They taught us to communicate using gestures and signs in order to recognize each other, to communicate silently at night, to give commands like back, forward, stop, get down, danger, and so on. Now I can speak with my hands like a deaf person. All this was taught by an instructor in civilian clothes. He, like all the other big and small bosses, didn't give his name. We didn't even know one another's real names—just nicknames. Even now I don't know the names of most of the guys who were killed beside me in that hell.
Did you have any combat experience before Ukraine? You were in the breakaway Azerbaijani region of Nagorno-Karabakh, but that isn't real war.
Mostly we just had some exchanges of fire, automatic weapons or grenade launchers. In short, it was a low-level war of positioning. Nonetheless, I knew more about war than most of the guys there.
Were there Russian nationalists among them?
I didn't see any nationalists, although most of the guys there were Slavs. Whether they were Belarusians, Russians, or Ukrainian—I can't say. They were good, patriotic guys. None of them looked at me funny because I'm Armenian. There were a bunch of guys from the Caucasus, some Armenians from [the Russian city of] Krasnodar and [the Ukrainian city of] Kryvyy Rih. Some Chechens came a little later. I became friends with a few—one guy named Red and another named Small. Both of them were killed in those KamAZ trucks.
How did you cross the border?
Near midnight on May 23 we left the base, about 100 guys in KamAZ trucks. We were accompanied by a guide in a Niva [Russian-made jeep]. We rode for several hours and stopped at the border. There we joined up with another 50 guys from other camps and we were given our weapons: grenade launchers, automatic rifles, pistols, and grenades. Then we got back into the trucks.
Did they teach you to shoot?
Some of the guys knew how to fire grenade launchers. I was made the commander of a machine-gun squad of from three to six guys. They gave me that job after looking over my military-service document. I guess there are some numerical codes there that I never noticed before. When they called me, they asked me to read the code. So they knew how to use my training. Apparently they worked separately with everyone like that.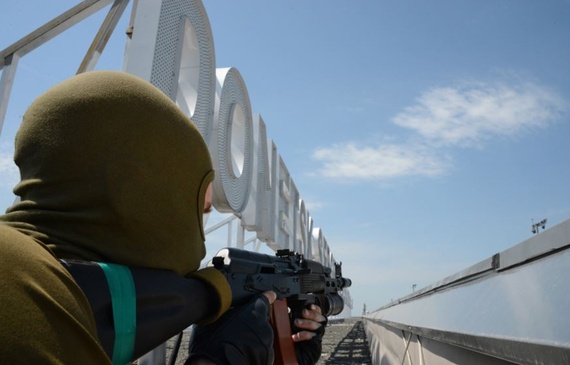 What do you mean "they"? Were they Federal Security Service, military intelligence (GRU), Interior Ministry? Who were these people who met you, trained you, crossed the border with you?