DELHI—I recently spent five weeks eating dinner at this city's food carts, with one goal: to better understand the Indian election and the man who will likely win it. I did so based on two assumptions: everyone (even the wealthy) eats street food, and people tend to speak their mind truthfully when queried over kebabs, dosas, or chai.
India's general election, which began on April 7 and runs through May 12, begets superlatives and hyperbole. The Largest Election Ever. It's true that the country's 815 million registered voters are casting more ballots over these five weeks than in any other single election in history. But superlatives and hyperbole distract from detail—from the nuance of the main issues in this race.
India is diverse, divided, and evolving. There are 22 official languages and hundreds of unofficial ones. Nearly every major world religion is represented here. There are Hindus, Muslims, Sikhs, Christians, animists, Jains, Parsis, Buddhists, even a handful of Keralan Jews. Here in Delhi, the country's wealth disparity—a product of globalization, economic liberalization, and history—is apparent. Range Rovers cruise alongside auto-rickshaws and mopeds, past barefoot pedestrians and beggars. New restaurants serve increasingly globalized cuisine at increasingly globalized prices.
But for every new upscale restaurant, there are a dozen street stalls offering affordable meals to the vast majority of India's population, the yet-to-be success stories. This urban street food blurs communal lines in surprising ways. Marathis eat Lucknowi food, Hindus eat traditionally Muslim food, North Indians eat South Indian food, and everyone eats Himalayan momos.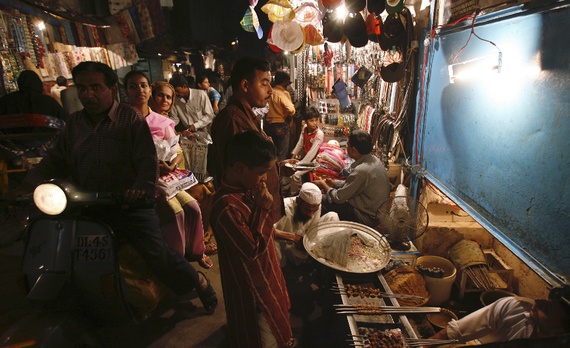 Appropriately for such a moment in its history, India's election is defined by contrasts. The United Progressive Alliance (UPA), with the Indian National Congress (INC) party at its helm, is the ostensibly secular, centrist incumbent—one ravaged by a series of embarrassing scandals and running on a platform of cleaning up the mess it helped create. It's a party disfigured by corruption, nepotism, and bureaucratic complacency. The Congress Party's standard-bearer is Rahul Gandhi, the lackluster, 43-year-old scion of the Nehru-Gandhi dynasty.
The ascendant challenger, meanwhile, is the right-wing, Hindu-nationalist Bharatiya Janata Party (BJP), which is pledging to improve a stagnating economy and offering the closest thing to a viable nationalism in the world's most diverse democracy, while seeking to reassure non-Hindu minorities (specifically Muslims, who make up 13 percent of the population) that it will govern inclusively. Its leader is Narendra Modi, the 63-year-old chief minister of the northwestern state of Gujarat—and the odds-on favorite to become India's next leader.
Ask Indians what they think of Modi, and you tend to hear three stories. The tales speak to the politician's Rorschachian, refractory genius. The BJP supporters I met on the streets of Delhi—which has long been dominated by the Congress party but more recently gravitated toward the young, anti-corruption Aam Aadmi Party—had different backgrounds and ideologies, but each had his own reason for believing Modi represented the country's future.
* * *
The first story people tell about Modi is the personal one—a rags-to-riches tale that Modi himself trumpets on the campaign trail to express solidarity with ordinary Indians. As a child in present-day Gujarat, he sold tea with his father at a railway station. As a teenager, he ran a tea stand near a bus station with his brother. (During this year's election cycle, the former chai wallah spoke to voters by telecast at 1,000 tea stalls across the country.) These humble beginnings not only contrast Modi with Rahul Gandhi, the privileged son of India's pre-eminent political dynasty, but they also cast him as a different breed of politician. He is, in phenomenological terms, a hope-and-change populist like Barack Obama—a career politician styled as a political outsider who can confront India's inefficient bureaucrats and corrupt party bosses. The BJP "is the only ray of hope for the common man and woman," Modi declared last fall. "It is the only party that can remove the nation from the atmosphere of gloom and unhappiness."
Even some of Modi's opponents acknowledge the power of this narrative. Bashar, the owner of a kebab stall in South Delhi, told me he didn't plan on voting for the BJP. But he still had grudging respect for Modi. A Muslim, Bashar hailed from a small village outside of Lucknow in the northern state of Uttar Pradesh. His grandfather sold fabrics in Lucknow until he lost his job during the hasty partition of British India along broad religious lines in 1947, resulting in the independent states of India and Pakistan, one of the largest and deadliest population transfers in history, and lingering animosity between the two states and between Hindus and Muslims.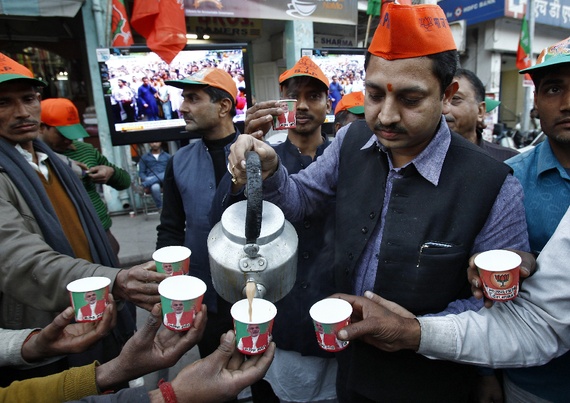 Bashar's father sold tea on trains but died young, and Bashar came to Delhi alone, as a teenager, to look for work. He eventually teamed up with a cousin who knew how to make kebabs. They launched the business with a cart and eventually purchased the storefront where I met him.
"What to do you think of Modi?" I asked.