The private-sector coalition behind Alertos is also working with mayors of cities like Villa Nueva, where "the mayor has weekly meetings with his security roundtable, which includes representatives from the National Police, Municipal Police, Military, and Fire Rescue, and uses an enhanced version of the Alertos application with Heat Maps to guide the discussion, evaluate past actions and define future tactics." Alertos is also planning to roll out an iPhone app to complement its Android app (Androids are more popular than iPhones in Guatemala).
***
The questions surrounding projects like Alertos aren't just about whether crowdsourced crime-mapping can truly reduce chronically high crime rates. More broadly, they're also about whether governments and development organizations can leverage widespread cell-phone use in the region to more effectively address intractable problems like crime, income inequality, and food security.
According to the International Telecommunication Union, there were 138 mobile phone subscriptions per 100 inhabitants in Guatemala in 2012, up from 13 per 100 people a decade earlier. In the developing world especially, people often have multiple mobile subscriptions or connections (SIM cards) for different purposes, which distorts penetration rates for cell phones. Still, the technology has made inroads even among poorer populations, with penetration rates not necessarily corresponding with levels of wealth. Yes, the numbers below suggest that only half of Guatemalans own cell phones. But 40 percent of the population is under the age of 15, meaning that most Guatemalan adults have one. This in a country with one of the highest rates of income inequality in the world.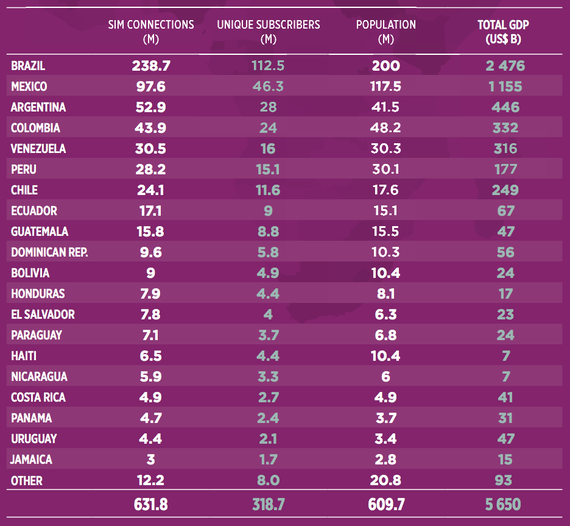 It's this widespread adoption, for instance, that prompted Oxfam to work with the mobile-phone operator Tigo in transferring mobile money to Guatemalan families in the eastern province of Chiquimula, a poor, rural region that is particularly hard-hit by drought and malnutrition.
Just outside San Pedro Sula in Honduras, I visited a farm associated with USAID's Accesso project, part of the U.S. government's Feed the Future initiative to combat hunger and poverty in 19 countries. As plantain and papaya growers gathered in one producer's plot of land to speak about the ways they had gained access to markets through the program, ringtones repeatedly intruded on the discussion. Many farmers gripped cell phones or sported them on their belts.
One Accesso staffer showed me the text messages these farmers now regularly receive with updates on market prices for their products, which they can then use to assess market demand and negotiate with buyers.
Text messages like this one can have a real impact in the agricultural sector. A 2011 Inter-American Development Bank study, for instance, found that while it's cheaper to alert Honduran farmers to market prices by radio broadcasts than text messages, it's less effective and sustainable. "When the [radio] message is broadcast, if the farmer is not there to hear it or one of his family members is not there to tell him later, the message is lost. The SMS, however, is stored in the mobile telephone even when there is no cell phone signal at the farmer's location during the day, and it will be received when the phone is in an area reached by the signal. This enables the farmer to read the SMS at any time of day and to save it after it is received," the researchers wrote.
Cell phones, of course, aren't about to do away with hunger and homicide in Central America. But they can generate actionable intelligence to help solve these issues—whether in Guatemalan cities or on Honduran farms.
---
This reporting was made possible by CARE with support from the Bill & Melinda Gates Foundation.