Barjwinya, UGANDA—In this tiny village in northern Uganda, Esther Okwir heard something she could barely believe: Her child could be the country's president one day.
Esther, a 22-year-old who was five months pregnant, sat on the cement floor of a veranda at the Ongica Health Center on a sweltering afternoon, squeezed under a tin awning with several dozen women who had come to the spartan clinic from miles around. About half of them were also pregnant, some poised to deliver any day, and the others cradled and breastfed newborn babies.
The 1,000-day period from the beginning of pregnancy to a child's second birthday "will determine the health of your child, the ability to learn in school, to perform at a future job," Susan Ejang, the midwife at the clinic, told the women, adding that proper nutrition for the mother and child, as well as good sanitation and hygiene, are vital to prevent stunting of the body and brain. She spread her arms wide, as if to embrace all the women on the porch. "Yes," she insisted, "if you take good care, the next president of the country may come from this group."
Esther had been dreaming a bit more modestly. She hoped her child would get a good education and be successful in business. But the president of the country? Well, why not? "That would really be something," she said.
The midwife's message—that in the first 1,000 days parents' ambitions for their children begin to be fulfilled, or dashed—has become one of the biggest new ideas in international development, as economists, academics, doctors, politicians, and aid workers discover the profound ways in which proper nutrition in the earliest years of life can influence an individual's ability to grow, learn, and work—and determine the long-term health and prosperity of families, nations, and the world as a whole.
In my reporting on the importance of the 1,000 days, which has taken me through India, Uganda, Guatemala, and the United States over the past year, I have heard nutritionists and health workers deliver the same messages to groups of mothers, whether gathered under trees or in living rooms. They come armed with colorful posters of food pyramids and nutrition guidelines, teach cooking methods that emphasize high-nutrient diets, and preach sound hygiene to ward off parasites and illnesses that sap the body of vital nutrients. I'm also seeing this basic education translate into action on a number of fronts: agriculturally (diversifying farming by growing more nutrient-rich crops for household consumption), domestically (maintaining cleaner living environments), and culturally (challenging ingrained behaviors such as the practice in many societies of women eating last at mealtime even when they are pregnant or breastfeeding).
In 2010, former U.S. Secretary of State Hillary Clinton and her Irish counterpart, Micheál Martin, launched the Scaling Up Nutrition (SUN) initiative and the 1,000 Days: Change a Life, Change the Future movement, an effort that unites governments, civil society, businesses, universities, foundations, and international humanitarian organizations to combat malnutrition. "Undernutrition is a major problem for which we have basic, affordable solutions," Clinton explained at the time. "Interventions after that second birthday make a difference, but often cannot undo the damage that was done because of the undernutrition during the first 1,000 days." Since then, 50 countries have joined the initiative, and I'm finding that the realities of SUN are dawning not only on mothers, but also on their husbands and mothers-in-law, who often dictate household behavior and child-rearing practices.
***
For years, ensuring good nutrition during the first 1,000 days was largely absent from national and global development priorities. Efforts to improve young lives and brighten future prospects focused on getting children into school, particularly primary school. One of the eight Millennium Development Goals adopted by UN members in 2000, for instance, calls for achieving universal primary education by 2015. It is in primary schools where interventions related to childhood nutrition, like free breakfast and lunch programs, usually begin.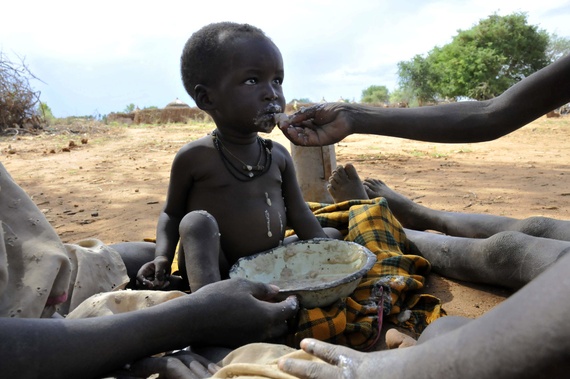 But a growing body of research shows that success in primary school depends on good nutrition fueling cognitive development during the 1,000 days. In fact, addressing the malnutrition of the mother or child during this period—whether from a lack of food, micro-nutrient deficiencies, parasites, or illness—trumps most development and poverty-reduction efforts. The World Health Organization estimates that one in every four children under five years of age is stunted (defined as significantly below median height for a given age), and often this physical and mental damage is irreversible for the remainder of a person's life. Stunting as a child leads to reduced workplace productivity and income. Long-term studies of malnourished children in Guatemala, for example, have found that stunting can reduce hourly earnings in adulthood by 20 percent.
In 2012, a think tank called the Copenhagen Consensus Center convened some of the world's leading economists and development specialists to ponder a question: If they had an extra $75 billion to improve the state of the world, which problem would they solve first? The group declared that investments to eliminate hunger and malnutrition would do the world the greatest good. It found that improving child nutrition was also the most cost-effective intervention, with a return on investment of at least 30 to 1, depending on the country involved.
The Lancet, meanwhile, has published a series of articles that refine the target of those investments, zeroing in on the benefits of maternal and infant nutrition, particularly during the 1,000 days. The British medical journal estimated that 165 million children in the world suffer from stunted growth due to malnourishment, resulting in "compromised cognitive development and physical capabilities, making yet another generation less productive than they would otherwise be." Since stunted children become stunted adults, The Lancet concluded, "Countries will not be able to break out of poverty and sustain economic advances without ensuring that their populations are adequately nourished."