On Monday, thousands of Ugandans rallied in Kampala to celebrate the recent passage of the Anti-Homosexuality Act, a law targeting Uganda's LGBT community with harsh legal sanctions and possible life imprisonment. Ugandan President Yoweri Museveni, who signed the act into law in late February, spoke at the rally and denounced oral sex, "sodomy," and Western threats to withdraw aid from the East African country. He was joined by Catholic, Anglican, Muslim, and other religious leaders, who echoed Museveni's condemnations of homosexuality.
Archbishop Cyprian Lwanga of Kampala, the leader of Uganda's Catholic Church, delivered a closing prayer in which he exhorted the crowd to pray for those "who had been led astray by this vice of homosexuality." Last October, Lwanga invited Pope Francis, who has adopted a more compassionate tone toward the LGBT community, to visit the country and preside over this year's Martyrs Day celebrations on June 3, when Christian pilgrims from Uganda and neighboring countries flock to a shrine at Namugongo, just outside the Ugandan capital of Kampala, and mark the anniversary of the deaths of St. Charles Lwanga and his companions, known collectively as the Uganda Martyrs. In 2013, more than 3 million pilgrims trekked to the shrine for the occasion.
This year, Archbishop Lwanga, who is not related to the saint, launched a year-long golden jubilee to honor the Martyrs' 1964 canonization, and had hoped to cap off the festivities with a visit from Pope Francis. But a spokesman at the Apostolic Nunciature in Kampala confirmed to me that the pontiff would not be attending the events this year, and the Ugandan press reports that the jubilee has been postponed until further notice.
But sooner or later, the pope may have to confront growing homophobia in Uganda, whether or not he travels there. The country's religious and political leaders—including its high-ranking Catholic clergy—have used Martyrs Day to campaign against LGBT rights, and frequently invoke the Uganda Martyrs in their warnings about homosexuality. Pope Francis, meanwhile, has softened the Vatican's stance on homosexuality in words if not deeds, recently suggesting that the Church might support civil unions even as he reaffirmed its opposition to same-sex marriage. The pontiff's famous reply to a reporter's question about gay and lesbian Catholic priests—"If someone is gay and he searches for the Lord and has good will, who am I to judge?"—prompted a fierce debate about the Catholic Church's approach to LGBT rights.
Will that debate come to Uganda next?
* * *
The legend of the Uganda Martyrs begins in the Kingdom of Buganda, which held sway in East Africa's Great Lakes region in the late 19th century. By the 1880s, years of war and social upheaval brought about by the slave trade had thrown the realm into disarray. Many local chiefs had converted to Christianity or Islam, and received arms and other support from foreign missionaries' home countries. Their quarrels soon challenged the power of the king, Mwanga II.
Mwanga's father allowed Christian and Muslim missionaries into his royal court, and they began converting his inner circle of courtiers and royal pages. But Mwanga lacked his father's talent for playing factions against one another and came to perceive the converts as a threat to his rule. By most accounts, a clash with Christian converts over either the execution of a white Anglican missionary or the king's personal misdeeds (or perhaps both) soon led to bloodshed. The New York Times first published news of the Uganda Martyrs' deaths on October 27, 1886:
Details have been received of the massacre of native Christians of Uganda, Africa, by the order of King Mwanga. The massacre began in June, and was directly due to the refusal of a Christian lad acting as the King's page to commit an abominable crime. Many Christians were tortured, mutilated, and speared, and 32 were burned alive together. The appeals of the missionaries for a cessation of the atrocities were unavailing. The fate of these unfortunates did not serve to frighten candidates for baptism, and within a week after the massacre many natives were baptized at their own desire.
Other accounts are more explicit about King Mwanga's "abominable crime" against the pages. Andrew Kiwanuka, a Catholic who witnessed the martyrdoms, said that Mwanga "practiced the works of Sodom." The first Martyr to die, St. Joseph Mukasa Balikuddembe, "was killed because he had pleaded to King Mwanga to abandon the vice of homosexuality," according to the Namugongo shrine's official website. (Other sources ascribe this role to St. Charles Lwanga, and instead claim Balikuddembe was executed for urging the king not to kill a white Anglican missionary named Bishop James Hannington, who had secretly entered the kingdom.)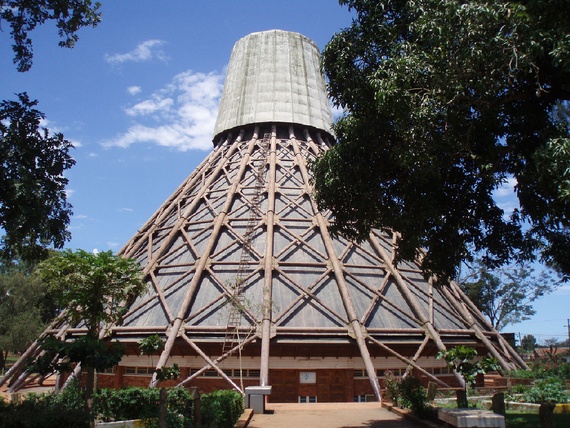 How accurate are reports of Mwanga's sexual advances toward the pages? "My own sense of history is that it might've been a detail that is accurate, but distorted what was important," Holly Hanson, an expert on pre-colonial Buganda at Mount Holyoke College, told me. Conceptions of sexuality are changing all the time, she said, and the king's behavior, in the context of Bugandan sexual norms, might have been viewed as an expression of power, not desire. It's worth noting that King Mwanga was a polygamist who fathered 11 children with his 16 wives.