David Gray/Reuters
On Friday, an avalanche occurred off the West Shoulder of Mount Everest, knocking between 20 and 25 people down as it swept through an area between the infamous Khumbu Icefall and Camp I, at an altitude of about 19,500 feet. It was the single most devastating Everest accident ever, killing 16 climbers and making April 18, 2014, the deadliest day in the mountain's history.
The avalanche also made the entire 2014 climbing season on Everest as the deadliest ever, since the mountain's annual death toll has, until now, never exceeded 15. It was big news when 10 people died on the mountain, in various incidents and of various causes, in 2012, and the deadliest year before that was 1996, when 8 people died near the summit during a storm in May and 7 more were killed at other times. Into Thin Air, Jon Krakauer's retelling of that storm in 1996, has long informed popular conceptions of mountaineering disasters. But what happened last week was quite different.
The avalanche victims were not on their way to the summit; at this point in the spring, hardly anyone is venturing higher than Camp II, or 21,000 feet, on the 29,000-foot peak. Most climbers will head for the summit in mid-May.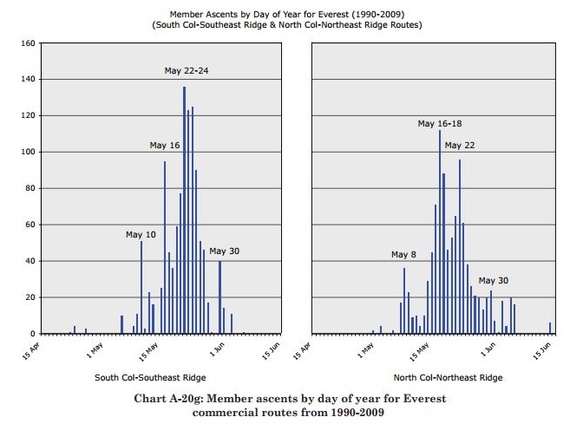 The 2014 climbing season, in fact, has only just begun. And while you might expect the push for the summit to be the most dangerous part of an Everest expedition, that's not necessarily the case. The most dangerous steps on Everest are taken between 18,000 and 21,000 feet, and they're steps that many Western climbers are actually able to avoid—thanks to the Nepalese Sherpas they hire to help install fixed ropes, carry gear, and break tracks on the route to the top. Those who perished in last week's avalanche were all at work ferrying loads of gear between Base Camp and Camp II. They were all Sherpas. 
It's a stark reminder that there are two classes of Himalayan mountaineers—those who pay to climb, and those who get paid to support them. The people spending money, to the tune of tens of thousands of dollars each, are foreign adventure enthusiasts. The people earning money, typically several thousand dollars each (or more for head Sherpas), are natives of Nepal for whom Everest expeditions provide lucrative livelihoods to support extended families.  
Throughout the Himalayas, avalanches are the leading cause of death for Sherpas. The chart below, assembled from numbers collected by the Himalayan Database, shows that both Sherpas ("hired") and their customers/bosses (expedition "members"—a telling word choice, implying that Sherpas, though essential embeds in climbing groups, are set apart from the rest of the team) are more likely to die from falls or avalanches than other circumstances.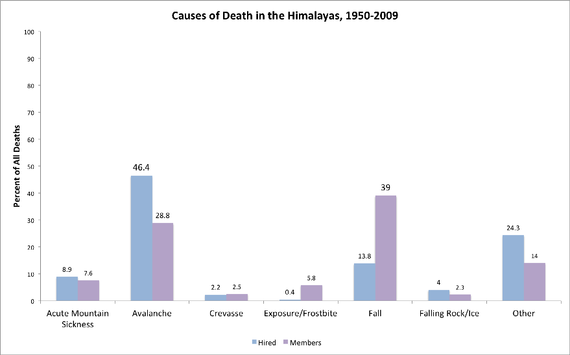 The Himalayan Database counts 608 "member" deaths and 224 "hired" deaths on mountains in Nepal, including Everest, between 1950 and 2009. Almost 50 percent of hired deaths were due to avalanches, while nearly 40 percent of member deaths were attributed to falls. 
These patterns have a lot to do with who does what, and where, on mountains like Everest. Sherpas spend much of their time establishing and supplying camps in avalanche-prone zones. Paying expedition members move through those zones as quickly and efficiently as possible to save their energy for summit bids, where the risk of avalanches is lower but the air is thin and falls are more likely to occur. The graph below, again from the Himalayan Database researchers, shows deaths by altitude.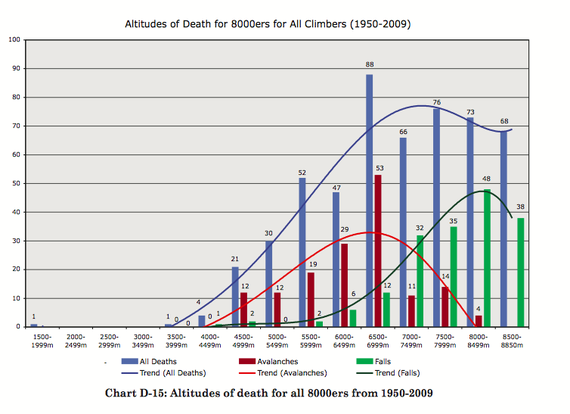 The data speaks to the most illuminating lesson of the recent tragedy on Everest—how the (growing) divide between Sherpas and the Western climbers they work for affects each group's mortality on the mountain.