MEXICO CITY—On a rainy Friday night in Mexico's capital, Antonio 'Gritón' Ortiz poured himself a glass of tequila. Across the room, "The Girl from Ipanema" quietly seeped from a paint-splattered radio. "I'll listen to almost any music while I'm working," the 60-year-old artist said. "Like Yes! I really like Yes. The progressive rock band. You know them, right?" Water was boiling on the stove, and he poured it into a pre-packaged Korean noodle bowl. It was 10 p.m., time for dinner in Mexico. "I've been painting since I was 22, and not all of those years were easy," he said. "But I do what I enjoy, and so far I've been able to make that work."
For the past 28 years, Gritón has not paid a dime to the Tax Administration Service (SAT), the Mexican equivalent of the IRS. But he is no criminal. In fact, in a country that has lost an estimated $872 billion to money laundering and tax evasion over the past four decades, Gritón is in good standing with the law. Like more than 700 artists across Mexico, he takes part in a Pago en Especie (Payment in Kind) program—the only one of its type in the world—that allows artists to pay federal income taxes with their own artwork.
The program was hatched in 1957, in the throes of the so-called "Mexican Miracle," a period of 40 years that saw sustained annual economic growth of between 3 and 4 percent. As legend has it, muralist David Alfaro Siqueiros, one of the most influential artists of his generation, approached the secretariat of finance in 1957 with a proposal to keep a friend and fellow artist out of jail for tax evasion: Let him pay his debt in art. The agreement laid the foundation for Pago en Especie, which today is a public collection of nearly 7,000 paintings, sculptures, and graphics accepted as tax payments from some of Mexico's best-known artists.
When President Enrique Peña Nieto took office at the end of 2012, the outdated and mismanaged Mexican tax system was one of his first targets. He announced sweeping tax reforms last September, promising to end special programs, close corporate loopholes, and increase the taxpayer base in a country where, in 2012, tax revenue accounted for 8.5 percent of GDP. The proposed reforms were unpopular with business elites and the country's most conservative politicians, who threatened to abandon the political coalition that Peña Nieto had so carefully assembled.
In a country where 50 percent of the population lives below the poverty line, paying little or no taxes, and another 30 percent earns a living in the informal market, economists have estimated that the tax burden rests on a mere 20 percent of the population. Mexico has the weakest tax revenues in the 34-country Organization for Economic Cooperation and Development and one of the lowest rates of tax revenue in all of Latin America.
Ultimately, the government only passed moderate reforms, which prompted the International Monetary Fund, the de facto referee of the global financial system, to call for further measures to increase tax revenue and stimulate economic growth in Mexico. In response, the authorities have promised to more aggressively combat tax evasion and money laundering, while the SAT earlier this year identified 270 companies that it suspects of ducking their financial responsibilities.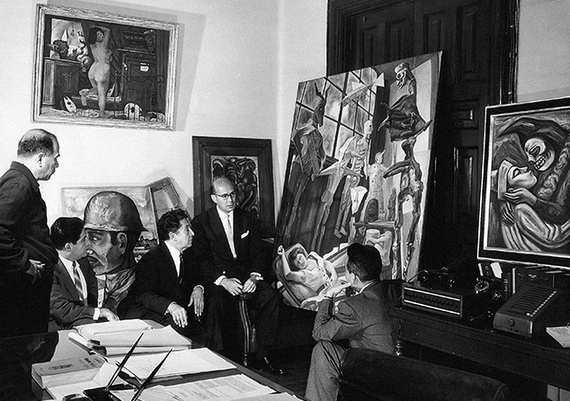 At the SAT's offices in central Mexico City, the scramble to recover lost fiscal revenue has begun. But on the 15th floor, where the Pago en Especie resides, administrator Cristina López Beltrán is sitting easy. There is, after all, a social benefit to programs like this one that doesn't easily fit into the IMF's matrices. "Everyone loves this program," she said, paging through a book of donated works currently in traveling exhibitions. "We have no reason to think any of this is at risk."
The program is simple—donations are made according to reported sales. If an artist sells between one and five pieces of art in a given year, he or she donates one piece to the federal government. If the artist sells between six and eight pieces, he or she donates two, and so on, with an annual cap of six donations. Only painters, sculptors, and graphic artists can participate, though program administrators are currently considering whether to include performance art as an acceptable means of payment. A committee of artists and curators oversees the donations process to ensure that the art received meets certain quality standards. If the art is of a particularly high caliber, it becomes part of the "national-heritage collection," which is displayed in a permanent exhibit in Mexico City. All other pieces are divided up and shipped across the country to fill public museums and administrative buildings. Certain pieces are also sent abroad as part of exhibitions coordinated with museums across the world. Last year alone, the program sent Pago en Especie pieces to 13 international galleries.
"You might think we would be tempted to scribble something on a napkin to pay our taxes," said Miguel Calderón, 38, a Mexico City native whose paintings were featured in Wes Anderson's 2001 film The Royal Tenenbaums. "But aside from being convenient, it is also a source of pride, knowing that your art will become part of a historic collection that reflects Mexico's creative heritage."