In September 2001, as the U.S. reeled from the terrorist attacks on the World Trade Center and the Pentagon, Vladimir Putin supported Washington's imminent invasion of Afghanistan in ways that would have been inconceivable during the Cold War. He agreed that U.S. planes carrying humanitarian aid could fly through Russian air space. He said the U.S. military could use airbases in former Soviet republics in Central Asia. And he ordered his generals to brief their U.S. counterparts on their own ill-fated 1980s occupation of Afghanistan.
During Putin's visit to President George W. Bush's Texas ranch two months later, the U.S. leader, speaking at a local high school, declared his Russian counterpart "a new style of leader, a reformer … a man who's going to make a huge difference in making the world more peaceful, by working closely with the United States."
For a moment, it seemed, the distrust and antipathy of the Cold War were fading. Then, just weeks later, Bush announced that the United States was withdrawing from the Anti-Ballistic Missile Treaty, so that it could build a system in Eastern Europe to protect NATO allies and U.S. bases from Iranian missile attack. In a nationally televised address, Putin warned that the move would undermine arms control and nonproliferation efforts.
"This step has not come as a surprise to us," Putin said. "But we believe this decision to be mistaken." The sequence of events early in Washington's relationship with Putin reflects a dynamic that has persisted through the ensuing 14 years and the current crisis in Ukraine: U.S. actions, some intentional and some not, sparking an overreaction from an aggrieved Putin.
As Russia masses tens of thousands of troops along the Russian-Ukrainian border, Putin is thwarting what the Kremlin says is an American plot to surround Russia with hostile neighbors. Experts said he is also promoting "Putinism"—a conservative, ultra-nationalist form of state capitalism—as a global alternative to Western democracy.
It's also a dynamic that some current and former U.S. officials said reflects an American failure to recognize that while the Soviet Union is gone as an ideological enemy, Russia has remained a major power that demands the same level of foreign-policy attention as China and other large nations—a relationship that should not just be a means to other ends, but an end in itself.
"I just don't think we were really paying attention," said James F. Collins, who served as the U.S. ambassador to Moscow in the late 1990s. The bilateral relationship "was seen as not a big deal."
Putin was never going to be an easy partner. He is a Russian nationalist with authoritarian tendencies who, like his Russian predecessors for centuries, harbors a deep distrust of the West, according to senior U.S. officials. Much of his worldview was formed as a KGB officer in the twilight years of the Cold War and as a government official in the chaotic post-Soviet Russia of the 1990s, which Putin and many other Russians view as a period when the United States repeatedly took advantage of Russian weakness.
Since becoming Russia's president in 2000, Putin has made restoring Russia's strength—and its traditional sphere of influence—his central goal. He has also cemented his hold on power, systematically quashed dissent, and used Russia's energy supplies as an economic billy club against its neighbors. Aided by high oil prices and Russia's United Nations Security Council veto, Putin has perfected the art of needling American presidents, at times obstructing U.S. policies.
Officials from the administrations of Presidents Bush and Barack Obama said American officials initially overestimated their potential areas of cooperation with Putin. Then, through a combination of overconfidence, inattention, and occasional clumsiness, Washington contributed to a deep spiral in relations with Moscow.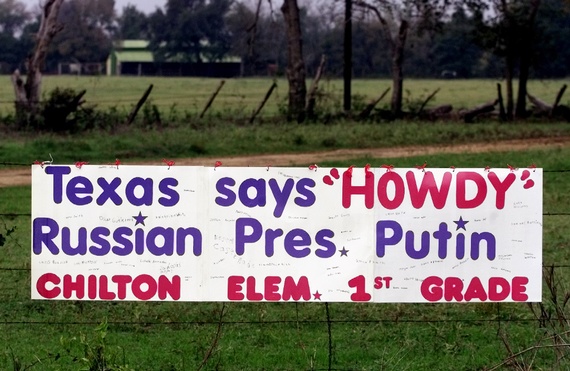 Bush and Putin's post-2001 camaraderie foundered on a core dispute: Russia's relationship with its neighbors. In November 2002, Bush backed NATO's invitation to seven nations—including former Soviet republics Estonia, Latvia, and Lithuania—to begin talks to join the Western alliance. In 2004, with Bush as a driving force, the seven Eastern European nations joined NATO.
Putin and other Russian officials asked why NATO continued to grow when the enemy it was created to fight, the Soviet Union, had ceased to exist. And they asked what NATO expansion would do to counter new dangers, such as terrorism and proliferation. "This purely mechanical expansion does not let us face the current threats," Putin said, "and cannot allow us to prevent such things as the terrorist attacks in Madrid or restore stability in Afghanistan."
Thomas E. Graham, who served as Bush's senior director for Russia on the National Security Council, said a larger effort should have been made to create a new post-Soviet, European security structure that replaced NATO and included Russia. "What we should have been aiming for—and what we should be aiming for at this point," Graham said, "is a security structure that's based on three pillars: the United States, a more or less unified Europe, and Russia."
Graham said small, incremental attempts to test Russian intentions in the early 2000s in Afghanistan, for example, would have been low-risk ways to gauge Putin's sincerity. "We never tested Putin," Graham said. "Our policy never tested Putin to see whether he was really committed to a different type of relationship."