With a tinge of anxiety, I maneuvered my six-seater Fiat through a neighborhood in East Jerusalem that I did not know—and that most Jewish Israelis don't frequent. Aboard were my mom, my kids, and my friends Ibtisam and Ahmed Erekat. After our family get-together, I was giving the Erekats a ride to the stores on Salah al-Din street, where they would shop and then head home to al-Eizariya, their village under joint Israeli-Palestinian control on the southeastern slope of the Mount of Olives.
I asked Ahmed the name of the neighborhood. "A-Tur," he replied. 'Wasn't that the home turf of someone who had tried to blow himself up on a public bus some 10 years earlier?' I thought to myself, before pushing that thought to the back of my mind.
My mom was sandwiched cozily in the front seat in between Ibtisam and me, and my sons, Yuval, 7, and Eitan, 5, were playing a game with Ahmed, Ibtisam's husband, in the back seat. Every time I glanced at the rearview mirror and saw my two giggling boys, I couldn't help but smile. There was something so normal and mundane about giving the Erekats a lift. As if, for just a moment, our friendship could exist absent the backdrop of the Israeli-Palestinian conflict.
The view from my car window could have been a Monet: Purple bougainvillea jutted out of sparkling Jerusalem limestone, forming a makeshift arch against a cloudless blue sky. The autumn sun warmed my forearm. The road stretched before us, empty and quiet.
***
I reflected for a moment on what had united Ibtisam, a Muslim woman living in the West Bank, and me, an American-born Israeli and religiously observant Jewish woman living in West Jerusalem. Our friendship was the unforeseen gift of breast cancer. With scars still healing from a lumpectomy, I had joined the Cope Forum, an Israeli-Palestinian breast-cancer support group, in January 2011. I had hoped that something good might emerge from something bad.
Shooting for good, I wound up with extraordinary. Walking in to my first meeting, I was taken aback by the number of Palestinian breast-cancer survivors, dressed in hijabs and flowing skirts. So many women stricken, just as I was. Though I had participated in dialogue groups over the years and counted Palestinian men among my friends, I had somehow never formed a close friendship with a Palestinian woman. While the men I had met were relatively easy to befriend, the women were often shy and guarded. The language barrier also complicated things.
I plopped myself down next to Ibtisam, and we introduced ourselves and got to talking. She told me that her smooth English was self-taught, gleaned from watching television. Her candor and positive energy drew me in.
After stretching through qigong, a Chinese form of meditative breathing and exercise given in Hebrew and interpreted into Arabic, Ibtisam filled me in on her life story. It bore an uncanny resemblance to mine. We had both married in our thirties, late in our respective traditional communities. Our husbands were several years older than we were; each was a divorcé who had brought children into the marriage. Then each of us had given birth to three children in speedy succession. We were both diagnosed with breast cancer while nursing our babies, which is rather uncommon. In fact, I had never met anyone who shared so many critical elements of my life story. Ibtisam said the same about me.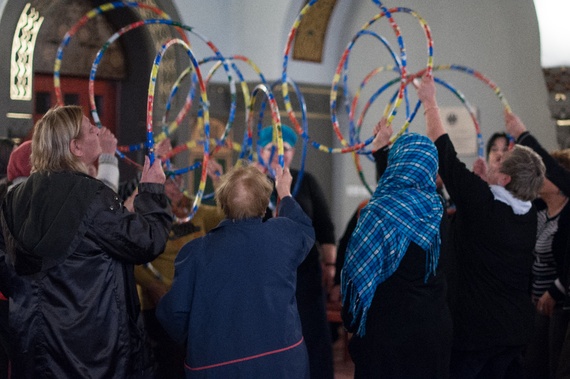 Soon we were visiting each other on the phone, confiding, complaining, and cracking jokes. Though cancer had catalyzed the connection, human chemistry gelled it.
Despite the mere 15 miles between our front doors, concrete separation walls and a checkpoint made it practically impossible to get together outside of our scheduled support-group meetings. Ibtisam needed an entry permit issued by the Israeli Civil Administration in the Palestinian Territories to come to Jerusalem, which she could only secure when she had to undergo medical tests. Thus Augusta Victoria, an imposing church-hospital complex on the southern side of Mount Scopus, in East Jerusalem, became our stomping ground.
On most days, politics did not figure prominently in my friendship with Ibtisam. We were not naive—it just had little to do with how we felt about each other. Granted, Ibtisam gave me a key chain with a Palestinian flag adjoining a tiny map of Palestine on one side, charting out the very same territory that is Israel, and an engraving of the Al-Aqsa Mosque etched on the other. But I was not bothered by those national symbols. I firmly support a two-state solution. So why should her patriotism ruffle me?
There was only one occasion when the sad reality that our countries are de facto at war threatened to thwart our friendship. During Operation Pillar of Defense, the military conflagration between Israel and Hamas in November 2012, I hesitated before picking up the phone to call Ibtisam. Would she want to hear from me at a time when rockets were raining down on Israel and airstrikes were pounding Gaza?
I paced the house. Then I dialed.
"I'm so glad to hear your voice!" Ibtisam said on the other end. I could tell she was smiling. Her relief echoed mine. I held back tears.
"Ruti, we are not the ones at war," she added. "It's our governments, not us."