SÃO PAULO, Brazil—Many devout Christians believe the Bible condemns homosexuality, a fact that has prompted countless culture (and legal, and Twitter) wars worldwide. Leviticus 18:22 reads, "Thou shalt not lie with mankind, as with womankind: it is abomination." The word "sodomy" originated from the eponymous Old Testament city, which, as some interpretations have it, was destroyed by God in retribution for homosexual deeds.
But according to Lanna Holder, the lesbian pastor behind the Cidade de Refúgio evangelical church in São Paulo, this is all a big misunderstanding—the result of a shoddy translation eons ago.
"In the original version of the Bible, it didn't curse homosexuality, just immorality," she told me one recent afternoon. "The problem is in the translation. In Leviticus, the issue was that laying with man was against Jewish tradition … but that goes for eating pork, too."
Thus, "it is possible to live under God's will and be homosexual," as Cidade's website proclaims.
Tucked into a strip mall in São Paulo's Santa Cecilia neighborhood, the church building looks more like a 70s-era youth rec center than a traditional house of worship.
The upstairs of the technicolor space can fit 200 people, and there's an overflow room where hundreds more can follow Holder's teachings on a projector. The services, which run Wednesdays through Sundays, veer toward the dramatic: Worshipers close their eyes and stretch their hands toward the ceiling, and Holder asks newcomers to publicly declare their faith.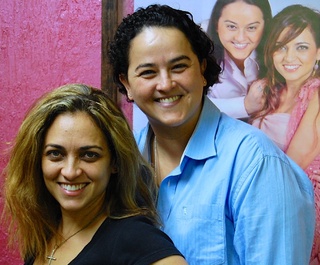 Holder and her wife, singer and co-pastor Rosania Rocha, welcome everyone, but the majority of the parishioners are gay. Many have been pushed out of other churches that view homosexuality as a grievous sin.
Holder knew from a young age that she was gay, but it wasn't until she was struggling to recover from alcohol and drug abuse at age 21 that she converted to Christianity. She convinced herself that she had not only kicked her substance habit, but also that she had turned straight. She traveled to proselytize the story of her apparent recovery from homosexuality, married a male pastor, and had a son.
But when she met Rocha on a trip to the U.S., it became clear that while, "Jesus had changed everything he could change in me," as she once told Vice, he hadn't changed everything.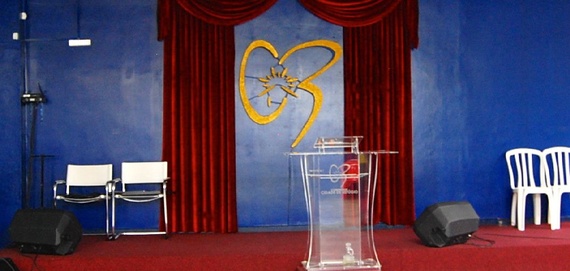 "Today, I'm not an alcoholic, do not do drugs, but my sexuality remains the same," she explained.
Rocha and Holder established the church in 2011, and they've been spreading their message of acceptance ever since. A small church library is packed with DVDs and books on Christian homosexuality, many emblazoned with Holder's and Rocha's grinning faces.
The couple now disavows their history with the ex-gay movement. The flip-flop has earned them some foes, who occasionally turn up at the church yelling, "I tried to be hetero because of you!" Rocha said.