"Even in tragedy, Latin America can't compete," a cynical friend told me. He was referring to the fact that the region's poverty is not as grim as Africa's, armed conflicts not as threatening as Asia's, and terrorists not as suicidal as the Middle East's. The problems in Latin America are often overshadowed by those in the rest of the world. Elsewhere, tragedies are more serious and more likely to spill over into other countries.
The shocking images of repression in the streets of Caracas are at a disadvantage when compared with the scenes in Kiev, where most international media and political attention is currently focused. The developments in Ukraine are bloodier, the images more startling, and the stories more tragic. Dozens have been killed in Ukraine, while thus far 13 lives have been claimed in Venezuela. So much more appears to be at stake in Kiev: European borders, energy security, Russian dominance in the former Soviet Union, and Vladimir Putin's domestic and international reputation all depend on the outcome of Ukraine's uprising.
What's happening in Venezuela, by contrast, seems far less critical. For many, the student protests there are just one more episode in the protracted confrontation between a pro-poor, anti-American government and a so-called "middle-class" opposition too clumsy and unpopular to win elections. This description of Venezuela's political conflict is as common as it is inaccurate. In fact, electoral results and most opinion surveys show that half of all Venezuelans are opposed to the government of President Nicolás Maduro. That is why, despite all its well-documented abuses, dirty tricks, and ploys, the government has only managed to eke out marginal electoral victories recently. In 2013, for example, Maduro won the presidential election with a meager 1.5 percent lead over Henrique Capriles, the opposition's candidate.
Moreover, in Venezuela, the "middle class" that most journalists define as "the opposition" was always tiny, and the country's economic crisis has depleted it even further. It surely is far smaller than the 50 percent of the population that does not support the government. This means that the government's many opponents include millions of the poor that Maduro claims to represent. (Disclosure: I served as Venezuela's minister of trade and industry and director of its Central Bank from 1989-1990.)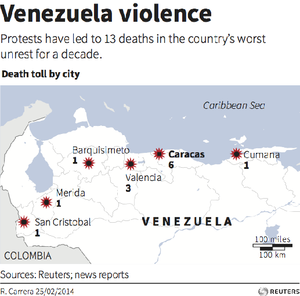 This is the half of the country whose sons and daughters have taken to the streets to protest against a repressive regime that treats them as mortal enemies. And maybe they are. After all, they represent the vanguard of a society no longer willing to tolerate an abusive government with disastrous results to show for its 15-year grip on power: Venezuela is now the world champion of inflation, homicide, insecurity, and shortages of essential goods—from milk for children to insulin for diabetics and all kinds of indispensable products. All this despite having the greatest oil reserves in the world and a government with absolute control of all state institutions and levers of power. Sadly, that government has used its immense wealth and authority to push through unsustainable populist policies, buy votes, jail opposition leaders, and shut down television channels. Daily shortages of basic goods, fear of crime, and hopelessness have become unbearable.
Hugo Chávez based his popularity on his extraordinary charisma, lots of discretionary money, and a key and well-tested political message: denouncing the past and promising a better future for all.