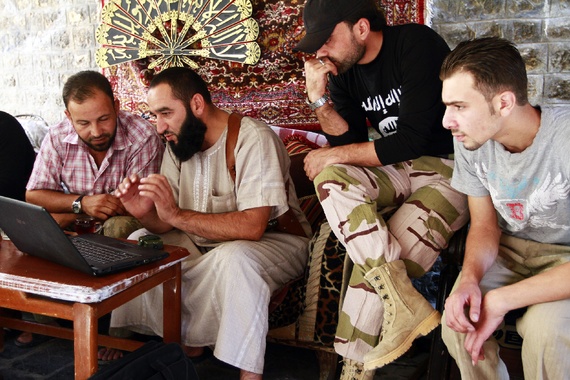 Hunched over a coffee at a Midtown Manhattan Starbucks, Ammar Hamidou describes how Syria's revolution spiraled out of control before his eyes. Hamidou, who fled the country last year and now works in New York as a computer developer, was one of the first to take to the streets in his hometown of Kafranbel, in the northwest, in early 2011. But with regime aircraft pummeling his town and al-Qaeda-linked fighters periodically overrunning Kafranbel to kidnap civil-society activists like himself, the 29-year-old finagled a visa to the U.S. and escaped.
His family and girlfriend remain in Syria, but he says there is no role for him there anymore.
"The revolution started with the peaceful activists, we had no intention to hold a gun and fight anybody. What we wanted was freedom—how did we get here?" he asks. "Activists are vanishing, my revolution is being stolen, and those martyrs, this blood, all for nothing. It's gonna be worthless, in vain."
Nowadays, his activism takes place on his computer, as it did before the revolution broke out. Like many towns in Syria, Kafranbel has a Local Coordination Committee (LCC) and media center page on Facebook, both of which are used to spread news of the revolution, document the dead, and distribute safety information to residents. In a country where foreign and independent Syrian journalists are barred, and the regime's expansive network of citizen-spies makes public discussion of the revolution dangerous to this day, Facebook was one of the first refuges for Syria's dissidents—and now it has become one of their last.
Which is why the social network's recent decisions to shut down dozens of opposition pages, including the Kafranbel Media Center that Hamidou administered in exile, have dealt a significant blow to peaceful activists who have grown reliant on Facebook for communication and uncensored—if bloody and graphic—reporting on the war's atrocities. It's only the latest chapter in Syria's well-documented Facebook wars, but it threatens to be the final one for the non-violent voices who sparked the revolution to upend 40 years of oppressive Assad family rule.
The SecDev Foundation, a Canadian NGO that runs several digital-security initiatives in Syria— distributing censorship-circumvention tools like VPNs and proxies, and warning about pro-regime hacking schemes—has compiled a list of dozens of pages belonging to opposition citizen-journalism outfits or non-aligned NGOs that have reportedly been shuttered since last fall for posting what Facebook deemed to be graphic imagery or calls to violence. These pages often resurface under different URLs with a fraction of the followers they had before, and sometimes continue operating as they had previously.
Screenshots taken by SecDev or sent to the group by page administrators capture what appear to be some baffling decisions by Facebook. Take the case of the Daraa al-Mahata LCC. Its page, which documents the violence in Syria's southernmost city of Daraa, had over 42,000 "likes" when it was removed in October for posting a picture of a man allegedly killed by the Syrian Army. In the picture, Fadi Badr al-Miqdad sits comfortably—very much alive—in a beige armchair. A young child, also alive, is perched on his lap. The Arabic-language caption reads: "He was killed by shabiha gangs in [the town of] Busra al-Sham." Shabiha, loosely translated as "thugs," is a pejorative term used by both sides in the conflict to describe their enemies—and the only potentially offensive word in the post.
The page's administrators, who unsuccessfully appealed to have the page restored, do not understand. Why this picture? And, after nearly three years of posting images of dead bodies (among other things), why now?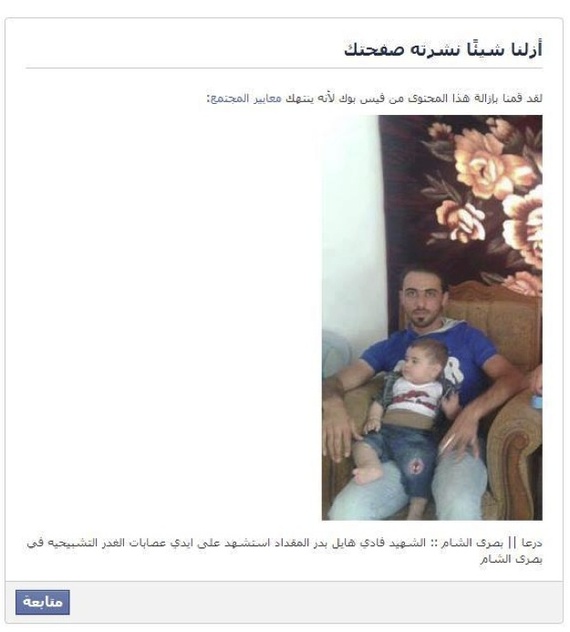 Activists point to Facebook's open-ended community standards and reporting system in explaining these closures. Any user who believes a post or photograph violates the social network's standards may lodge the complaint with the company's user-operations team, whose Arabic-language unit, operating out of Dublin, can then choose to remove the content, warn the page's administrators, or even close the page, sometimes without notice. Activists believe groups supportive of Syrian President Bashar al-Assad are gaming the system and reporting on their rivals. Facebook does not disclose information about who reported whom, making it impossible to confirm these theories. But the pro-Assad Syrian Electronic Army (SEA)—best known for its hacks of major news sites, including an infamous White House bomb hoax that sank the Dow 140 points—has publicly gloated about this tactic.
"We continue our reporting attacks," read a typical post from December 9 on the SEA's Facebook page. "Our next target is the Local Coordination Committee of Barzeh [a neighborhood in Damascus], the page that is a partner in shedding Syrian blood and provoking sectarian division." It then provided two links to photos on the Barzeh page that could get the page taken down. Soon afterwards, the SEA removed its post as if it had never existed.
Though SEA campaigns aren't always successful—Facebook says the "quality" of reports will always trump the "quantity"—activists believe the pro-Assad hackers have claimed some high-profile scalps in recent months. Among them is the London-based Syrian Network for Human Rights, an NGO that documents casualties and rights abuses in the civil war. The SNHR has been regularly sharing graphic images—from blood-spattered streets to mutilated bodies—since 2011, but in October, Facebook reportedly pulled the plug on its page. With the UN announcing in January that it will no longer keep track of Syria's rising death count, citing an inability to verify information inside Syria, the world will depend on NGOs like SNHR for updates. Without an operating Facebook page, its reach will be thwarted.
LCC and media-center pages are ripe for the picking because they have long prided themselves on depicting the war in all its gory detail. Graphic content, like that posted by SNHR, would indeed upset many of Facebook's more than 1 billion users, all of whom can access public groups. But the owners of these pages insist their content is not meant to offend.