In Venezuela, students have been killed while protesting against the government of Nicolás Maduro, who is jailing opposition leaders and just closed a television station that dared broadcast the demonstrations. Argentina is irresponsibly racing toward a dangerous economic cliff. The Brazilian economy is in recession and 2014 will mark its fourth consecutive year of subpar growth, as the country reels from its largest capital flight in more than 10 years.
Is a decade of progress in Latin America coming to an end? For some countries, surely. But not necessarily for the entire region. Four nations are developing an initiative that could add new dynamism to Latin America, redraw the economic map of the region, and boost its connections with the rest of the world—especially Asia. It could also offer neighboring countries a pragmatic alternative to the more political groupings dominated by Brazil, Cuba, and Venezuela.
Amid all the bad news in the region, the presidents of Chile, Colombia, Mexico, and Peru met with little fanfare in Cartagena last week to seal an economic pact launched in 2012. They call their project the Pacific Alliance, and it will soon include Costa Rica and possibly several other countries. The four founding members are the most successful economies in Latin America; they boast the region's highest economic-growth rates and lowest inflation rates. Together, they represent 36 percent of the region's economy, 50 percent of its international trade, and 41 percent of all incoming foreign investment. If the Alliance were a country, it would be the world's eighth-largest economy and seventh-largest exporter. Its members lead the lists of the most competitive economies in Latin America and those where it's easiest to do business. Given that trade among the four countries is currently a mere 4 percent of their total trade, the potential to expand trade and investment flows is huge.
Unfortunately, history shows that potential alone is not enough to cement regional agreements. Like all previous attempts at integrating Latin American economies, the Pacific Alliance is animated by the huge gains that would accrue from successfully developing closer economic ties between neighbors. But the potential of Latin American integration initiatives has always been as enormous as the actual results have been meager.
The surprise, however, is that the Pacific Alliance has already yielded more results in its 20 months of existence than similar initiatives that have been around for decades. The four countries have eliminated 92 percent of all import tariffs among them. Chile, Colombia, and Peru have linked their stock markets so that a company listed in one of the exchanges can be traded in the other two. Mexico is expected to follow suit this year, meaning this integrated stock market will rival that of Brazil as the largest in Latin America. The four countries have eliminated the need for business and tourist visas for visiting nationals of bloc members. In a break with tradition, the joint communiqués of Alliance presidents tend to be brief and concrete in terms of goals, timelines, and roadmaps.
In the years ahead, Latin American economies will confront a less favorable global economic climate, creating incentives to find new sources of growth. And the Pacific Alliance may spawn these growth opportunities thanks to larger trade and investment flows. One of the explicit ambitions of the founders, in fact, is to establish the Alliance as the most attractive gateway to Latin America for Asian companies. Meanwhile, in the rest of the region, populism and economic policies long on promises but short on results will become harder to sustain as the windfalls produced by booming commodity prices become less frequent or disappear altogether. Argentina and Venezuela's current economic travails are a case in point. This reality will make the Alliance more appealing to neighboring countries—and, for that matter, countries around the world. A diverse group of 25 nations including Finland, India, and Israel have already applied for observer status in the body.
Still, despite the many reasons for cautious optimism, it is important to keep in mind that these four countries are attempting to achieve something that has eluded the region for over two centuries.  
Bolívar's Failed Dream
In the early 19th century, the dream that haunted Simón Bolívar was to integrate the South American provinces whose successful wars of independence from Spain he had led. El Libertador was constantly cajoling other leaders and convening international summits to build support for the project, ultimately growing despondent over his failure to make this vision of American unity come true. Here, too, he was a pioneer.
Two hundred years later, Latin American leaders continue to talk, summit, and promise that integrating their countries is a priority. And, like Bolívar, they have little to show for their efforts. For example, despite the boom in international commerce that began in the 1990s, Latin American countries still don't trade much with each other. Only 20 percent of all Latin American exports go to other countries in the region. In contrast, half of all Asian or North American exports are bought by neighboring nations, while in Europe an enormous 70 percent of exports go to other European countries. Brazil exports to China roughly as much as it ships to all of Latin America combined. Mexico's exports to the United States are 10 times larger than what it sells to all the countries south of its border.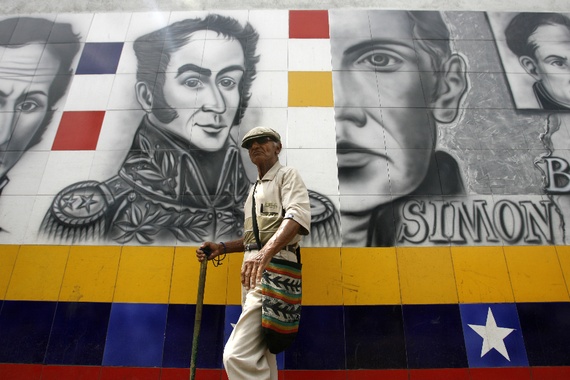 Despite the fiery rhetoric about shared values, common interests, and collective goals, in practice Latin American countries have exhibited a stubborn inability to work together. Not only have they failed to substantially deepen their economic ties, but they have rarely been able to develop and defend a common regional stance—on the environment, trade, democracy, or drug trafficking—in their dealings with the rest of the world. Nor have they managed to rely on each other in dealing with internal crises—from coups and stolen elections, to national disasters and battles with drug cartels.